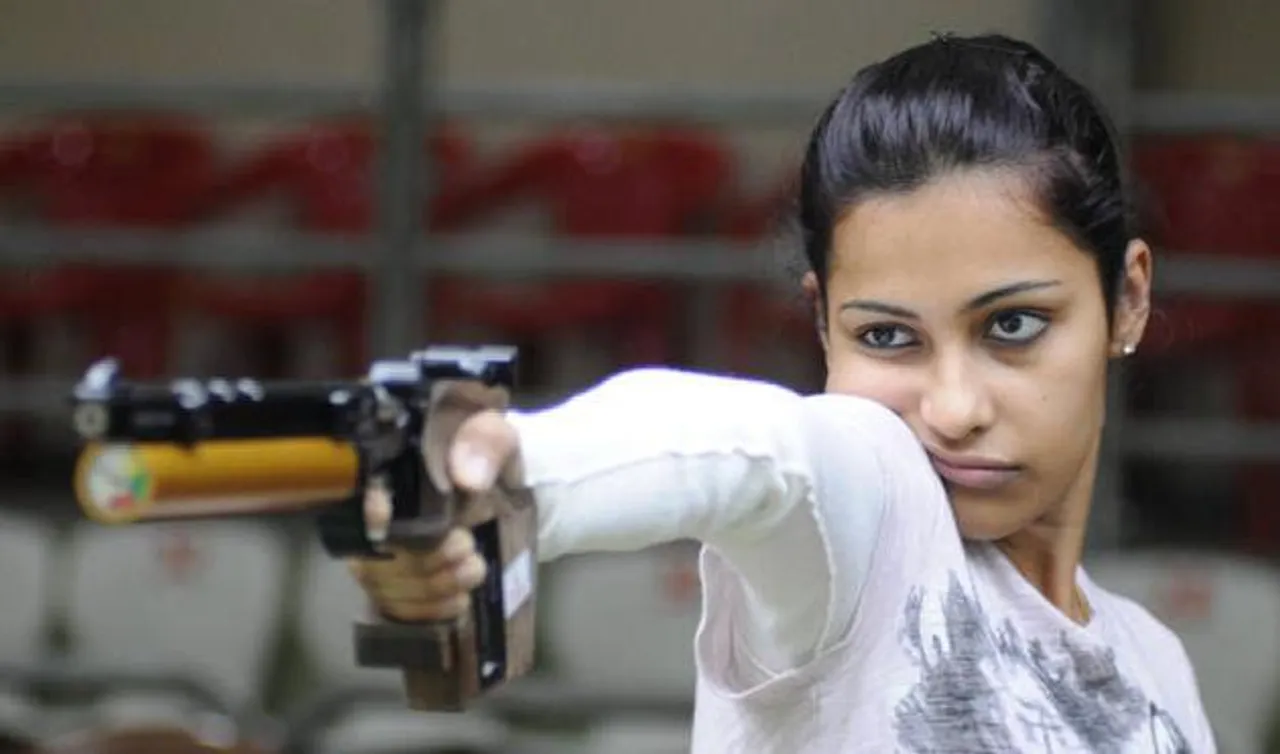 India's foray into the Grand Prix of Liberation 2017 Shooting championships has ended with Heena Sindhu bringing a bronze medal home with her stellar performance in the women's 10m Air Pistol. With this, India's medal rally in the tournament stood at seven.
#GrandPrixOfLiberation: #HeenaSindhu wins bronze, India come back with 7 medals https://t.co/vrupbCIeOe pic.twitter.com/4fkl2Wfcgw

— Financial Express (@FinancialXpress) May 7, 2017
The final day of the championship witnessed Heena's stellar performance once again with shot 218.8 in the eight-woman final. Greek shooter Anna Korakaki has emerged champion and clinched the gold medal. She had also won a gold medal in the 25m pistol and a bronze medal in the 10m air pistol at the Rio Games.
Winning a brnz is a good start especially when i'm still undergoing rehab for my injury. I ignored d problems n tried 2 wrk wid my strgths pic.twitter.com/UdKjKKmrxu

— Heena SIDHU (@HeenaSidhu10) May 7, 2017
Anna went ahead in the game by shooting 246.3 and was adjudged winner while Germany's young player, 21-year-old Michelle Skeries, took the silver with a score of 237.8.
Congrats @HeenaSidhu10 on taking bronze at #czech grand prix
India's champions #ChargedByWill@Azanisport @liveyoursport pic.twitter.com/y0hK00MGqc

— Chaitanya Deshpande (@chatsjd) May 7, 2017
The championship in Czech Republic turned out to be a fruitful experience for the Indian shooting stars who brought back home one gold, two silver and four bronze medals.
India's Shri Nivetha Paramanantham had also booked a place in the women's 10m Air Pistol finals but finished fourth behind Heena with a final score of 198.7. Earlier, Shri Nivetha had qualified for the finals in 3rd position ahead of Heena who qualified in the 5th position, but managed to clinch a medal in the final.
Also Read: Heena Sidhu Bows Out Of Iran Games Over Hijab
The four more Indian finalists were Pooja Ghatkar, finishing fourth in Women's 10m Air Rifle, Gurpreet Singh finishing 6th in the Men's 25m Rapid Fire Pistol which was won eventually by Germany's Olympic champion Christian Reitz and Chain Singh finishing seventh in the Men's 50m Rifle 3 Positions final.
Former Olympic Bronze medalist, Gagan Narang, debuted in shooting academy Gun for Glory (the event allowed private participation at own cost) and finished 4th in the Men's 50m Rifle Prone event while Sushil Ghaley, representing India, finished fifth.
Meanwhile, Indian men's 25m Standard Pistol team has shown excellent performance with Neeraj Kumar winning gold, Harpreet Singh silver and Deepak Sharma the bronze medal. Veteran women's rifle shooter Tejaswini Sawant also won silver in the 50m Rifle Prone event while Pemba Tamang won bronze in the Men's 25m Centre Fire Pistol.
The second stage of the International Shooting Sport Federation (ISSF) World Cup for Rifle and Pistol is scheduled to be held in later this month in Munich. And based on this performance, India is poised to earn more laurels in future.
Kudos to the team!
Join Us on https://www.facebook.com/SheThePeoplePage
Follow Us on https://twitter.com/SheThePeopleTV