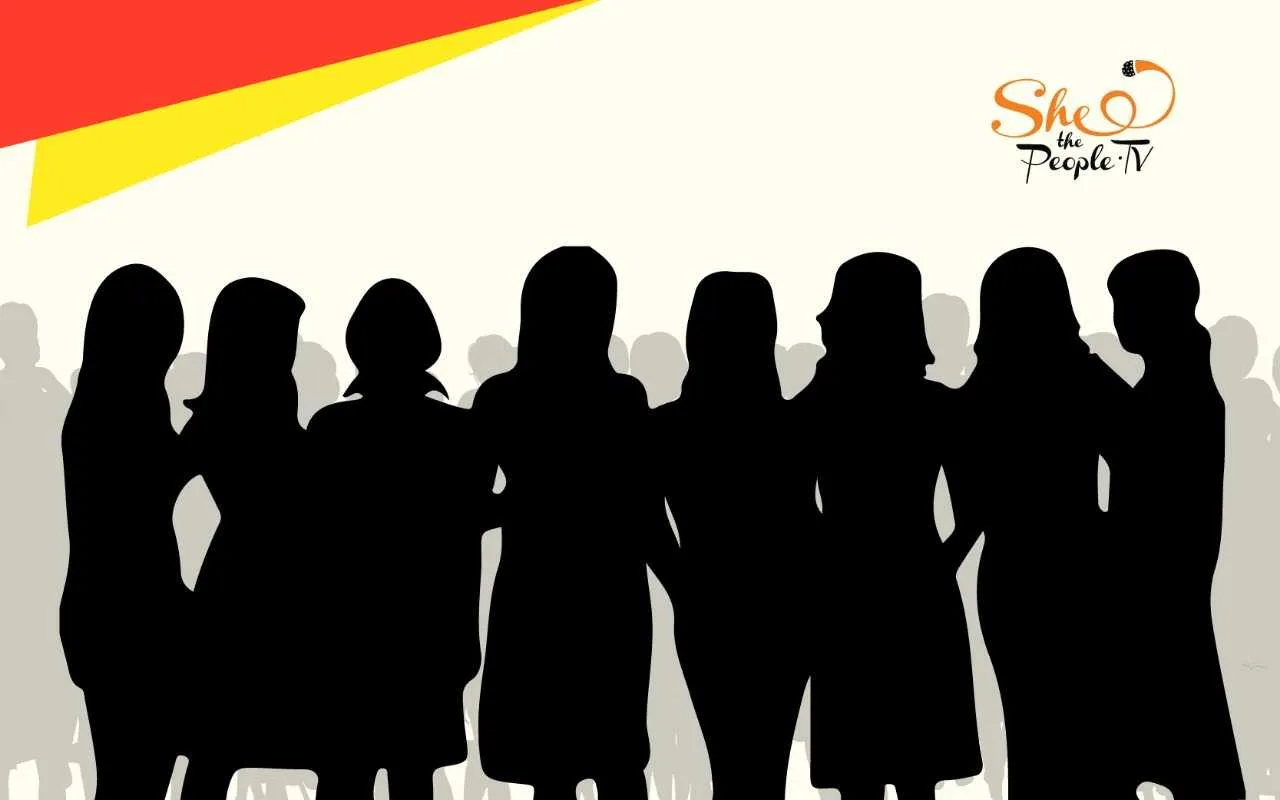 India tops the charts when it comes to acid attacks. A country where the sale of acid over the counter was banned in 2013, we have too many cases and most where women are attacked as part of domestic violence or for dowries. In the light of Chhapaak, the Deepika Padukone film on the life of acid attack survivor Laxmi, we look at the current statistics and data on women and acid attack accidents. Even though these cases are supposed to be in fast-track courts, the path to justice continues to be long and exhaustive leaving survivors with no choice but many times to relinquish it midway. When these survivors go out to start their life afresh with a disfigured body and face, they get criticism and society alienates from, leaving their soul deeply scarred.
What do the numbers tell us?
The latest crime data for 2018 from the National Crime Bureau (NCRB) shows acid attack cases are constantly getting transferred or sitting in police files year after year. This is shown by the data; in Indian courts 523 cases were slated for trial in 2018 which are up from 407 in 2016 and 442 in 2017. So while total number of 'registered' cases in a particular year are on a slight decline, the fact that very few cases are disposed of in a year is symptomatic of how slow the justice system is. If nearly 90 per cent cases a year are transferred for trial in the following year, how can survivors hope for swift closure?
"There are so many more cases of acid attack that happen but never get filed especially in our hinterlands because in so many of these cases settlement happens outside the judiciary. Several other external factors like caste, class, power also come into play when registering such cases," says Ashish Shukla of Chaanv Foundation. 
The percentage of cases of acid attacks that the courts disposed, of all the cases that went for trial, was 6.6 percent (27 cases out of 407) in the year 2016. It is only in 2017 that the percentage went up to 9.9 percent (44 cases out of 442). But, in 2018, it again came down to 6.11 percent cases (32 cases out of 523) reflecting that the system is unable to provide swift justice in the matter.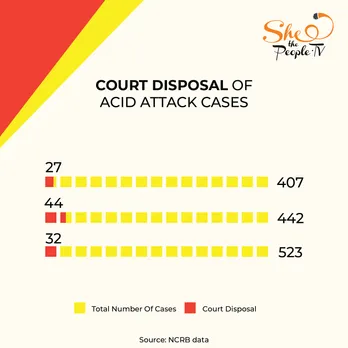 India Acid Attack Survivors Datastat-05
Total number of cases of acid attacks that police investigated dropped consistently between 2016 and 2018. It disposed of 196 cases in 2016, 182 in 2017 and 150 in 2018.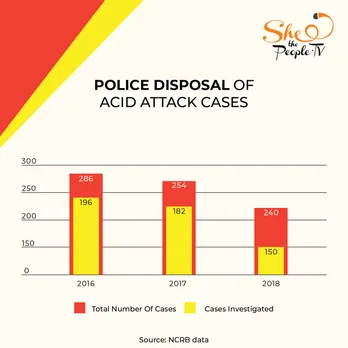 While the conviction rate in cases of acid attack and attempt to acid attack has increased in the last three years, the growth rate is almost negligible. In 2016, 2.45 percent cases (10 cases out of 407 cases) resulted in a conviction, as compared to 3.39 percent cases (15 cases out of 442) in 2017 and 3.36 percent cases (19 cases out of 523) in 2018.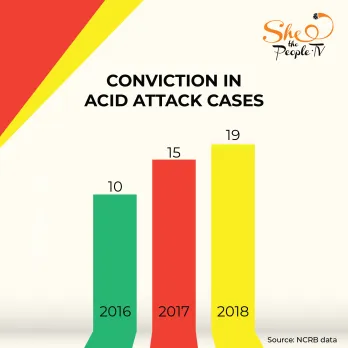 India Acid Attack Survivors Datastat-04
This slow rate of investigation and conviction means that the number of cases that remain unsolved keeps adding up with the police and courts. So, police had 240 cases to investigate, of which 72 cases were pending from previous years. The numbers flared by a great margin when it comes to legal proceedings since the crime was acknowledged with the judiciary. So while there were only 168 cases registered in 2018, the total number of cases that were slated for trial in the same year was 523 cases including cases pending from previous years.
Also Read: Why I Will Definitely Go And Watch Chhapaak Now
Uttar Pradesh and West Bengal have topped the list of states, reporting the most number of acid attack and attempt to acid attack cases between 2016 and 2018 as per the NCRB data.
Among the 19 metropolitan cities recognized by the NCRB including Mumbai, Bengaluru, Kolkata, Ahmedabad, Chennai, Delhi etc, Delhi accounts for the highest number of cases filed. In 2016, when the total number of cases reported in the metropolitan cities was  29, Delhi alone recorded 18 cases. Subsequently, in 2017, 13 out of a total of 27 cases reported were from Delhi while in 2018, it registered 14 out of the 39 cases reported from metropolitan cities.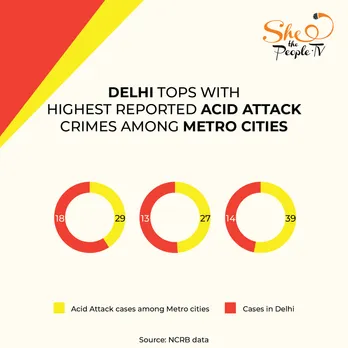 The exhaustive process of getting justice
Survivor Ritu Saini was barely 17 when one day on her way to volleyball practice in Rohtak, Haryana, her cousin hired two men to throw acid on her on May 26, 2012. The cousin, Ram Niwas Saini was 39 then and 22 years older to Ritu and was in love with her. "He once told me that if I wasn't his maternal uncle's daughter, he would have eloped with me but I didn't know back then what to make of it," recounts Ritu in her conversation with SheThePeople. She suffered 45 percent burns on her body and 90 percent on her face - her left eye continues to be disfigured after the acid attack. In the last eight years, Ritu has undergone 15 surgeries. She doesn't even know how many more surgeries she has to go through, including the surgery to treat her left eye.
There are fast-track courts to handle acid attack cases but they are not fast enough. Why don't they pronounce a decision in two months? - Ritu Saini
Ritu's attacker, Ram Niwas was arrested four hours after she was attacked. In 2014, a Haryana court punished him with life sentence along with his aide and three other accomplices were punished with 10 years of imprisonment. However, Ram Niwas came out of jail within five years after a High Court order and Ritu, who had moved on with her life found it time-consuming, expensive and futile to challenge the order in the Supreme Court.
Also read: Pension Scheme for Acid Attack Survivors Announced in Uttarakhand
She tells us, "I didn't find it worth it to challenge the High Court decision in Supreme court because I didn't want to run around so much, putting my life on hold to proceed with the case and get justice. I had already done it once and there was no point doing it again when I was moving towards the shreds of normalcy that were left with me after the attack. The life imprisonment that he got earlier isn't even a whole life of imprisonment in jail then why should I run around so much, spend lakhs of money on hiring a Supreme court lawyer. If I could have found a lawyer who would have done it pro bono, I might have continued the fight but I didn't.
I am not mentally prepared to do it all over again. It becomes such a long and tiring fight, and all this while the attackers live their life of freedom. There are fast-track courts to handle acid attack cases but they are not fast enough. Why don't they pronounce a decision in two months?" Ritu wants courts to declare the verdict in acid attack cases as soon as possible so anyone who even thinks of committing such a crime fears the law. "The attackers in most cases go on living their lives with impunity. I have a survivor in my team who was attacked by an army man and the attacker continued his service with the government for nine years without any punishment," says Ritu, a former state-level volleyball player who had to give up her dream of becoming a sportsperson. She now works with Chaanv Foundation and runs its rehabilitation centre in New Delhi. She also works with Shereos cafe, which only employs acid attack survivors and has its branches in Bhopal and Lucknow.
Ritu has also worked in a few movies - her latest film being Chhapaak where she plays the role of Malti's (Deepika Padukone) friend. She believes that mainstream cinema portraying acid attack survivors is sure to promote awareness for the cause.
Also read: 'Make Love Not Scars' Voices The Stories Of Acid Attack Survivors
Experts speak
Speaking on lack of medical facilities for survivors Shukla says, "We have a striking lack of burn hospitals and specialists of acid attacks in our country. We have seen in many cases that hospitals do have burn wards but the doctors are ill-equipped in terms of treating survivors. There needs to be a holistic approach in dealing with such cases inclusive of treatment, rehabilitation, trauma, legal counselling." However, he does agree that since 2013, the dialogue has gained momentum as NCRB has also categorized acid attack separately as a crime.
Speaking on the irregularised sale of acid he contends, "While the SC has passed the law to ban acid sale freely, has the government managed to regulate it? The law-enforcing agencies also primarily focus on nabbing the attacker and not on the person who sold acid to him."
In a previous interview with us, Ria Sharma, founder of Make Love Not Scars, had also raised this issue. "Every state of India should have a regulatory body to control the sale of acid in the country. There is no nodal officer or one person in authority who people can approach to ask questions," said she.
When we talk on the issue of acid attack, there needs to be a holistic approach in dealing with such cases inclusive of treatment, rehabilitation, trauma, legal counselling, advocacy etc. -Ashish Shukla of Chaanv Foundation. 
Sharma further adds, "I feel at least one officer should be appointed in each state to regulate acid sale and punish the wrong-doers. Secondly, more substitutes to acids and safer alternatives should be made available."
Also Read: Scars Cannot Stop Them: Meet India's Incredible Acid Attack Survivors
While, in recent times many NGOs and organizations have stood up to support acid attack survivors, the legal and law-enforcing agencies seem to lag far behind. The long-drawn process of gaining justice is often a path untrodden by most of these survivors. So although the society takes a step forward in accepting the women with scars left by acid attack by making the conversation mainstream and films like Chhapaak bringing the survivors out in a new light, the justice system still fails to instill much faith in the survivors.