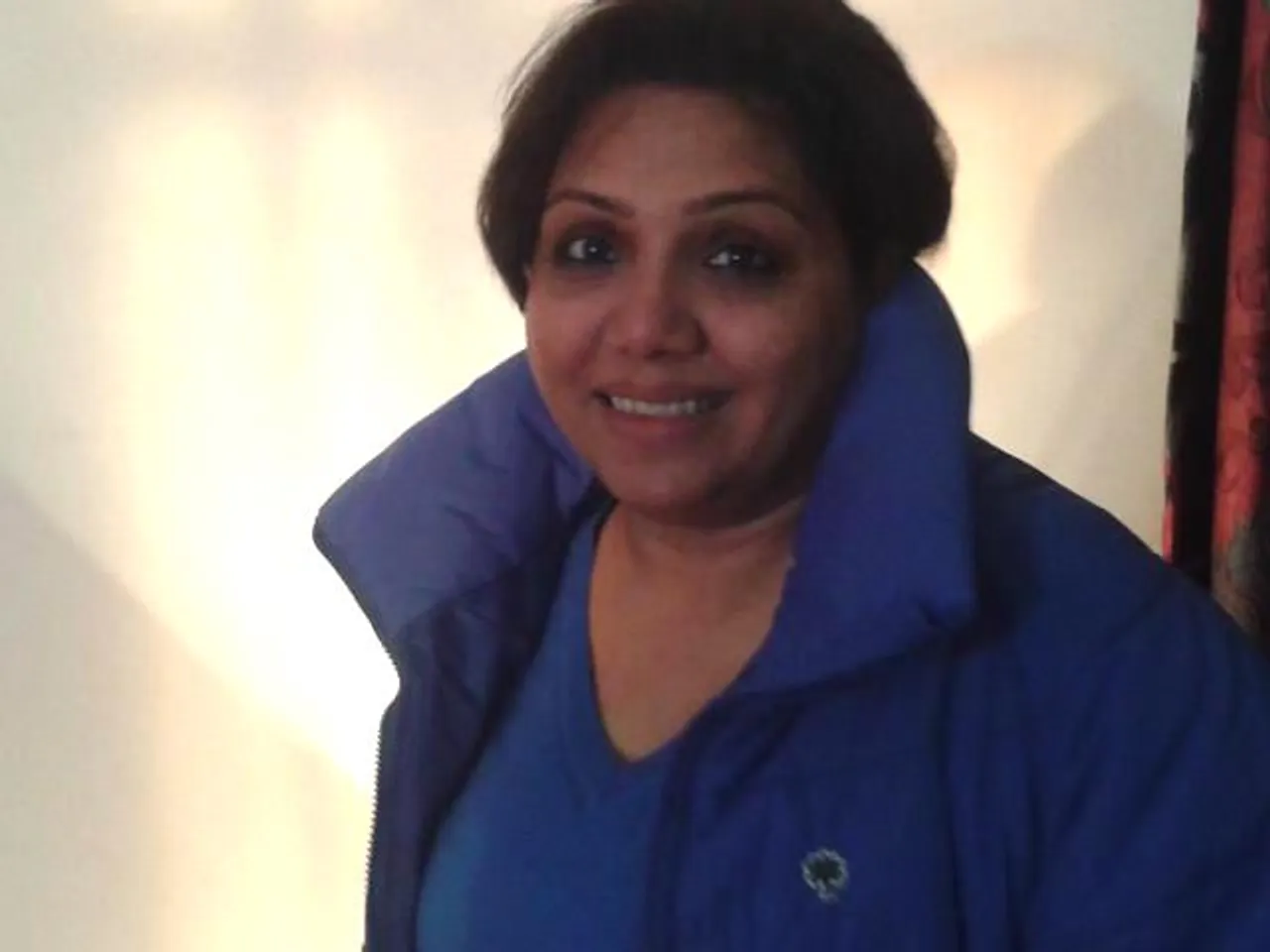 A professional journalist married to an army officer, Rajlakshmi Retesh found her second calling in a war museum tucked in Jaisalmer. With so many jawans on deputation in the region, Rajlakshmi is making families of jawans self-reliant by training them to work as tour guides at the Army War Museum in Jaisalmer. From knowing little about army lives, to feeling empowered and proud as wives, these women have a new vocation thanks to Rajlakshmi.
Rajlakshmi has worked with leading organisations like Business Standard, Deccan Chronicle, Zee and Sahara news channels and GolfingIndian.com. But married to a decorated army officer who has served important posts for Indian army efforts in Congo and Sudan, Rajlakshmi has tried to reinvent herself at every new place, with every new posting.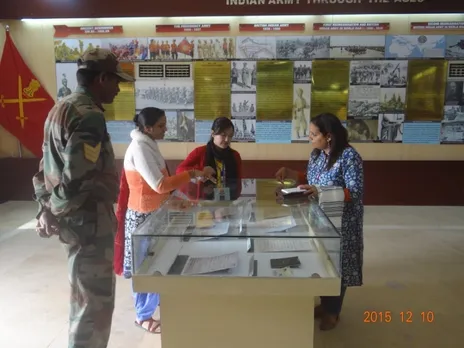 "I opted to quit my active media life in order to contribute towards the upkeep and uplift of families of our soldiers," says Rajlakshmi when asked about the reason behind giving up working life. She joined her husband when he took over the command of his unit at Jaisalmer, situated at the Rajasthan border, in May 2015.
"I would like to ask you, what your reaction was when you heard the media reports of the soldiers of the CRPF being martyred in recent Naxal attack in Sukma? I am sure, a thought about the families left behind, would be everyone's concern. So, is mine. Moreover, I am part of this fraternity that is in service of securing our nation," shares Rajlakshmi, recalling the horror of the Maoist attack in Sukma on 24th April, when more than 25 jawans lost their lives.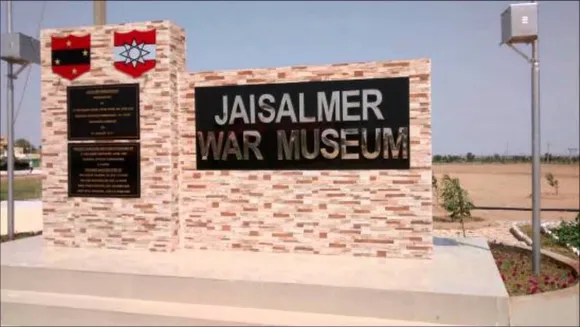 Jaisalmer War Museum
Over the last two years, more than 15 families of jawans have been trained and the women are working as lady guides at the war museum. This unique initiative has earned accolades in the army circle. The idea was to not only empower the soldier's families, but to give them new confidence to face the world. This war museum has been rated among the top five war museums in India.
We at SheThePeople.TV had a chat with Rajlakshmi Retesh to know more about the initiative. As first lady of the battalion, she is involved in efforts to look after the welfare of families and children of the regiment.
How did this idea come into existence?
During the period my husband headed the command of his unit, the sketch of building the Jaisalmer War Museum was already in place. It was to be dedicated to the gallantry of our soldiers who participated in the famous Longewala battle fought at the Jaisalmer border during the 1971 war. The battle, which provided the backdrop of the celebrated Bollywood blockbuster 'Border'.
Aware of my media background, then General officer commanding and Brigade Commander requested me if I could recruit and train a few of our families to work as lady guides at the War Museum. I jumped at the idea as it was a great opportunity to empower the families of our jawans, who are at perennial risk of their lives. And if any untoward incident happens, the families are left behind helpless. That thought led me to work as a trainer.
Were the women keen? This is one of the more prestigious war museums in India - how did you manage to get these (reluctant at first) women guides on board with you? 
The War Museum at Jaisalmer was completed in a record 6 months. The museum is divided into two big halls, the India army hall that displays the history of the Indian Army through the ages and the Longewala hall which is dedicated to the 1971 Bangladesh war. During the peak season of October-January, more than 5,000 tourists visit the museum every day.
As you are aware, most of our jawans' families come from remote corners of India and are quite hesitant to take up professional assignments. They prefer to live in the confines of their homes. In November 2015, I had asked for the families to appear for the screening test for Hindi and English guides (Jaisalmer being a tourist hub, a huge number of foreign tourists visit the place).
Even though a total 20 women came for the screening, I trained 6 of them initially as they had effective communication skills and had school-going children
Training them was challenging as well as satisfying. Challenging, because they were not confident of their own potential and I had to continuously encourage them by saying that soon they will be happy doing this. Today, it gives me immense satisfaction as a soldier's wife myself to see them beaming with confidence as they narrate the saga of valour of our armymen through the ages.
There are about 6 families working at a time. Six women are being trained for the forthcoming tourist season, beginning this August. New families join in when either of them is posted out
To suit their convenience, we worked out flexible working hours. They come to the war museum after sending their kids to school at 9:30 am. They earn Rs 10,000 as monthly salary for 3-4 hours of work in a day.
They can balance their family life along with their job. They often thank me that being a contributing member has not just given them personal confidence but earned them respect in their respective families as well.
What are your plans ahead for trainings?
In the army way of life, we are not stationed at one place, we're constantly on the move. At present, I'm training another 6 women for the next tourist season. Most of them will work for the next three seasons. Their training was given in a manner that they can too, train other interested women in future.
A proposal to involve children of our martyrs is on the cards as well.
The lady guides at the war museum --do they believe they are empowered?
I know it's surprising but they have never been this happy. The kind of respect they've earned in their families is worth mentioning here. Coming from remote villages they never imagined they would be able to meet the army chief (both present and previous chiefs have met them and appreciated their work).
I have undertaken many initiatives to make families become Internet-savvy. Since 40% of the families are graduates and above, and nearly all are at least matriculate, a promise which I am keeping, is to make them all able to utilize the internet for their basic needs. At the same time, I have to be vigilant that they do not breach the security lines
What are you trying to address through this unique initiative?
Soldier's families need exposure and opportunities to be self-reliant more than anyone else due to the vulnerability of lives of their spouses.
Compensation is not enough to sustain their life's challenges
What were the initial days like -- what kind of challenges you've faced and are still facing?
The toughest challenge was to keep them motivated to complete their training. Since it involves knowledge about history as well as military history, they would soon start saying that it's difficult to comprehend. In the beginning, I almost lost my voice after training for one month.
All the families working as guides use the internet. Since tourists from different backgrounds visit the museum, they are quite inquisitive to know about the Indian army. The guides refer to the internet whenever in doubt. This way, they also enhance their knowledge
Once they start working as guides, they get passionate about their job. Everyone visiting here has showered them with accolades and gifts. All of them have been awarded the AWWA (Army Wives Welfare Association) award for excellence. This recognition has been a morale booster for each of them.
What skills help you meet the everyday challenges?
My media background and decent command over both Hindi and English has helped me communicate with them easily. Being a Commanding Officer's wife itself teaches you how to handle people.