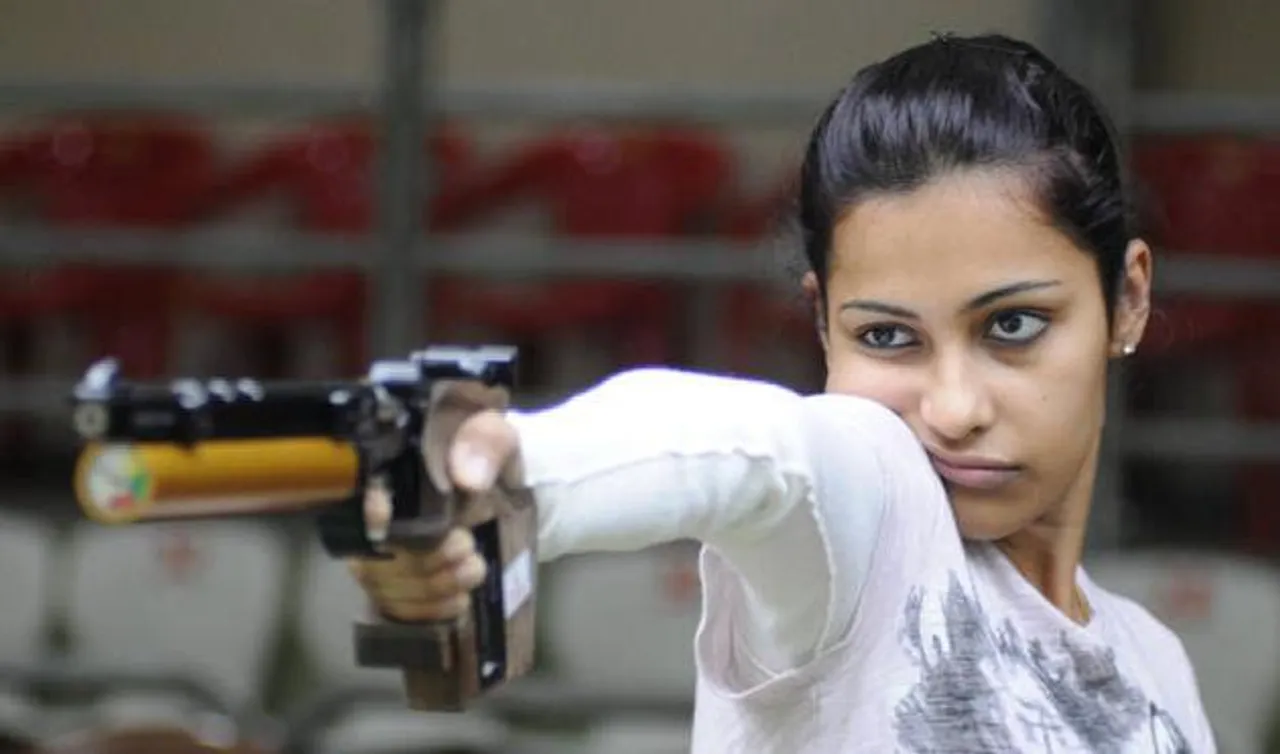 Olympian Heena Sidhu has refused to wear a hijab and hence backed out of the Asian Airgun Shooting Championships, scheduled to be held in Tehran in December.
The shooter had written to the National Rifle Association of India three weeks ago about her decision to withdraw from the competition.
Also Read: Sport Can Be A GameChanger For Women In India
"Forcing tourists or foreign guests to wear a hijab is not a sporting thing. I don't like it, so I pulled out," Heena told TOI.
While sharing a series of tweets on Saturday, Sidhu confirmed her move, explaining how the situation upsets her. She is not being a rebel, but personally thinks that making it compulsory for a sportsperson to wear a hijab is not ethical in sports.
There have been reports abt me skipping the Asian air weapon competition in Iran due to their practice of making women wear hijab. (1)

— Heena SIDHU (@HeenaSidhu10) October 29, 2016
Im not a revolutionary. But I feel dat making it mandatory for even a sportsperson to wear hijab is not in the spirit of a Sport. (2)

— Heena SIDHU (@HeenaSidhu10) October 29, 2016
Im proud 2 b sportsperson coz ppl from diff cultures, backgrouds, sexes, ideologies, religion can cum 2gether n compete without biases (3)

— Heena SIDHU (@HeenaSidhu10) October 29, 2016
Sport is an exhibition of sheer Human Effort nPerformance. Our ability to dig deep for Strength, Will Power and Determination. (4)

— Heena SIDHU (@HeenaSidhu10) October 29, 2016
This is d reason I compete n I cannot compete for anything lesser than this. But I wud also not have my personal opinion politicised (5)

— Heena SIDHU (@HeenaSidhu10) October 29, 2016
I thank the NRAI for respecting my views n I wud also like 2wish luck 2 r team competing in Iran. Lets concentrate on competition dan hijab

— Heena SIDHU (@HeenaSidhu10) October 29, 2016
As per the official website of the event, women participants will have to strictly follow the rules and laws specified by the Republic of Iran when on the shooting range or in public places.
Also Read: Does India take its sportswomen seriously?
When asked why she is not ready to follow the dress code when other shooters in the team have completely agreed to comply with the country's culture (NRAI president Rajendra Singh confirmed), Heena rues, "You are practising your religion, let me practise mine. If you are forcing your religious beliefs on me, then I don't want to compete."
Also Read: Are women rewriting India's sports history?
This is not the first time that Heena has pulled out of a championship in Iran. She had also done this two years ago for the same reason.
Reportedly, Harveen Srao will replace Heena in the 10-meter pistol event of the championship that begins on December 3. She will join Ruchika Vinerkar and Sarvesh Tomar in the team.
Winner of gold at the 2013 World Cup, Heena was eliminated in the qualification round of 10m women's air pistol in Rio Olympics in August.
Join Us on https://www.facebook.com/SheThePeoplePage
Follow Us on https://twitter.com/SheThePeopleTV