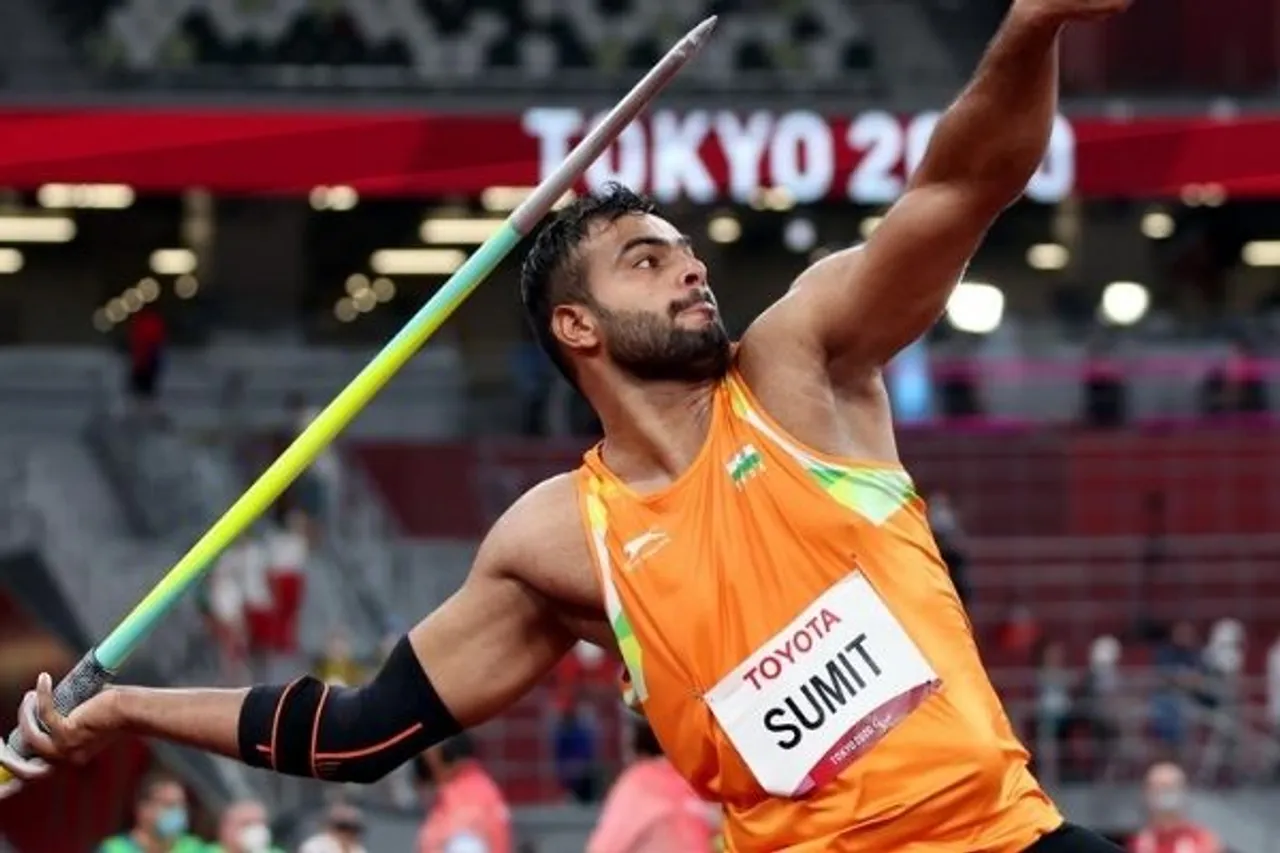 India's Sumit Antil won gold medal in the men's javelin (F64) event at the Tokyo Paralympics with a new world record throw of 68.55m on Monday. He broke the world record three times during the final event in Tokyo.
In the first attempt he scored 66.95 then went on to make even better throws during the event, In his fifth throw he smashed another world record with 68.55m throw.
His mother, Nirmala while speaking to ANI said, " I spoke to him this morning. He said not to worry " I will get a gold medal"." She said that Sumit Antil met with an accident in 2015 when he lost one of his legs. After he got treated, he went to Sports Authority of India and took training in Delhi.
I spoke to him this morning. He asked me not to worry & said, "I will get a Gold medal". He met with an accident in 2015 and lost one of his legs. After treatment, he went to SAI & later Delhi for training. He has worked really hard even amid COVID: Nirmala, Sumit Antil's mother pic.twitter.com/h2UncuZfoH

— ANI (@ANI) August 30, 2021
"He has worked very hard even amid COVID-19," Antil's mother said. After the gold medal victory, Antil's family and friends in Haryana's Sonipat celebrated the news by dancing. The athlete had laid down the the marker in his first attempt and later broke the existing world record in the F64 category which was also set by him.
Apart from Antil, shooter Avani Lekhara also won a gold medal for India in women's 10m rifle event at the Paralympics game. She became the first woman to win gold medal at the Paralympics games. Other javelin throwers from India also performed well with Davendra Jhajharia bagging the silver medal and Sundar Singh Gurjar winning bronze for the country.
Prime Minister of India, Narendra Modi tweeted, "Our athletes continue to shine at the #Paralympics! The nation is proud of Sumit Antil's record-breaking performance in the Paralympics. Congratulations Sumit for winning the prestigious Gold medal. Wishing you all the best for the future." Neeraj Chopra who had won gold medal earlier this year at the Tokyo games in Javelin throw also congratulated Antil.