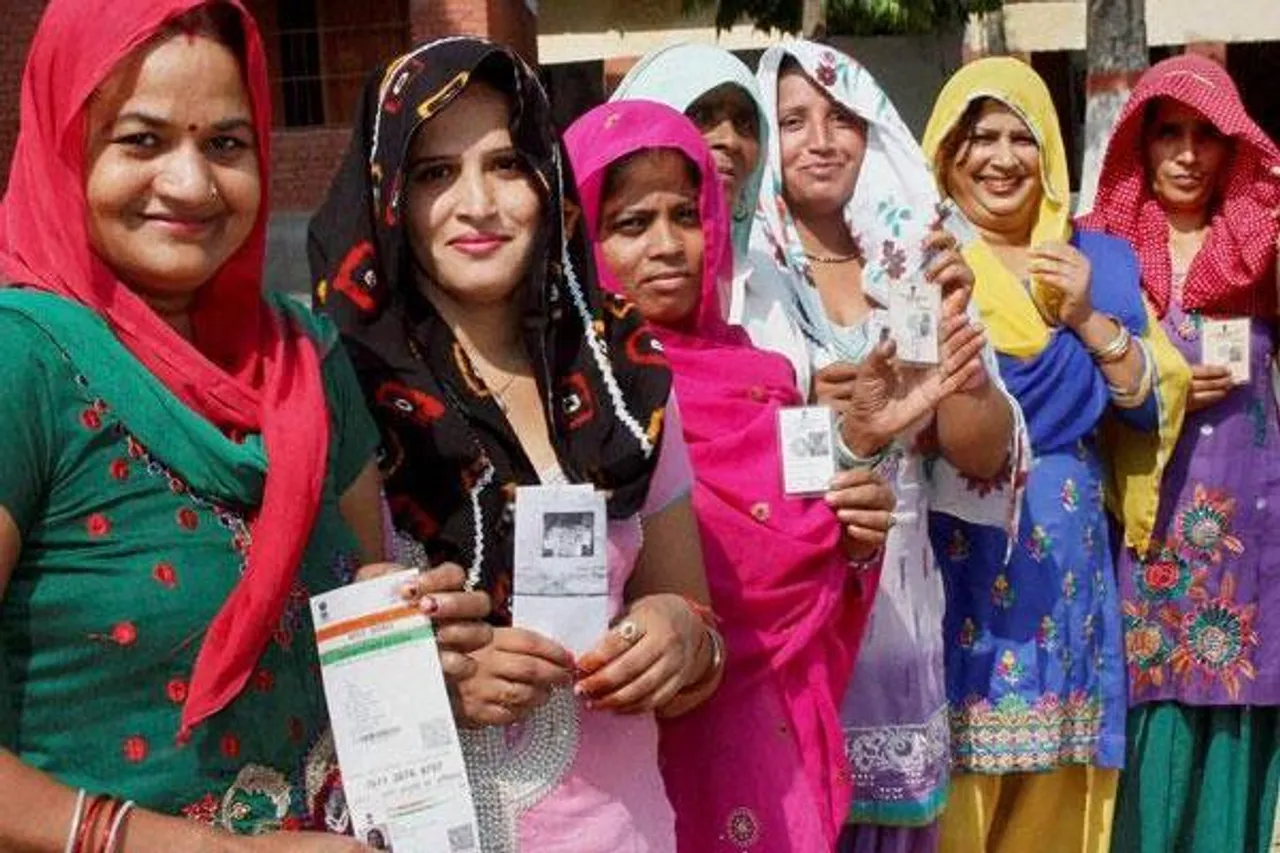 After having the highest number of women MLAs in Haryana 13 out of 90 for the first time in 2014, the state's tally of women winners in the assembly election has dipped by four candidates this time. Instead of building on to the 'highest women candidates' tag last year, Haryana went on a reverse downward spree again to electing only nine women candidates, replicating its 2009 results. In 2009 also, the state elected only nine female candidates to power.
Just like the dip in elected candidates, the number of women candidates who contested in the assembly elections also decreased from 2014. While in 2014, 116 women contested in the election, this year 108 women fought the election. However, not just women candidates, the number of male candidates also reduced from 1,235 to 1,061 which in turn increased the percentage of women candidates this year to 10 percent in comparison to 2014 when it was nine percent.
ALSO READ: Two Out Of 22: Women Candidates of AAP in Haryana Elections First List
Here are all the women candidates who won the assembly elections:
Seema Trikha of BJP from Badhkal constituency
Kamlesh Dhanda of BJP from Kalayat
Nirmal Rani of BJP from Ganaur
Geeta Bhukkal of Congress from Jhajjar (SC)
Shelley of Congress from Naraingarh
Renu Bala of Congress from Sadhaura (SC)
Naina Singh of JJP from Badhra
Kiran Chaudhary of Congress from Tosham
Shakuntala Khatak of Congress from Kalanaur (SC)
Losing women candidates
Among those who lost are some of the most influential names like pugilist Babita Phogat, who wasn't just riding on the success of her wrestling career but also the influence her father has in Dadri from where she contested the election. She was contesting on a BJP ticket. Another one who bit the dust is Nauksham Chaudhary, also a BJP candidate, who contested from Punhana. Chaudhary's star-studded campaign had the Prime Minister Narendra Modi along with Home Minister, Amit Shah and BJP MP Hema Malini. Yet the UK-return political greenhorn, who is a Hindu contesting from a Muslim-majority constituency, stands at a distant third position. Sonali Phogat is a famous Tiktoker who BJP gave away their ticket from Adampur.
Winning candidates
Among those women candidates who won the elections is incumbent Seema Trikha all set to continue her stint as an MLA for a second run. Dhanda, on the other hand, has been a member of BJP for several years now as her late husband Narsingh Dhanda served as the ex-union minister. However, she was contesting the election for the first time. Apart from Dhanda, Nirmal Rani, Shelley and Renu Bala were also contesting for the first time. While Trikha has been joined by Bhukkal, Singh, Chaudhary and Khatak as the candidates who have for the second time from the seats they were contesting from.
While Singh earlier contested from Indian National Lok Dal (INLD), this time she contested from Jannayak Janta Party and still ended up a winner. Singh is the only woman from JJP who won the assembly election this year.
ALSO READ: Haryana Party Reserves 33 Percent Seats For Women In State Elections
Parties disappoint in fielding women candidates
The tally of winning female candidates this year is more pathetic because even in 2005, the state had elected 11 women candidates and while there seemed to be some hope in 2014 when the state elected the highest number of women, it has now been clear that it hasn't progressed one bit from there. The only progress the state seems to have seen was in the 2005 election as in comparison to the 2000 election, the women candidates, then, rose from four to 11.
Instead of building on to the 'highest women candidates' tag last year, Haryana went on a reverse downward spree again to electing only nine women candidates, replicating its 2009 results.
The parties also didn't leave any chance to disappoint as the ruling party BJP gave tickets to only 12 women candidates out of 90 while it fielded 15 in 2014. While Congress hasn't budged from fielding 10 women candidates both in 2014 and this year as well. Swaraj India promised at the beginning of the election to field at least 33 per cent women candidates but even they failed to deliver as they only fielded four women out of 28 candidates. JJP fielded 88 candidates but only seven of them were women. Local party INLD has fielded the most number of women candidates with 15 women but even that has descended from its mark of 16 women candidates in the last election.
Haryana assembly elections resulted in a hung assembly as none of the major parties ended up having majority winners from the state. While the ruling Bhartiya Janta Party, which recently won by a majoritarian mandate in the Lok Sabha elections in May, seemed to be struggling contrary to popular belief, leading opposition party, Indian National Congress performed better than it did in 2014.
Picture credit: India TV