It is not easy to promote feminism in a country that is so deeply rooted in patriarchy. Women, asking for their rights, are either admonished or advised to follow the suit rather than questioning the status quo. But what about the men who stand up for equal rights for both the sexes?
Men get ridiculed for promoting Gender equality
SheThePeople.Tv spoke to Harshit Gupta, founder of Womenite, about the ridicule he had to face for initiating something that talks about gender equality. "When I started Womenite, people used to mock me by saying that I do some kind of business which involves supplying girls at night - Womenite. Not only this, I faced a lot of ridicule for being a feminist. In our male dominated, patriarchal society, I seem to be among a handful of men who are trying to make a change in the society and get women the respect that they deserve. I tend to not let such things get to me."
He further added that he has very clear ideas and motives in life which do not get affected by such baseless comments. Womenite, which currently has 35 members working for it,  aims at creating an equal society through love, education and empowerment.
Read Also: This Mumbai's Dad is the perfect feminist dad we need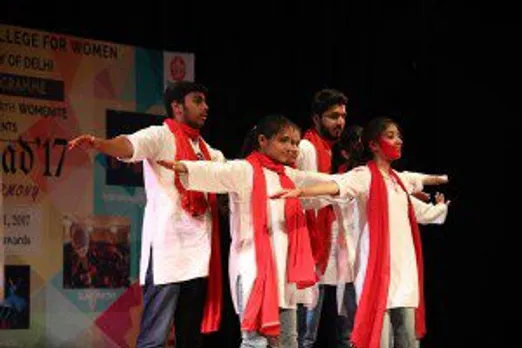 Womenite Team performing at Delhi University
Talking about the organisation's inception, Harshit tells us that Womenite started with a dream to make this world a better place for everyone. He credits his mother, who is the locus of all his thoughts and ideas that made Womenite a reality. It was his mother's tumultuous journey of being a homemaker, sacrificing all her energy and happiness for the sake of her family that compelled Harshit to start Womenite.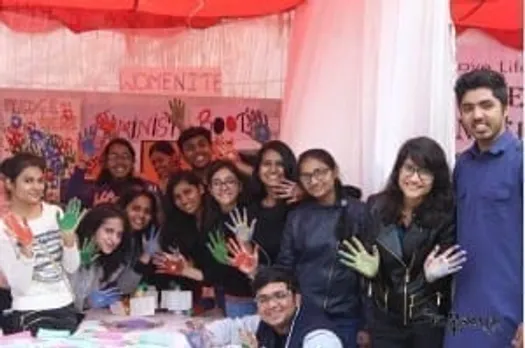 Womenite team
I realised that what ideally should be equals are being thrashed and discriminated against. That's when I decided to take a stand - Harshit
The need to sensitise men to strengthen the narrative around feminism
"I think men can benefit hugely from feminism if they acknowledge that feminism is anti-patriarchy, not anti-men. In fact, feminism holds the potential to liberate men from limiting ideas of masculinity that are rooted in violence and suppression," says Chintan Girish Modi.
His project "Mardon Wali Baat" aims at involving boys and men in deeper conversations about gender norms, body image, patriarchy, sexuality and gender equality.
Under the project, he also started an online course with the same name for men. Chintan says, "It was based on the realisation that a lot of men are keen on questioning narratives of toxic masculinity because they want to lead a fuller emotional and social life, and because they are genuinely interested in standing up against misogyny and homophobia. I wanted to create a space where men would feel welcome to explore and discuss new ideas without feeling judged or being talked down to."
Read Also: Girls spend 40% more time on Household chores
Talking about the various stereotypes that stigmatise our society, Chintan added that being a man is unfortunately equated with being insensitive, stoic and aggressive as opposed to gentle, vulnerable and empathetic. "I wanted the participants to develop trust in each other, and begin to talk about concerns that have no place in their regular personal and professional lives even though they crave that place," he shares.
The successful completion of his course was met with a lot of positive reviews from his participants.
"One of the participants shared that he was grateful to be introduced to other men who could talk freely about the anxieties they feel in relation to their bodies, and how they are pressurised to fit into a certain mould that is propagated by not only advertising and fashion magazines but also families.", Chintan told SheThePeople.Tv.
"According to me, we have to recognise our own biases, and continue to alter our behaviour based on new knowledge about our own selves."-Chintan
 He is also a part of the UN Inter-Agency Network on Youth Development's Working Group on Youth and Gender Equality, which includes a Task Force on Partnerships with Young Men in Gender Equality. Besides this, he has also been conducting workshops with school students to get them thinking about gender, bullying and identity in constructive ways without giving in to the cynicism that can set in from consuming the large volume of news on sexual violence.
Read Also: 5 Reasons Why Household Work Should Be Everyone's responsibility
The pivotal role men can play in expanding the dialogue around feminism
Harshit Gupta is an ardent believer that a lot of change can be brought about if men start respecting women and treating them equally."If we, men, decide that it is high time and now we need to stand together with the women and bring about a change, we can create a better world. Feminism is not something to be afraid of. It is something that we all must adopt in order to create a place where people can live happily regardless of their gender and sexualities."

When understood in the right sense, there is no reason why you shouldn't be a feminist  -Harshit  
"Men can play an important role in advancing feminist ideas not by claiming to be feminist but by putting these ideas, into practice in daily life: within the family, at the workplace, and in public life. We may falter, and that is okay. According to me, we have to recognise our own biases, and continue to alter our behaviour based on new knowledge about our own selves," Chintan asserts.
SheThePeople.TV appreciates them for their vision to create a society based on equality and peace.
Read Also: Are Modern Women Raising Their Sons To Be Feminists?