A mother can be anything if her daughter gives her the zeal to go on. Such is a story of Gursharan Preet Kaur, a single mother, who defied all odds at the age of 35, and is stronger than ever. Still fighting for a divorce, Kaur made a comeback to wrestling after seven years. Reason? Two years into marriage with a Punjab Police constable Sandeep Singh, Kaur was abandoned by her in-laws and asked to leave their home. Having lost her home, the only thing that kept her going was her child. So the unstoppable mother decided to give wrestling another chance.
Last month, she won a wrestling match in Panipat in the women's 72 kg category. She defeated national champion and a much younger Kiran. She received Rs 10 lakh as award for winning the gold medal.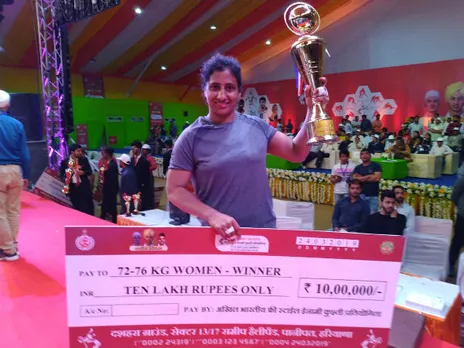 Wrestler Gursharan Preet Kaur
Kaur had last competed at an inter-police competition in 2012. Real challenge came when she was banned for nine months by the National Anti-Doping Agency after a failed dope test in 2013 and later got married to a drug addict.
After filing for divorce, Kaur moved to her mother's house in Mohanpur village in Tarn Taran district. Then later she shifted to Jalandhar from Amritsar. She was offered a police job there.
After coming back to wrestling, her first competition was the senior national championships in December last year where she finished fourth. Recently, at the All-India Police Games in Jaipur, Kaur won the gold medal in the 72 kg category. Taking care of her five-year-old daughter is now the biggest motivation she needs to opt for wrestling. A trainee at the Punjab Police Academy, Jalandhar, Kaur lives with her mother and brother who take care of her daughter in her absence. She says she is driven by her daughter and to give her the best future she can, she'd keep fighting as long as it takes.
You came back to Wrestling after seven-long-year. What inspired you to take the leap?
I was in a bad marriage. My junkie husband would beat me for his pleasure. He wouldn't let me train with boys (since there are less girls in wrestling) and when I disagreed, he kept me hungry for days. My in-laws told me they wanted a boy and I gave birth to a daughter. So they found another reason to beat me again and asked me to leave the house. My husband asked me to choose between him and my daughter. I chose my daughter.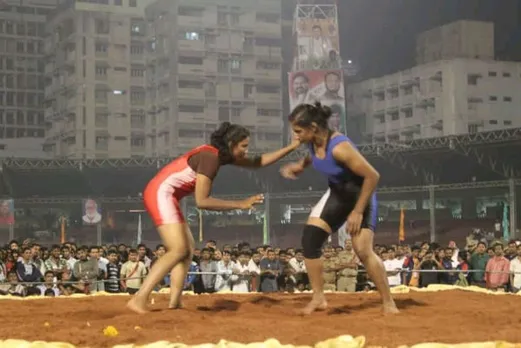 Wrestler Gursharan Preet Kaur, Picture Credit: Hers Own
Since there was hardly a chance to fix the relationship, two years after our marriage, my husband filed for divorce. I am still fighting to save money to balance personal and professional lives, and to hire lawyers.
Instead of  convincing them, I rolled up my sleeves to concentrate on my daughter's future.
Jab tak jaan mein jaan hai tab tak khelungi (as long as there is life I shall play). I come from a middle-class family. Sport wasn't my first choice but to become financially independent, wrestling seemed a genuine option. I always had a body and mind for a wrestler. When I started practicing in an akhada, the passion grew and  I was drawn to wrestling matches. I couldn't keep myself separated from such adrenaline rush. And, why should I? Because of some  stereotypical mind-sets? They'd tell me wrestling is too violent for girls, it's a boys sport. But I did not care. In fact, this encouraged me to strive harder, grow, and put down my opponent and be a winner.
Societal norm restricts women to play sports that are considered a male domain. But the truth is that they are scared to be defeated by a woman.
On the professional front, I have represented India 33 times and clinched medals in 11 competitions. At five Asian Championships, I have finished fourth.
Also Read: Dangal depicts the story of a wrestler himself who mentored her both daughters Geeta Babita to win the championships
What are the biggest challenges you faced since your comeback?

Financial crunches are the major drawbacks. While wrestling doesn't give me a hard time as it is like second nature to me, making the ends meet sometimes drains my motivation level. I have mastered wrestling over the years but to continue with my passion I need funds which is hard to come by. And, also I need to feed a family of three, so the struggle continues.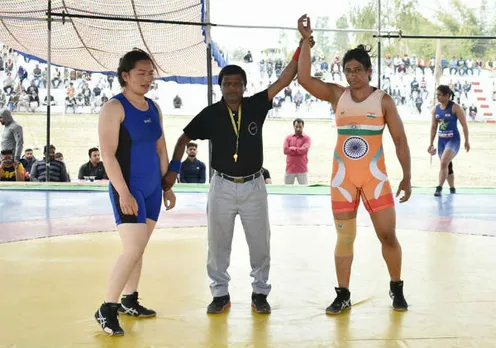 Wrestler Gursharan Preet Kaur, Picture Credits: Hers Own
As a single mother, how do balance parenthood and sport?
Yes, I am a single mother. But first I am a woman. I have raised a daughter who has matured beyond her age. She is  my strength and for her sake I'll go back on the mat to fight again and again. My brother takes care of her while I go for matches. My mother is the other strong woman in my life she supports my game and family so smoothly that I don't feel guilty while leaving my daughter behind.
It's not easy coming back to Wrestling after so many years of gap. It takes many hours of practice and hardship. I keep up my form by having a regular diet.
I practice for two hours everyday, morning and evening. But it is difficult to keep up a proper diet as it drains me financially.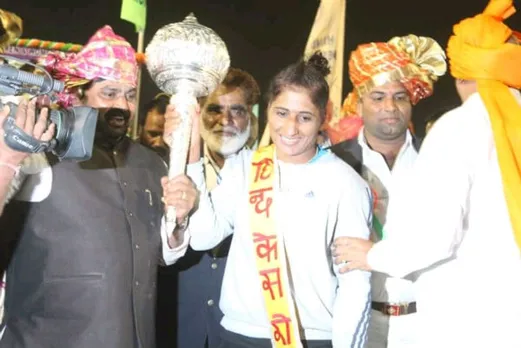 Wrestler Gursharan Preet Kaur, Picture Credits: Hers Own
You have proved that age is just a number. What keeps you chasing your passion even at this age?
I don't feel aged at all. Even at 35, I feel like I am in my 20's when beating an opponent down. I am passionate about providing a suitable life to my daughter. Age is the last thing I think about when wrestling. I have more important matters to take care of.
I am prepping to qualify in the upcoming Olympics. Other than that I plan to compete in Commonwealth Games as well. For the upcoming trials for World Championships, I am saving up since I can't really rely on the authorities and private sponsors are hard to get.
Also Read: Haryana's Sportswomen fight marriage norms to prep for Olympics
How does the future look like for aspiring women wrestlers of our country?
In any sports, if women decide to follow their passion they can do anything.
Do you plan to become a coach someday?
Definitely. It would be a great honour for me to be the coach for the next generation of wrestlers, especially for poor kids.
Your advice to young girls?
Work harder than today. Work for a stronger future that no one can ever dare pull you down. Auraten maidan-e-dangal mein aayegi toh todengi (when it comes to wrestling women slay).