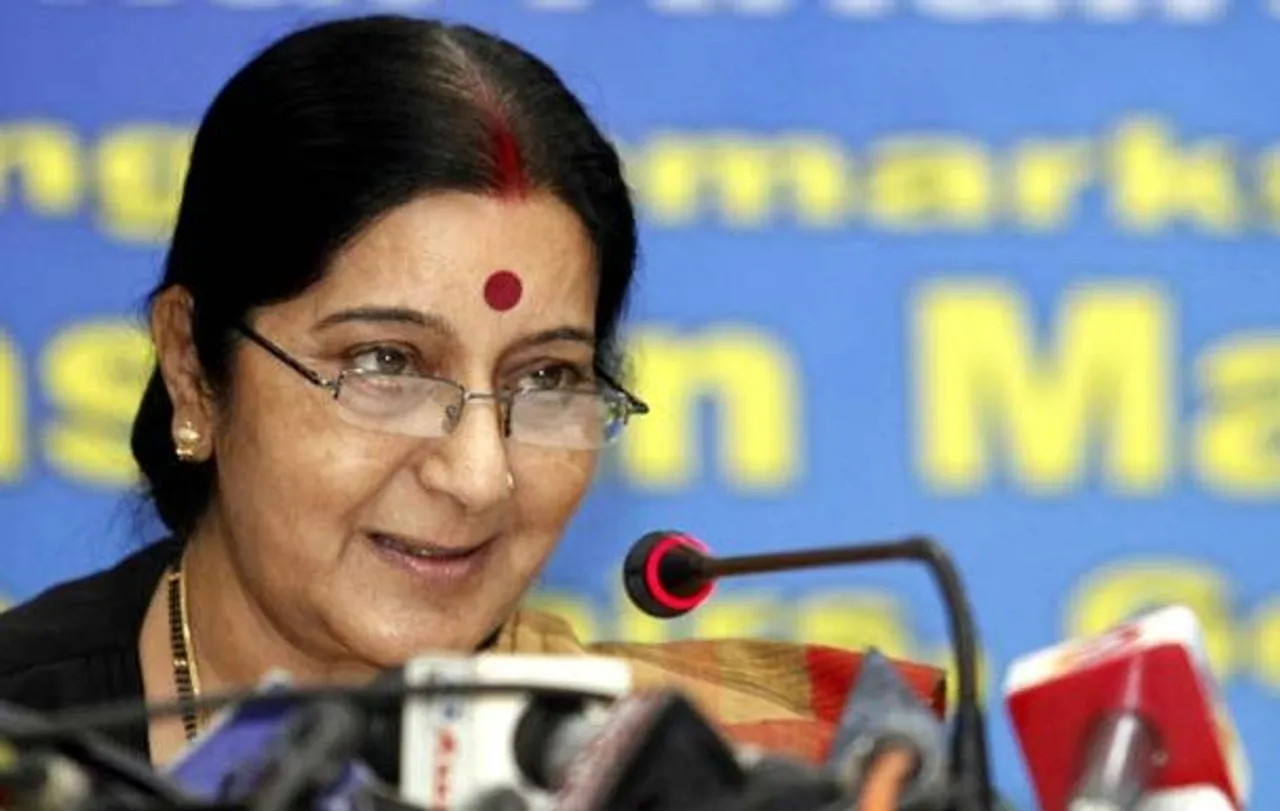 The Twiplomacy study of 2016 recently declared our very own Minister of External Affairs, Mrs. Sushma Swaraj as the most followed woman leader in the world. She has over 5 million followers, just a couple of millions behind the present global phenomena Hillary Clinton who has around 7 million tweeple behind her.
Sushma Swaraj became a cabinet minister at merely 25, and has not looked back ever since. A true 'twiplomat' by all means, she knows when to explain her position and keep wary of any form of internet abuse.
This one was her epic twiplomacy tweets:
I am unable to attend the swearing in ceremony in Rashtrapati Bhawan since I have a meeting with Foreign Minister of Hungary. /1

— Sushma Swaraj (@SushmaSwaraj) July 5, 2016
Media - Pl avoid the headline : 'Sushma skips Oath Ceremony'.

— Sushma Swaraj (@SushmaSwaraj) July 5, 2016
Touche'! Though that is not what she limits her outreach to. Let's take a look at a few more notable things that she does as a social media influencer and political leader.
 

An inclusive approach
If someone is using social media for active, rather than passive or promotional politics, it is Sushma Swaraj. The best thing about her twiplomacy is that she doesn't differentiate (unlike many ministers from the present government, who hope to ignore the more difficult questions, at least in my personal experience). She also advocates for truly glocal societies to her audience online:
I appeal to fellow Indians. Next time you meet an African citizen, pl shake hand and say 'India loves you'.
Pl RT

— Sushma Swaraj (@SushmaSwaraj) June 2, 2016
Transparent and prompt action
No matter how small or big, any issue that is brought to her notice is immediately looked into and she makes it a point to respond to the complainant. She took all of 24 hours to resolve this young minor girl's SOS message. Rukmini's father was wrongfully jailed in Saudi Arabia:
Rukmini - Don't worry my child. @IndianEmbRiyadh will spare no efforts to secure your father's release from jail. https://t.co/CphxN7G8KM

— Sushma Swaraj (@SushmaSwaraj) June 18, 2016
Rukmini - I m happy your father is back with you on #Fathersday .@IndianEmbRiyadh is there for you and all Indians. https://t.co/bv0EaY4fAy

— Sushma Swaraj (@SushmaSwaraj) June 19, 2016
Funny side up
She also uses social media to evoke humor in our otherwise dull and boring societies. Here is what she had to say to an obsessive consumer:
@irvpaswan @SushmaSwaraj Dear Ministers, @Samsung_IN sold me a defective refrigerator, they r not ready to replace pic.twitter.com/G87Jwh6slD

— Venkat (@M_VenkatM) June 13, 2016
Brother I cannot help you in matters of a Refrigerator. I am very busy with human beings in distress. https://t.co/cpC5cWBPcz

— Sushma Swaraj (@SushmaSwaraj) June 13, 2016

 
We hope new appointee Anupriya Patel learns some of these skills from her colleague of the cabinet, since her fake account tweeted controversial stuff while her original account, which was set in July this year, hasn't made a single tweet.
Interested in politics in the age of social media? Read 'The Big Connect' by Shaili Chopra
Feature Image: India.com
Read more blogs by Sakshi Singh Sirari here