The Google Doodle today is dedicated to the renowned singer Akhtari Bai Faizabadi, famously known as Begum Akhtar. Google is commemorating her 103rd birthday through a doodle designed by guest artist Manuja Waldia.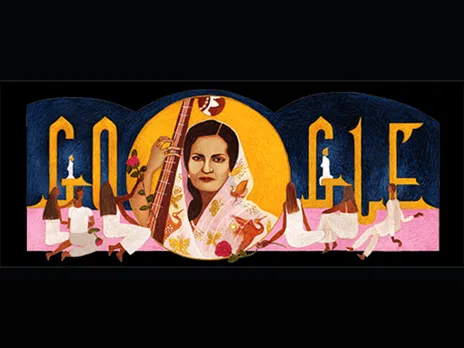 Pic Credit: The Economic Times
Know more about her:
Akhtari Bai Faizabadi was born on October 7, 1914.
She was a popular Indian singer of Ghazal, Dadra and Thumri genres of Hindustani classical music.
She was fascinated by the music of Chandra Bai. That's when her inclination towards music grew manifold.
Her uncle insisted her to get trained under the tutelage of Ustad Imdad Khan. He was a great Sarangi exponent from Patna and later she trained under Ata Mohammed Khan of Patiala.
She polished her skills under various renowned musicians and artists such as Mohammad Khan, Abdul Waheed Khan of Lahore. After which she became  Ustad Jhande Khan's disciple.
Read Also: Visually Impaired Singer Plays 67 Songs In One Sitting, Sets New World Record
She was only 15 when she gave her first public performance. After receiving recognition from the famous poet Sarojini Naidu, she was encouraged to continue singing ghazals.
 Her selected form of musical expression was poetry-through-ghazal. In fact, she was the pioneer of this genre and paved the way for many eminent artists to follow such as Jigar Moradabadi, Kaifi Azmi and Shakeel Badayuni.
Her renditions of Ghalib's Dil hi toh hai na sang-o- kisht, Mir Taqi Mir's Ulati ho gayi sabtadbeerein and Faiz Ahmed Faiz's Aaye kuchh abr kuch sharaab aaye are legendary.
She breathed her last on October 30, 1974 after falling sick at a concert.
She is buried in a tomb built in a mango orchard within her home.
Awards
The Government of India bestowed her with the title of Mallika-e-Ghazal (Queen of Ghazals).
She also received Padma Shri in 1968 and Padma Bhushan (posthumously) in 1975.
Though her melodious voice doesn't ring in our ears anymore, she is still alive in the wonderful compositions.
pic credits: NDTV
Read Also: Meet Pelva Naik, One Of The Few Female Dhrupad Singers in India