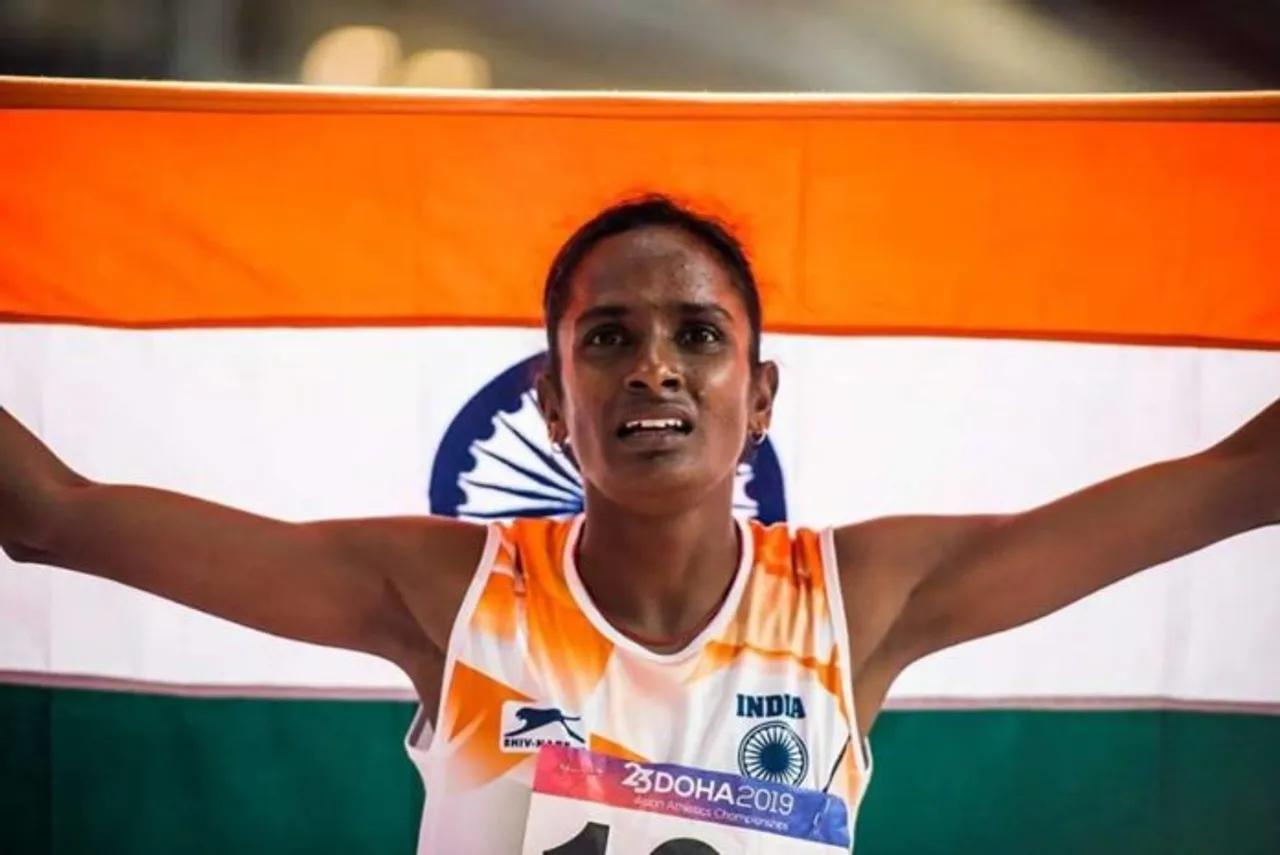 In an unexpected turn of events, Gomathi Marimuthu triumphed even before any of the star athletes could get on the tracks and gave India its first gold medal in the women's 800m race. With this win, the country added four medals on the second day of the Asian Athletics Championships being held at Doha, Qatar, here Monday. Currently, Indian medal tally is at 10.
The 30-year-old secured India's first gold medal after three silver, which includes a silver for javelin thrower Shivpal Singh, and five bronze medals.
GOLD MEDAL 🏅 Gomathi Marimuthu wins women's 800m race with a timing of 2:02.70 (PB) & yes that was a close finish with China's Chunyu Wang (2:02.96).

That is #India's first Gold at #AAC2019 #Doha

Thanks Gomathi 🙏 pic.twitter.com/tCCQGpCKwP

— Athletics Federation of India (@afiindia) April 22, 2019
She clocked a personal best time of 2 minute 02.70 seconds in the half mile event to win a surprise gold for India. Gomathi was racing for the third time who had finished seventh in the Asian Championship in 2013 and fourth in 2015. She secured a berth during a confirmatory trial in Patiala where she was paced by quartermiler MR Poovamma.
The athlete from Tamil Nadu achieved her first major gold by moving past Kazakhstan's Margarita Mukasheva and China's Wang Chunyu to take the precious medal with a personal best timing of 2:02.70s. Her previous best (2:03.21) came with the Federation Cup gold recently in Patiala.
"I expected a medal, not the gold," said Gomathi after her race, The Hindu reported. "Did not realise till I crossed the finish line that I have won a gold medal. Last 150m was a very tight race," Gomathi was quoted as saying by Athletics Federation of India.
News Flash: 1st GOLD medal for India in Asian Athletics Championships.
Gomathi Marimuthu wins Gold medal in Women's 800m clocking 2:02.70 which is her PB timings.
What a kick in the final 100m by Gomathi.
Wow! pic.twitter.com/uoceWbXYBY

— India_AllSports (@India_AllSports) April 22, 2019
Gomathi had suffered from a groin injury in 2016 and after a two-year break she could compete at the top level.
Gomathi Marimuthu moved from third place by sustaining her pace to win the first Gold for India in the #AAC2019 #Doha Her time of 2:02.70 is a personal best as she first out-ran Kazakhstan's Margarita Mukasheva and then went past a tiring Chinese Wang Chunyu over the final 5m. pic.twitter.com/NrEQDy3lsp

— G Rajaraman (@g_rajaraman) April 22, 2019
You May Also Like: Quotes that inspire: 5 Indian women Olympians to be set their goals
"Things have been very difficult in the last few years. But I have never had any doubts about my abilities and that has stood me in good stead. It took a tremendous amount of self-belief and hard work to be able to run the way I am at the moment. 2019 has been a great year for me so far as this is the best I have performed on the track in the last few years," said Gomathi, TOI reported. She is currently employed with the Income Tax in Bengaluru.
Medal prospect Dutee Chand finished fifth in the women's 100m final after breaking her own national record in women's 100m race and qualified for the semi-finals.
Dutee had won a bronze in the 2017 edition in Bhubaneswar.
"My timing was good and I also created a new national record. I just want people to pray for me and I will do well in the finals and win the gold medal," an elated Dutee can be seen saying in a video posted by Athletics Federation Of India, after her race. She was also the fastest qualifier for the semi-finals.
That's Dutee Chand after improving her own National Record with a timing of 11.28s this morning in 100m (W) heats at #AAC2019 #Doha

All the best champ for finals!#AsianAthletics @qatarathletics @sports_odisha
@ pic.twitter.com/AhwegDyjUd

— Athletics Federation of India (@afiindia) April 21, 2019
Meanwhile, National record holder and pre-competition favourite, shot putter Tajinder Singh Toor bagged India's second gold with a best throw of 20.22m.
These proud moments for #India is presented to you by @Tajinder_Singh3
National Anthem at Khalifa Stadium here in #doha #AAC2019 @IndiaSports@Media_SAI @nitinarya99 pic.twitter.com/3c7nrdGhAK

— Athletics Federation of India (@afiindia) April 22, 2019
On the other hand, 24-year-old Saritaben Gayakwad gave India's first medal of the second day - a bronze medal in the women's 400m, clocking 57.22, a shade below her season's best. She left behind Vietnam's Quach The Lan (56.10) and Bahrain's Aminat Yusuf Jamal (56.39).
@PoovammaMR won bronze medal in women 400 MTR today. @afiindia #AsianAthletics #Doha pic.twitter.com/XPWGDeJRDR

— Nitin Arya (@nitinarya99) April 21, 2019
Congratulations Gomathi!
Feature Image Credit: AFI/Facebook