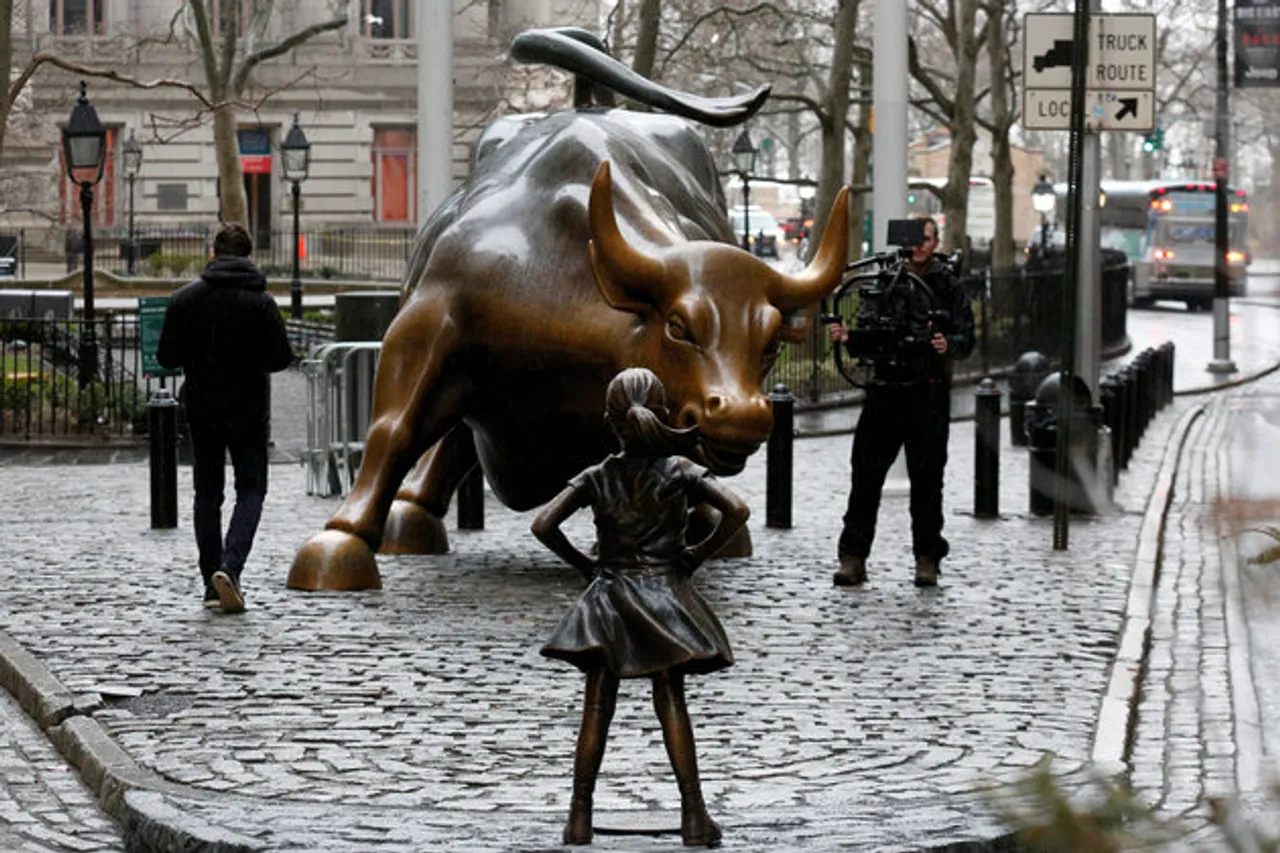 Wall Street's iconic charging bull is not standing alone anymore! On Tuesday, just a day before International Women's Day, the iconic bull got a friendly but feisty statue of a girl standing up against it as part of a new campaign to assure gender equality in company boards.
https://t.co/6WxMw6OagR
State Street installed a statue of a girl in front of the #WallStreet bull. #InternationalWomensDay on Wednesday. pic.twitter.com/UDJdG9TeyH

— Dr. Magus 'Let's Be Real' Prime ⵣ 🌈 (@ubervaper) March 8, 2017
The defiant girl's statue was installed in New York City's Wall Street by none other than the world's third largest asset manager -- State Street Global Advisors (nearly $2.5 trillion investor) and unit within State Street Corp. They launched this campaign as a sign of protest against the gender imbalance within companies. The company argues that most of them don't have a large number of women on boards.
A picture is worth a thousand words: New 'Fearless Girl' statue, standing tall in the face of Wall Street's Charging Bull. pic.twitter.com/DpmuUPv1xI

— Yoni (@OriginalYoni) March 7, 2017
The bronze statue of a defiant girl defines gender diversity. Interestingly, the manager is putting out a definite sign of agenda and making companies take serious concern over the increase in its female membership on the boards and if a company fails to do so, they'll lose a prime member without a doubt.
A statue of a young girl staring down the Wall Street bull just appeared – a day before #IWD2017 pic.twitter.com/uz2TM3cblm

— AJ+ (@ajplus) March 8, 2017
The company even sent out a letter to around 3,500 companies on Tuesday pressurizing them to take the right action immediately.
"There has been a lot of discussion on this topic, but the needle hasn't moved materially," Lori Heinel, the firm's deputy global chief investment officer, told Business Insider on Tuesday after the statue was installed.
Also Read: Move over Leo, a 'She Wolf' is taking over Wall Street
The big player in the index fund world, State Street is now managing about 90% of its assets in passive funds, which invests in companies held in the Russell 3000 and FTSE.
The money manager's new idea of conquering equality through an attempt to add more women on boards is laudable. This way companies will improve performance rapidly and increase shareholder value too. According to data, the problem of not including more women on boards has pipeline issues and some boards don't show any particular reason or interest in increasing gender diversity. Lack of women on boards is harmful for companies' future, the manager concluded.
.@StateStreet just put a statue of a defiant girl in front of the Wall Street bull https://t.co/VRclWJm5aT pic.twitter.com/huWdhwxKKv

— Insider Business (@BusinessInsider) March 8, 2017
"One of the most iconic images on Wall Street is the charging bull. So the idea of having a female sort of stand against the bull, or stand up to the bull, just struck us as a very clever but also creative and engaging way to make that statement," Heinel said. "Even though it's a little girl, her stance is one of determination, forwardness and being willing to challenge and take on the status quo."
Heinel, while citing the Institutional Shareholder Services data, mentioned that there was a quarter of boards represented in the Russell 3000 with no women at all.
READ: Street Artist Kajal Singh Is Transforming The Streets Of Berlin, Delhi
Kristen Visbal, the maker of "The Fearless Girl", told The Wall Street Journal: "I considered having the girl charging against the bull, but ultimately decided the girl should squarely face the animal. The sculpture is a composite of the daughter of a friend and a 9-year-old Latina girl."
State Street's new statue will surely draw attention to the issue and is being expected to be there standing, voicing the issue for another month from now. Kudos!
 Also Read: A Poetry Tea Party Across Mumbai
Feature Image Credit: Huffingtonpost
Join Us on https://www.facebook.com/SheThePeoplePage
Follow Us on https://twitter.com/SheThePeopleTV