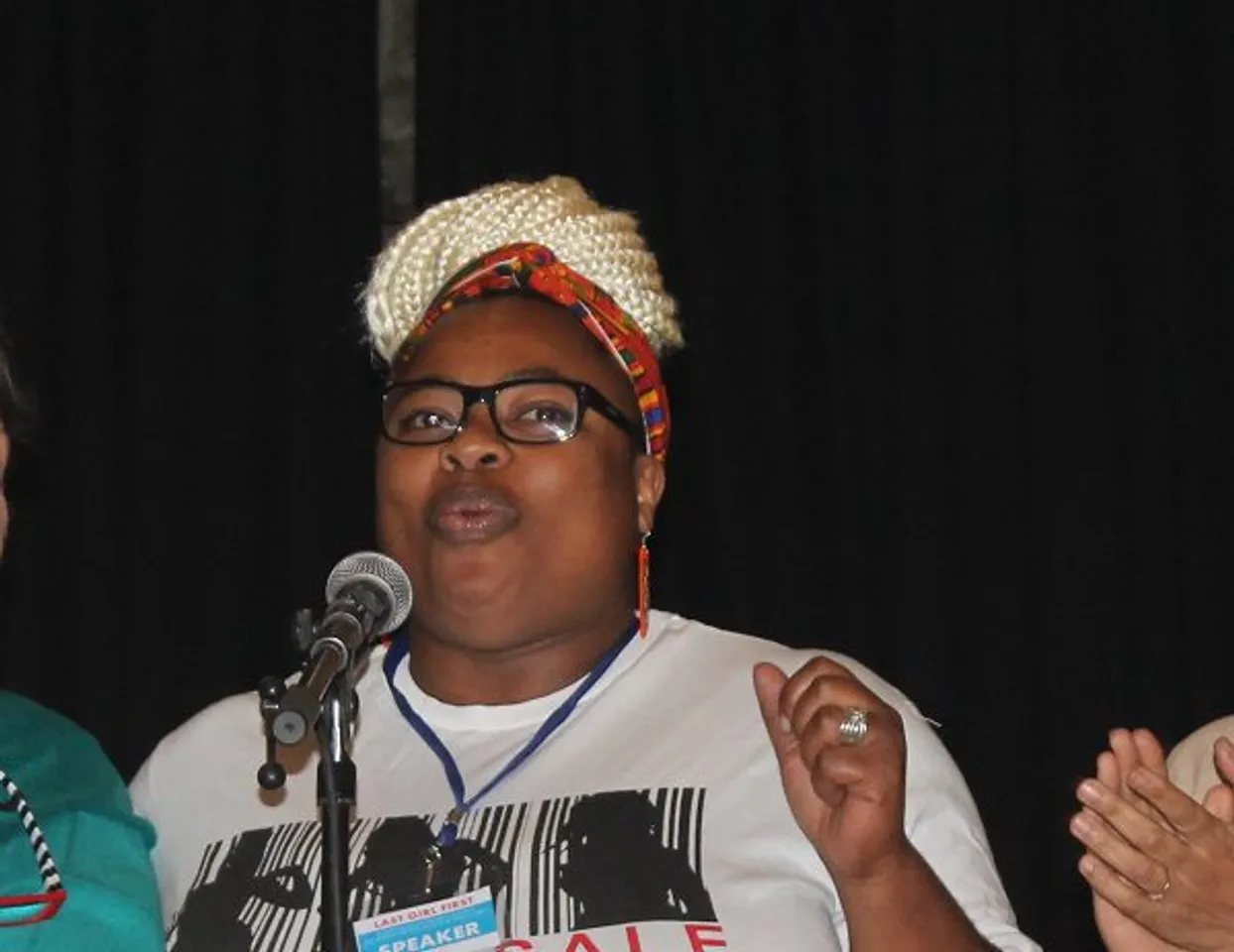 South African writer Grizelda Grootboom's laughter is contagious, even when she's talking about a very difficult life -- including sexual abuse and drug abuse. It's a life she draws upon, challenges and all, in her work as a writer and activist educating and counselling young girls against human trafficking. She also supports fellow survivors undergoing rehabilitation in her hometown, Cape Town.
In Delhi to attend a conference on sexual trafficking and slavery, Grizelda tells SheThePeople.TV more about her journey to freedom, away from prostitution 4 years ago.
"I came out of it when I was six months pregnant with my baby. I was working in a brothel for a woman and she told me that the baby is not welcome here, so she forced an abortion on me. After the abortion, I said my first no. Saying no got me my ass whopped and that's when my coming out of prostitution journey began," she tells SheThePeople.TV matter of factly.
The 32-year-old wrote 'Ex!t', an account that captures the hopeless resignation that envelops so many women forced into prostitution. Grizelda says she had a normal life in Cape Town until the age of eight when a community conflict resulted in her family being evicted from their home, and being separated to different townships. A lonely Grizelda found her place on the streets but soon tracked down her mother, who was remarried. After initially being upset that her daughter just showed up at her door, her mother agreed to allow Grizelda to live with them.
Soon after that, the young girl -- aged just nine -- was gang raped by boys from her community, who were 14-15 years old. A broken Grizelda went back to her mother's house only to be blamed for her rape. Distraught by her mother's reaction, Grizelda ran away and once again settled on the streets.
But this time she found a space for herself in one of the shelter homes of the big city. She became part of a gang, to ensure her place and safety from abuse, but .. that meant drug peddling and also severe drug abuse, she says. When Grizelda turned 18, she had to leave the shelter (which was meant for minors), and forced back onto the streets.
Tracking down a friend in Johannesburg, Grizelda asked if she could stay with her... but had no idea what was coming next. When she reached Jo'burg, her friend sold her off to a pimp. This was the beginning of Grizelda's thirteen year long struggle in the prostitution industry.
"I still remember the fresh smell of the room, it was wooden. I was so excited to meet my friend. She showed me a room and it was empty. She asked me to take rest and I will get you some food and that was the last time I saw her," Grizelda tells SheThePeople.TV.
"In my sleep, the first thing I felt was a kick in my stomach and I was getting undressed. I went completely numb from inside out and I was thinking the house was getting robbed."
Grizelda was locked in that house for two weeks. She was constantly injected with morphine, ejaculated on and assaulted by various men. And one day in the middle of the night, she was exchanged with a younger girl. Coming out of that house in one of the biggest cities of South Africa, smelling of semen and drugs –Grizelda had nowhere to go so she joined other girls like her in prostitution and stayed in the city for a couple of years.
(LtoR) Jackie Lynne, Vidya Shah and Grizelda Grootboom singing 'We shall overcome'
On being asked how she moved on from the trauma she faced, she revealed that she met a documentary film maker at a church, where she started going to for spiritual solace. The person asked her to act in a movie based on
human trafficking
without knowing anything about her story.
"After the movie was made, there was a conference where I was asked about my stand on the movie and that was when I took my first stand and met the members of Embrace Dignity," she tells us.
Grizelda is currently working at Embrace Dignity, a not-for-profit organisation, which is part of a growing global movement working to restore dignity for all people by advocating for law reform and public education to address commercial sexual exploitation and human trafficking.
"As a survivor, I would say prostitution is a very large part of human trafficking and human trafficking was red-taped by so many people who own the industry. Being red-taped means higher level people covering it up and that's why people think it does not happen. And it is painful as it happens to the last girl and the last girl is the one that does not have the access to information and resources," she says.
She urges for an action plan to tackle this industry, to get the government to take concrete action.