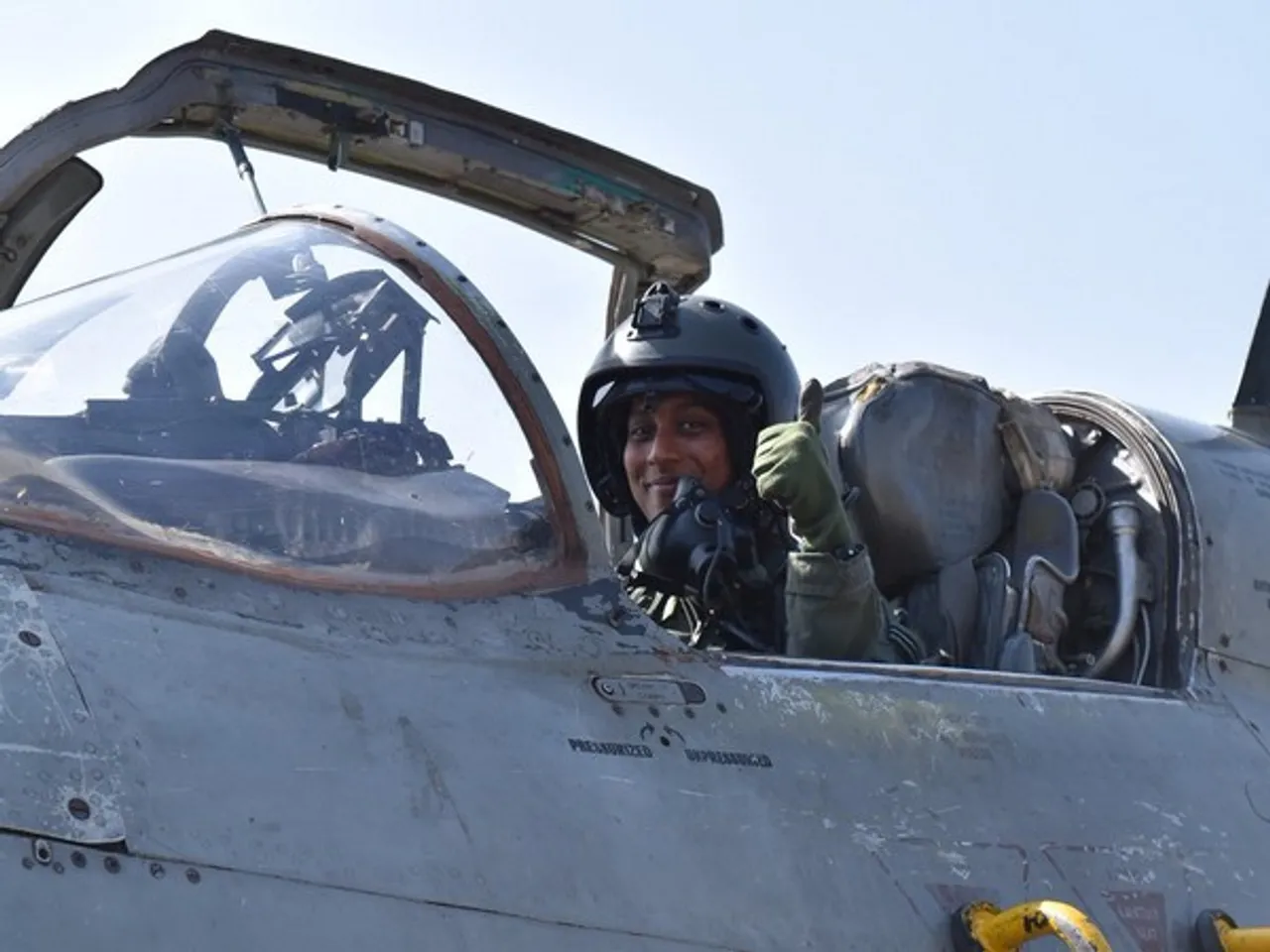 Flight Lieutenant Bhawana Kanth became the first woman fighter pilot who is capable of undertaking any mission during daytime. She completed her training on Wednesday, 22 May which includes operational syllabus for carrying out combat missions on MiG-21 Bison aircraft. Bhawana is also the first woman to be commissioned in the Indian Air Force as a Woman Fighter Pilot in 2016. "She is the first woman fighter pilot to be qualified to undertake missions on a fighter aircraft by day. She has been able to achieve this feat with her hard work and perseverance," Air Force Spokesperson Group Captain Anupam Banerjee was quoted as saying by news agency PTI.
#WomenPower: Bhawana joined the fighter squadron in Nov 2017 & flew the 1st solo on MiG-21 Bison in Mar 2018. With her dedication, hard work & perseverance she has become the 1st women Officer to achieve this feat. She is from the first batch of women fighter pilots of the IAF. pic.twitter.com/v2voizwFyO

— Indian Air Force (@IAF_MCC) May 22, 2019
Currently deployed in Rajasthan
Kanth is currently deployed in Rajasthan along the Pakistan Border. Post Bhawana's training Mohana Singh and Avni Chaturvedi will be trained to participate in any fighter missions later on. They were formally commissioned by defence minister Manohar Parikar. There are around 1500 women in Indian Air Force who are currently working in different categories of the IAF. Women have been flying helicopters and transport aircrafts right since 1991, but it was only yesterday that a woman fighter pilot is now eligible to participate in any combat mission.
#WomenPower: Flt Lt Bhawana Kanth adds another feather to her cap by completing Day Operational syllabus on MiG-21 Bison aircraft. She is the first women fighter pilot to be qualified to undertake missions by day on a fighter aircraft. pic.twitter.com/J5SWN8A4oD

— Indian Air Force (@IAF_MCC) May 22, 2019
Early life, education and career
Born in Barauni, Bihar, Kanth was fond of sports like Kho Kho, Badminton, swimming and painting. She later prepared for engineering exams in Kota, Rajasthan. However, she couldn't get into the Indian Air Force as women were not inducted at the time. After graduating in 2014, she started working in the IT sector for Tata Consultancy Services. Right from the beginning, Kanth had dreamt of flying planes. She was selected to be commissioned in the Indian Air Force after qualifying the UPSC Combined Defence Services (CDS) competitive exam. Post this; she underwent six month long stage two training in June 2016 at the Kiran Intermediate Jet Trainers at Hakimpet Airforce Station in Hyderabad.
Manohar Parikar had described the trio's induction as 'Red Letter Day' and said that his ministry is working towards bringing total gender parity in the armed forces. "We feel quite fortunate at being the first ones. Anybody could have got the opportunity, but we have got it. We are very happy," says Bhawana Kanth when she became the first woman to be commissioned in IAF.
Once she completes the operational syllabus for the night time missions, she will then be able to undertake missions at night too. Kanth was inducted in the Fighter Squadron in November 2017 and was the one to fly Mig-21 alone last year in March. In the process, she also became the second woman pilot of Indian Air Force to fly solo in a fighter aircraft.
Read More:Chandigarh's Hina Jaiswal Is IAF's First Indian Woman Flight Engineer