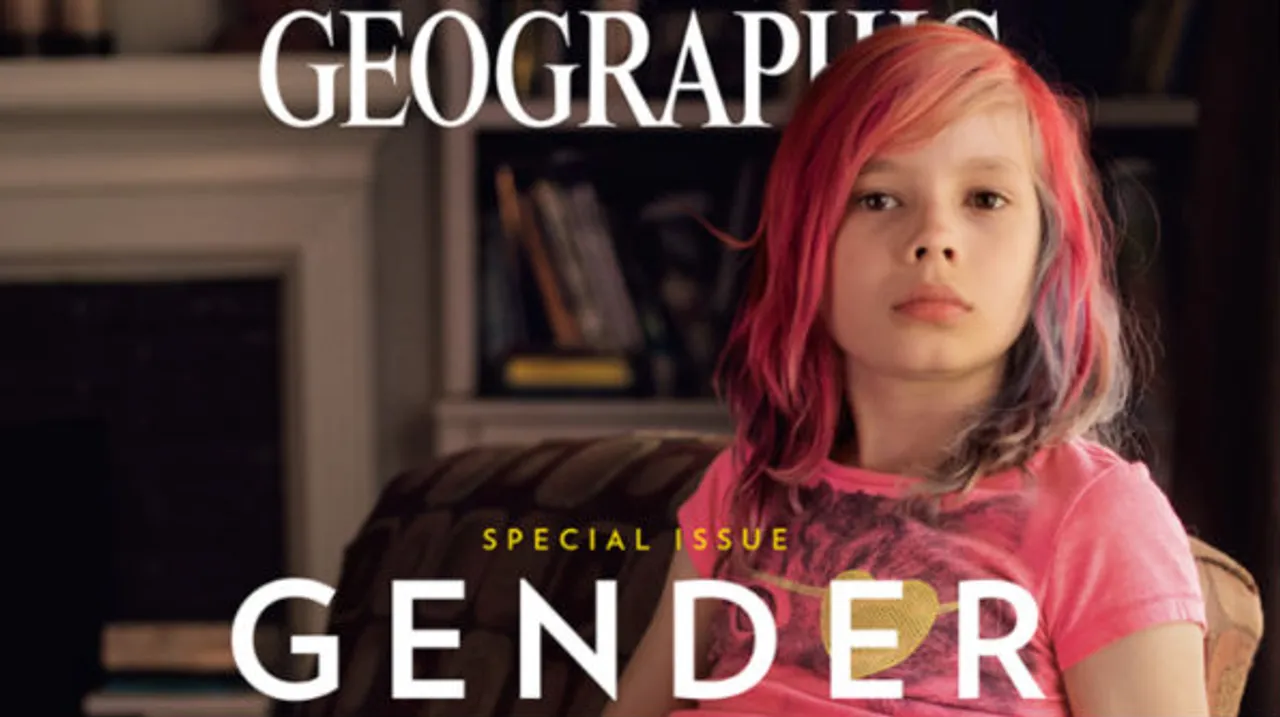 The New Year bells have started chiming with a new tone. A wave of changes is coming in 2017.
Well, the very first change we noticed to have in the near future (or should we say the next month!) -- a 9-year-old girl, Avery Jackson from Kansas City, is going to become the first transgender person to appear on the cover of National Geographic (January 2017 issue) – a magazine that is 128-year-old.
The little transgender rights advocate has drawn praise worldwide since the news came out.
Also Read: Anjali Lama – First Nepali Transgender Model To Debut At The Lakme Fashion Week
The publication is escalating the issue -- Gender Revolution. National Geographic is also releasing a special documentary solely devoted to trans issues.
By just taking a glimpse at the girl with tangles of pink-streaked hair, you'd definitely fall in love with her confident gaze — a girl who until 2012 dressed, talked to or expected to be a boy.
Also Read: Modelling Agency For Transgender Community To Open In New Delhi
Growing up, "I really just wanted to be myself," Avery told USA TODAY. "I'm just a girl."
An elated mother, Debi Jackson, tweeted her daughters' cover with a pinch of excitement.
@natgeomag I'm shaking so much I can barely type. Thank you for featuring Avery! #transisbeautiful pic.twitter.com/R1FAw6ayBH

— Debi Jackson (@the_debijackson) December 14, 2016
"My daughter is a girl in her heart. She knows it, God knows it, and that's good enough for me," Jackson said to Refinery29.
Also Read: Kami Sid – Pakistan's First Trans Model's Debut Photoshoot
Since National Geographic is enlisted amongst other publications like Vanity Fair, TIME, and Harper's Bazaar, which have recently featured transgender cover stars for the first time, this is a welcome move.
Bravo to @NatGeo for featuring a #transgender woman on its cover (@sciam similarly covered gender) https://t.co/c46hZr3eLv via @MAKERSwomen

— Monica Zent (@MonicaZent) December 28, 2016
And, lots of love Avery! Keep the swag on!
Also Read: Mohenjodaro 'Dancing Girl' Is Goddess Parvati, Says New Study
Feature Image Credit: Fusion
Join Us on https://www.facebook.com/SheThePeoplePage
Follow Us on https://twitter.com/SheThePeopleTV