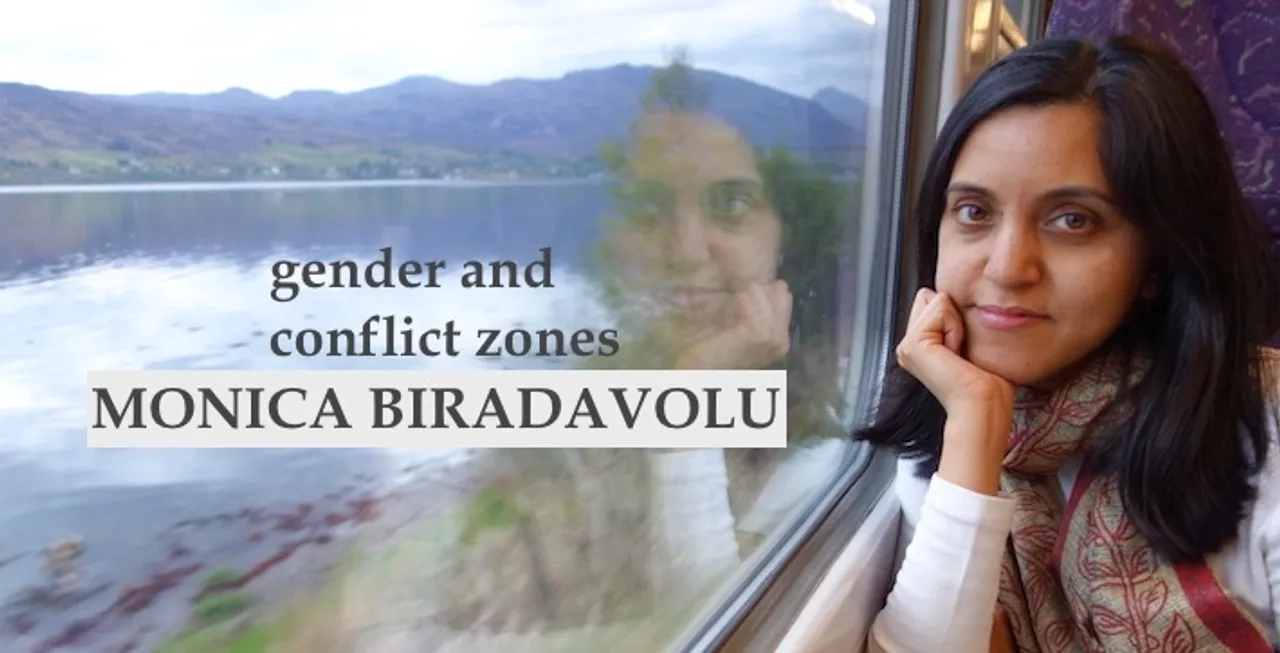 Monica Biradavolu is the CEO and Founder of QualAnalytics, a qualitative research services firm, and is a Scholar-in-Residence at American University, Washington DC. She holds a PhD in Sociology from Duke University, and has held academic appointments at Yale, Duke and American University. She studies the implementation of development projects globally with a sociological lens. 
We catch up with her about gender rights in conflict zones and her study on sex work in Andhra Pradesh
Where do you see gender placed in the hectic conflict zones of Middle East?
The first part of my response will ring a bell with those of us who are familiar with India: What is commonly referred to as the "Middle East" is a huge swath of territory, so there is enormous variation in the rights and opportunities available to women depending on where you are and who you talk to: the country, region, class, religious background etc. really matters. Having said that, these are patriarchal societies, so it is undeniable that women have to continuously push against male domination in all spheres of life.  One difference is that India affords Constitutional rights to women and there is a vibrant women's movement.
I started QualAnalytics because I believe qualitative research can provide great insight into understanding why people, groups, institutions and organizations think and act the way they do
So, coming back to the Middle East, it is worth noting the variation in women's responses. On the one side you have female Peshmerga soldiers of Iraqi Kurdistan who are on the front lines of fighting ISIS and regaining control of cities such as Kirkuk. Some reports suggest that women join these forces because they are escaping abusive husbands. Even so, it is a remarkable response to the conflict. These women are not just fighting ISIS or terrorism or fighting for their country; I think it isn't a stretch to say that they are also fighting to secure a place for women in these societies and, whether directly or indirectly, for the values of gender empowerment and equality.
On the other side you have women whose lives are constrained by conservative societal norms, with very little legal recourse to expand their rights. E.g., Women may have had very little public lives to begin with, and their worlds are shrinking further because of their refugee status. Many Syrian refugees in Lebanon, regardless of gender, are without legal residency. In other words, they are living in Lebanon "illegally". This is because the cost of keeping up with all the documentation needed to be a legal resident is just far too cumbersome and expensive. Refugees are also not allowed to work. Therefore, what is different now is that refugee status has also constrained men's lives. Men are under enormous daily strain to generate income and support their families while avoiding the police and other security agencies. I am part of a study that is collecting data on these issues across three countries with large Syrian refugee populations – Lebanon, Jordan and Kurdistan region of Iraq.
How do women cope with viral and tense situations in war zones?
The study that I am a part of is ongoing, so there will be more to share once the analysis has concluded. I can only share what I have read in existing NGO reports or newspaper accounts. It's not clear how widespread this is, but some reports suggest that young girls are being affected by the the conflict. Parents, unable to support their families, consider getting their daughters married off at young ages. Sometimes these marriages are with older men, who are more likely to have the resources to support newer members into their families.
These women are not just fighting ISIS or terrorism or fighting for their country; I think it isn't a stretch to say that they are also fighting to secure a place for women in these societies
On the other hand, it is also possible that women have an increasing role to play in household decisions. In Syria, men were the key decision-makers. Now, as refugees, men's roles are also diminished – they struggle to find work, when they do find work it is ill-paid and they worry about being caught by the police. In such circumstances, women are having to step in and take greater charge.
What's been the most personal experience for you studying Syrian refugees?
I have had the biggest learning curve through this project. The issues are incredibly complex and complicated. The history, culture, not to mention food, is absolutely fantastic. The diversity is mind-boggling. The impact of colonialism, just like in India, wreaked much havoc. So much to learn, so little time!
Erbil is an hour and a half drive from Mosul, which is ISIS-controlled; Beirut is only about 2 hours away from the Syrian border which is engulfed in war...and yet, life goes on. People go out, they enjoy themselves, they vent, they complain, they carry on.
This is not to minimize the incredible suffering and the pain that this region has gone through – a 15-year civil war in Lebanon, the short-sighted US invasion in Iraq and the collapse of the country into sectarian violence and rise of ISIS, the total breakdown in Syria. These are large shocks that affect generations to come. I thought of India's post-colonial history and how different its trajectory has been. It's a vast, diverse country that the founding fathers were somehow able to cobble together into a strong democracy.
Share a few insights from your project on sex work in India, particularly in Andhra Pradesh.
The sex market in coastal AP is very varied: if you know where to go and where to look, you can exchange sex for money in brothel houses, pick up sex workers at bus stops, railway stations, movie theaters, other public buildings, lodges, on construction sites and in agricultural fields. The sex market also encompasses not just the sex worker and the client, but several parties in between who benefit monetarily from sex work. These include rickshaw wallahs, auto drivers, movie theater owners, ticket boys, lodge managers, lodge owners, lodge boys, brothel madams, dhaba owners along the highway, petrol pump owners, shopkeepers etc.