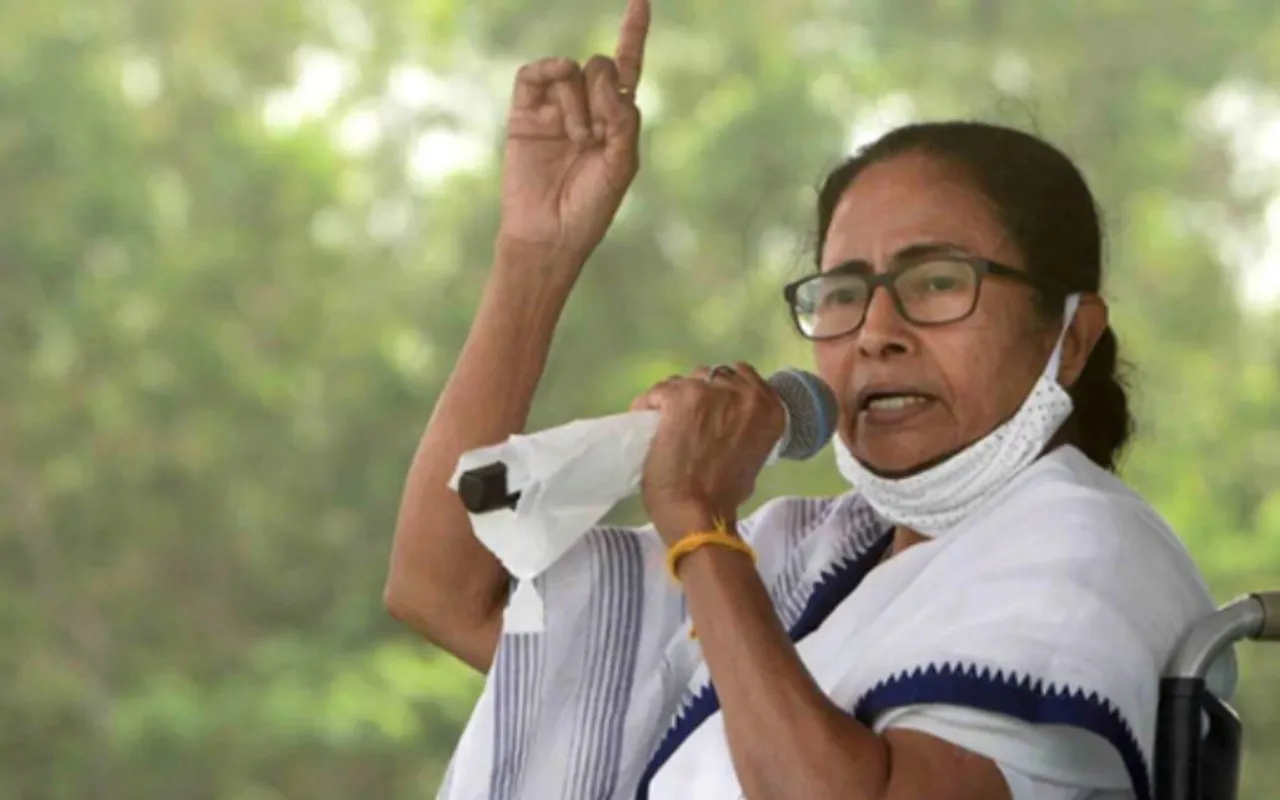 A leader of the Bharatiya Janata Party (BJP) has filed a complaint seeking an FIR against Mamata Banerjee for allegedly "insulting" the national anthem. The Trinamool Congress (TMC) chief, who was addressing a press conference in Mumbai Wednesday, is accused of singing the anthem while sitting, standing up midway and taking pauses in between. A clip that shows the same is doing rounds on social media.
Vivekanand Gupta, the secretary of BJP Mumbai, sharing a copy of a complaint he filed with the police said Banerjee showed "utter disrespect" to the national anthem and that her actions were an offence under the Prevention of Insults to National Honour Act, 1971 and an order from the Home Ministry in 2015.
"She has intentionally insulted the national anthem. India's national anthem was written by Rabindranath Tagore, who belonged to West Bengal. Mamata Banerjee hails from the same land. She has not only insulted the people of the state but the whole country," Gupta's complaint states.
"The national anthem is a tool for national integration and has a sacred element."
Isn't this demeaning National Anthem ?

What were the so called intellectuals present doing

When CM @MamataOfficial started National Anthem in a sitting position

Not only that Then she went ahead and abruptly stopped it in between #MamataBanerjee pic.twitter.com/icyU3kv5bn

— Pratik Karpe (@CAPratikKarpe) December 1, 2021
Banerjee's three-day visit to Mumbai has sparked a political row, with the TMC supremo's declaration to Nationalist Congress Party (NCP) leader Sharad Pawar that "there is no UPA" (United Progressive Alliance) left in the country and that a "strong alternative" was the need of the hour against the BJP.
Her snub received a reaction from the Indian National Congress (INC), the biggest member party of the alliance which once also included the TMC, that has said that without Congress, "UPA will be a body without a soul."
FIR Against Mamata Banerjee? BJP Leaders Lash Out 
BJP West Bengal tweeted following the incident, "Today, as a Chief Minister, she has insulted the culture of Bengal, the national anthem and the country, and Gurudev Rabindranath Tagore!" BJP leaders like Dr Sukanta Majumdar, Tejasvi Surya, Amit Malviya and Pratik Karpe too have expressed their displeasure against Banerjee's actions.
The Prevention of Insults to National Honour Act, 1971, under which Gupta said Banerjee has defaulted, reads that anyone who "defaces, defiles, disfigures" symbols like the national flag in public view or "causes disturbances" to the singing of the national anthem is liable for punishment.
The Home Ministry order mentioned in Gupta's complaint reads, "Whenever the Anthem is sung or played, the audience shall stand to attention."
---
Trending now:
&t=1181s