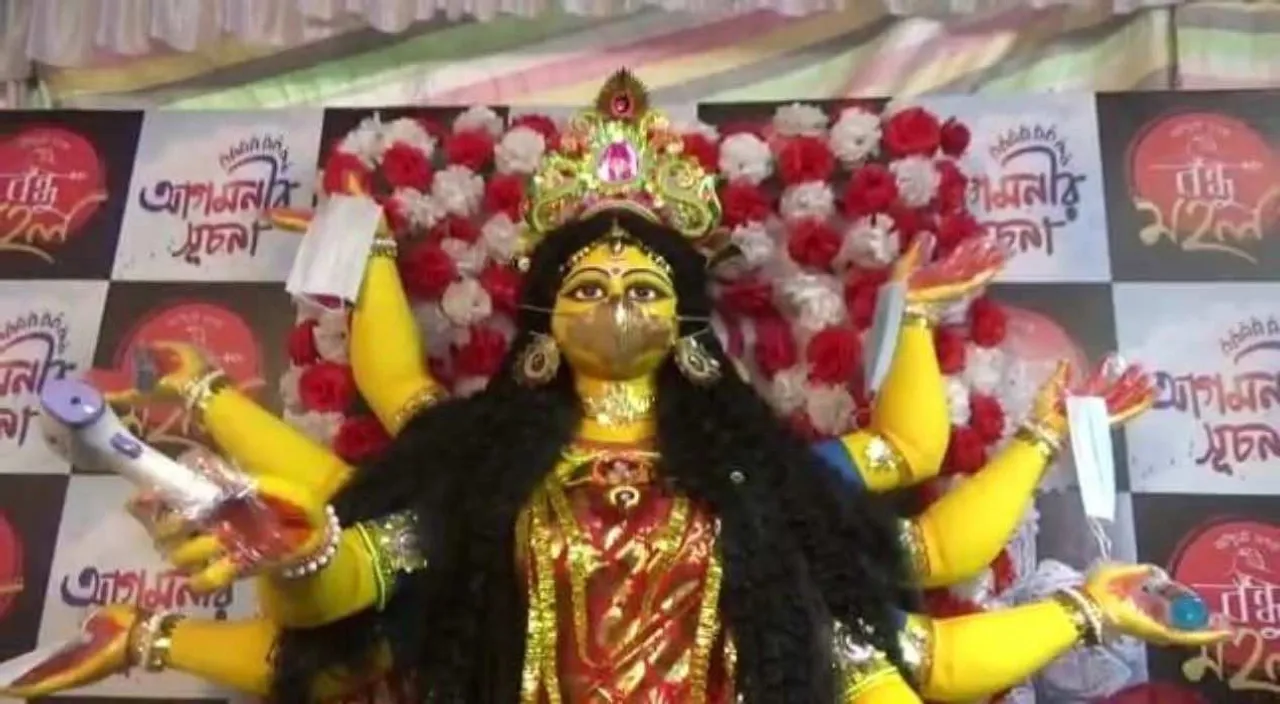 Durga idol wearing gold mask: As the country continues to fight COVID-19 pandemic, a goddess Durga idol is spreading awareness on the importance of wearing face masks at a puja pandal in Kolkata's Baguiati area. The pooja committee at the Bandhu Mahal Club in Baguiati decided to decorate the idol of goddess Durga with a 20-gram golden mask and sanitization goods to create awareness about the coronavirus pandemic.
While the preparation of the idol will take time, the pandal's theme for this year was unveiled on Sunday.
As per India Today, when the devotees will visit the puja pandal on the occasion of Durga Puja in time of two months, they will get to see the idol of Goddess Durga wearing a gold mask, while holding thermal gun, syringe, and other medical supplies in her hands, as substitution for the customary Durga Puja paraphernalia.
The organisers intend to emphasise the importance of being safe and concentrating on health in the midst of the global pandemic. All India Trinamool Congress Party MLA and Bengali singer Aditi Munshi emphasised that the gold mask is not a high-end accessory. Revealing the thought that went into making the gold mask, Munshi said that every daughter is a golden girl of Bengal. "We have not placed the 20-gram gold mask as metal here. We have placed the mask to raise awareness and to promote the message that during this ongoing Covid-19 pandemic, it's critical to follow the doctor's safety advice," said the singer-turned politician while unveiling the idol at Bandhu Mahal Club.
During the COVID-19 pandemic last year, the Calcutta High Court issued an injunction preventing anyone from attending the Puja pandals. Several such cases of goddess Durga wearing masks to create awareness had been reported last year as well. This year in April, a priest of a temple in Uttar Pradesh's Etah put face masks on an idol of Goddess Durga and the pictures went viral. It was during the occasion of Chaitra Navratri when devotees visited the temple and found the idol of goddess Durga wearing a face mask.
Also last year, an image which showcased an idol of Goddess Durga as a migrant mother went viral on social media. It had been created by The Barisha Club in Behala in Kolkata, on the occasion of Durga Puja. The club decided to commemorate the migrant laborers who walked barefoot to their villages during the COVID-19 pandemic. Read more here.
Feature Image credit: India Today