In a world where everything is so fast, who thinks twice about something that gets broken? Do we think enough about recycling or reusing discarded stuff? Discarding and buying new products has become an ongoing circle most of us are unable to break through.
Shikha Shah, the founder of Scrapshala — a company dedicated to 'upcycling' scrap and making beautiful goods out of them — would like to change that. The 27 year old tells SheThePeople.TV that "spotting trash at every other corner in different parts of India was usual but finding a solution that could be practiced at consumer level by any age group was exciting".
She founded ScrapShala in January 2016 — based in Varanasi, it is a service and product based social venture for managing non-biodegradable dry trash/scrap in cities.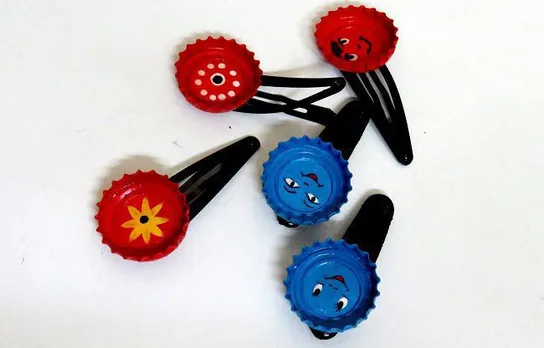 Pepsi cap clips by Scrapshala
Shikha says she grew up seeing her mother being creative and innovative and recycling lots of non-usable things into items of decor. In fact, she adds, her mother was very strict and forbade her from wasting things…so that was an idea that took root early on.
Originally from Varanasi, Shah did her graduation from Delhi University and post graduation from TERI University in New Delhi. Then she worked in many places, including with Reliance as an Associate Project Manager.  In that capacity, she worked with people in rural Madhya Pradesh, which exposed to real-world problems. "It was a perfect transition from academic to working life. It made me meet amazing set of people at ground level whose simple interventions were solving big problems and bringing a change in society," she tells SheThePeople.TV.
To learn about social entrepreneurship, she joined IIT Madras' Rural Technology and Business Incubator (RTBI) cell which gave her the skills and confidence to begin her own entrepreneurial journey. Meanwhile, she was also getting familiar with 'upcycling', which attracted her attention instantly.
Upcycling is a process of increasing lifetime of an item (which generally is old/scrap/not-of-use) by adding value to it without changing the original chemical composition of the item. Its a less energy consuming and user-friendly alternative to recycling.
Currently, the only solutions for waste management in India are dumping in Landfills and recycling. These are labour, money and energy intensive, not to mention that landfills are filled beyond capacity in most cities. Most cities in India, let alone smaller towns, lack the infrastructure to regularly recycle.
And it's that challenge which presents an opportunity…even if it is to make a small difference. For Shikha, the simplicity and ease of practicing "upcycling" from the comfort of her home encouraged her to take it up professionally and generate a group of professionals who can replicate it and make it a household practice.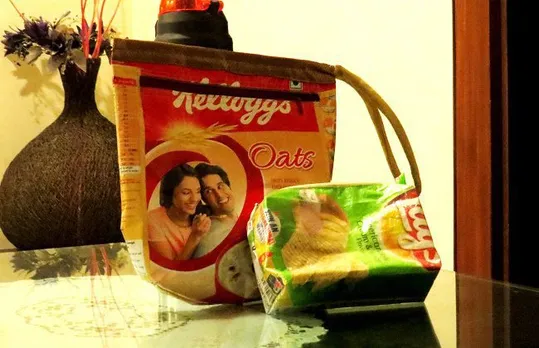 Kelloggs bags by Scrapshala
Of course there were challenges, even with the idea in place. "Working with scrap was the biggest challenge and it still remains one," Shikha says, adding, "Commercializing something made out of scrap was difficult in many ways. Making artisans work on scrap and designing the products. Then, making family believe that it was not a disrespectable job. Lastly, making clients accept the upcycled products. All of these were great challenges for me."
Shikha tells us that she also pitched her idea at the startup fair held in IIT BHU where they got immense appreciation, mentoring and support from investors who were judging the event. All these efforts played as good marketing for Scrapshala and helped Shikha gain first her few clients.
"Coming from a conservative Marwari business family, it was complicated to answer why and how I would be able to pull off an idea like ScrapShala. I was lucky enough to find my core team member and friend Kriti Singh, who connected me to IIT BHU. She eventually got interested, joined the startup and supported me throughout once I moved back to the city after eight long years," she says.
But being a tier two, women-led startup, Shikha's team has successfully been able to grow internally, increase production, move to an independent space and create a market for upcycled goods in Varanasi. "We have been able to create a generous group of individual and industrial donors, who are kind enough to take out time to donate their trash to us."
An idea that does not just revive our old tradition of not throwing away waste material, but also decrease waste in a big way. Kudos to Shikha for starting Scrapshala!