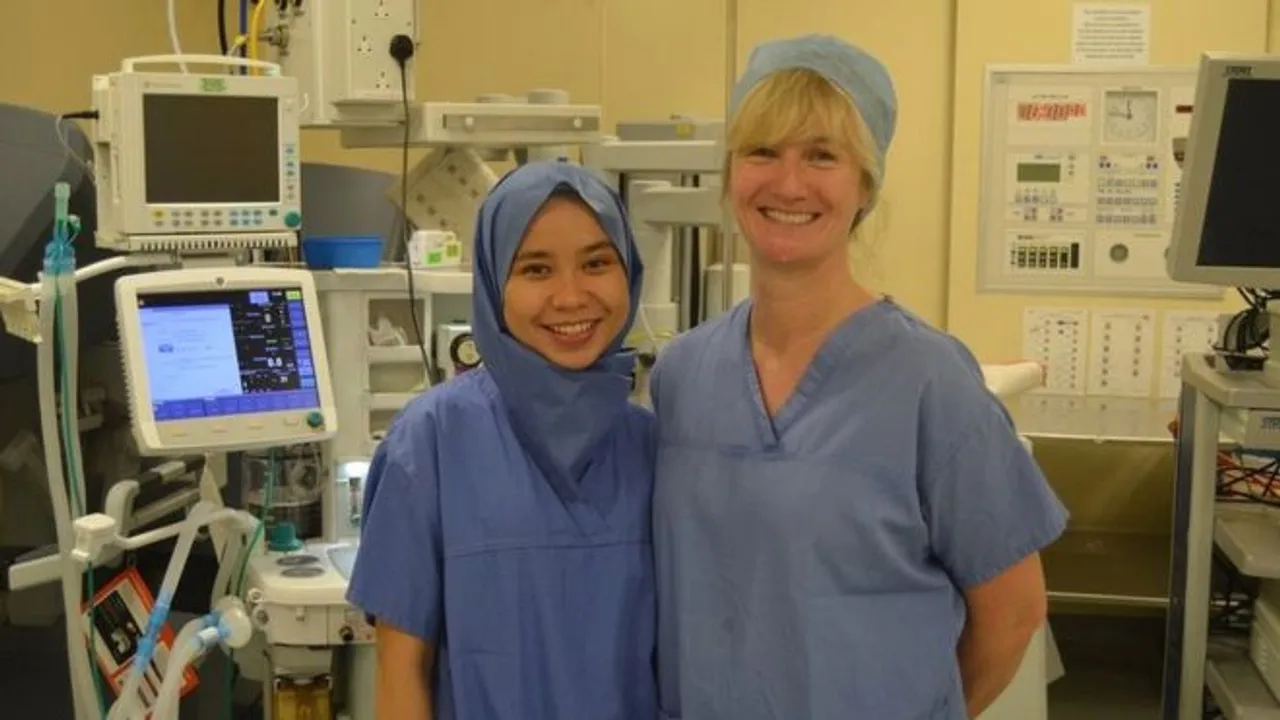 A hospitable trust in the UK has become the first to introduce disposable sterile hijabs for female doctors and medical staff. Farah Roslan, a Muslim junior doctor got the idea while she was undergoing her training at the Royal Derby Hospital. Throughout her working hours in the hospital, she had been wearing the same hijab for the entire day. She felt concerned about the risk of spreading infections to her patients.
Roslan told BBC Radio Derby,  ''I'd been using the same headscarf all day, which obviously wasn't clean and ideal, I didn't feel comfortable taking it off and I was pulled out of the theatre, respectfully, due to infection control.''
We are proud to be national leaders of good practice and inclusivity.

We believe we're the first Trust in the UK to introduce disposable sterile headscarves for staff to use in our Operating Theatres thanks to former Royal Derby Hospital Medical Student, Farah Roslan. pic.twitter.com/Mzb5nK1950

— University Hospitals of Derby and Burton NHS FT (@UHDBTrust) December 11, 2019
The conflict between faith and work
The junior doctor went to Malaysia, her country of birth in order to look for inspiration and test fabrics. Her invention was a result of wanting to create a foundation for a dress code that could be accommodative of her faith at work.
''A middle ground had to be found between dress code due to faith and the passion of being in the operating theatre. I am so happy my vision has become a reality and that these headscarves are now available for all of the staff.'' - Farah Roslan
Farah Roslan has been mentored by Miss Gill Tierney, a Colorectal Surgeon at the Royal Derby Hospital.  When asked she said, "Miss Tierney has allowed me to pursue my dreams. She is an inspiration to female leaders in healthcare, especially theatres. She has inspired me a significant amount."
Tierney explained in an interview, "We know it's a quiet, silent, issue around theatres around the country and I don't think it has been formally addressed.'' She hoped the headscarves to have an enormous effect and be cost-friendly. Farah too looked forward to endorsing the product nationally.
Read Also: Muhamma May Become India's First Synthetic Sanitary Pad Free Villa
KEY TAKEAWAYS
Malaysian junior doctor, Farah Roslan has introduced disposable sterile hijabs for the doctors and medical staff performing surgery.  
A National Health Service (NHS) hospital in Derby, United Kingdom has become the first to use disposable hijabs.
Roslan designed the disposable headscarf following concerns on hygiene.
The new headscarves were made available for use, earlier this December
Global Appreciation
The hospital has received praise on social media following the introduction of the headscarves. The comments on Twitter were all positive, most noteworthy comments applauded the initiative for its inclusivity. Another person agreed and commented upon how it resonated with the struggles faced by her Muslim doctor friend. "LONG overdue. A friend of mine who I was on placement with who wears the hijab was left in tears after theater staff said "you can't wear that in here" and laughed as they tried to wrap her head in theatre sheets, I felt so so sorry for her. Well done Farah," wrote Jessica Harvey.
Andy Ibbs, National Health System worker hailed the achievement, saying: "Nice one—but on reflection, I wonder why it hasn't been done years ago!
Image Credit: BBC
Gaurika Taneja is an intern with SheThePeople.TV.