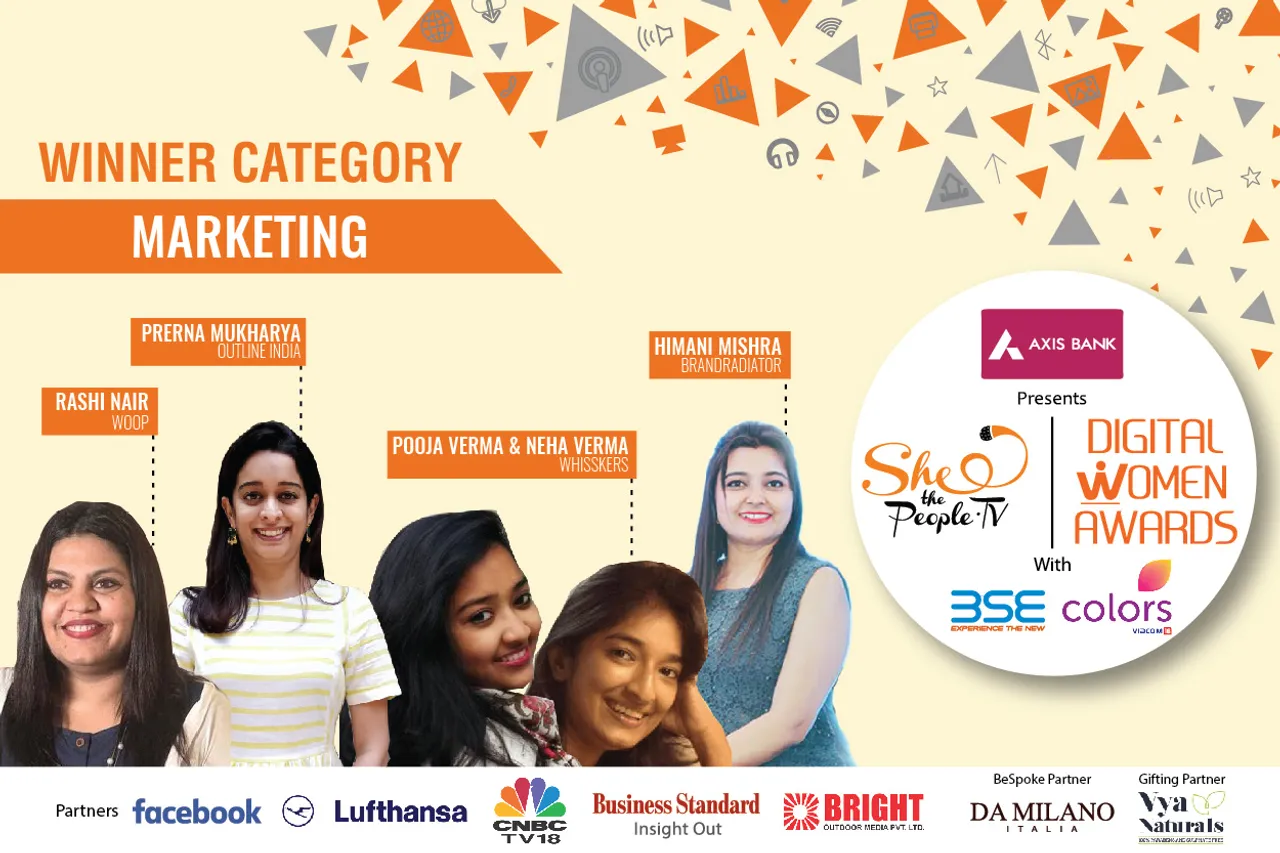 The Fourth Edition of Digital Women Awards was held at the iconic Bombay Stock Exchange. It celebrated the women-led economic growth story in every sense. A closer look at our award winners now, meet the unstoppable winners of the Digital Women Awards in the Marketing Category:
Himani Mishra, Co-Founder - Brand Radiator
Himani Mishra, a working mother has more than 13 years of experience in Telecom and Digital marketing companies. With her venture, Brand Radiator, she has surfaced a thought process conveying the message that small cities can be home to entrepreneurs too. Brand Radiator provides strategic solutions in Social Media Marketing, SEO, Web & App Development, PPC Ads & PR. They started in Bihar and support realising the dream of Digital India by helping in generating employment opportunities to home-grown talent.
Rashi Nair, Co-Founder - Woop
Rashi Nair's venture - Women of Opinion (WOOP), has inspiringly blended business ideas to real social impacts. With WOOP, a value exchange platform, she has united a community of women powered by technology. The platform helps women get rewards, brands get authentic word of mouth, and the country gets additional funds for girl child education. Rashi has over 13 years of experience in the industry, she is a self-proclaimed dog lover who lives to dance.
Prerna Mukharya, Founder - Outline India
Prerna's dive into entrepreneurship started with Outline, a data firm that focuses on impact at the ground level. Mukharya was particularly disturbed by the fact that there were hardly any firms focusing on social research. She aims to make social impact through data collection. Outline engages in primary research, surveys and evaluations in areas such as, health, energy and chemicals, manufacturing, education, environment, labour market, infrastructure, finance and Governance. They work alongside think tanks, academics, not for profits and the government.
Pooja Verma and Neha Verma, Founders - Whisskers
Ex-Googlers Pooja and Neha founded Whisskers, a Digital Marketing Agency and Training Company, with a vision to impact the digital space in India and across the world, through efficient services and training in the field. They provide digital marketing training and consultancy to institutes, companies and organisations in managing their online advertising accounts on platforms like Google, Facebook, Twitter and so on.
Congrats to all the winners who inspire all of us. Here we leave you with some glimpses of the event: