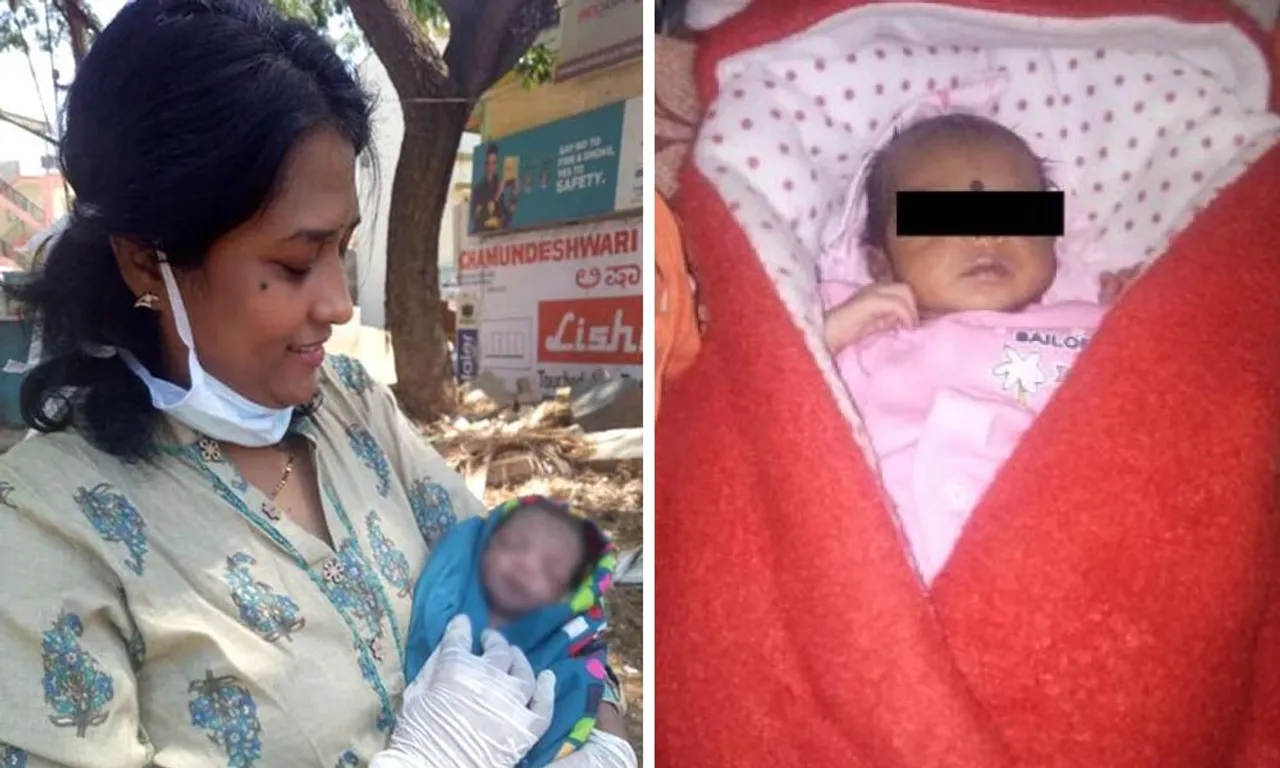 A migrant labourer recently delivered her child on a pavement, next to a dental clinic in Bengaluru. The incident occurred on the morning of April 14, but the news broke only recently with social media users showering praises on Dr Ramya Himanish, who runs a dental clinic in Dodda Bommasandra.
What was a regular lockdown day in Bangalore's in Dodda Bommasandra turned out to be a memorable one for Ramya as she helped Shanti deliver her baby. Shanti had to reportedly walk almost seven kilometres looking for a hospital but failed to find one amidst lockdown. The New Indian Express reported that Shanti and her husband couldn't find medical help and sought help from Krupa Dental Clinic. While they rushed to seek assistance, Shanti went into labour and delivered the baby on the pavement next to the clinic, which had not opened by then.
Key Takeaways:
A pregnant migrant labourer had walked almost seven kilometres along with her husband in search of a hospital amid the coronavirus lockdown in Bengaluru.
The woman went into labour and delivered a baby at a dental clinic in Dodda Bommasandra area on Tuesday, April 14.
A dentist, Dr Ramya Himanish noticed the woman lying on the pedestrian platform, bleeding and she immediately took her to the clinic.
At first, the child was not responsive so the father thought the baby had died. Luckily, dentist Ramya noticed the woman lying on the pedestrian platform, bleeding and she immediately responded by taking her to the clinic. She went beyond the call of duty to save the mother and child's lives.
Also Read: Flight Crew Helps Woman Deliver Premature Baby In Mid-Air
"When I went there, I saw the woman bleeding. I brought her inside and provided treatment. Then I checked the baby. After the resuscitation process, the child came to life," Dr Himanish told reporters, TOI reported. Shanti hails from North India.
"A woman aged 18 to 20 years old, had come to my clinic with her husband on April 14. They had walked for about 7 km in search of a hospital or clinic. Exhaustion of having walked for hours resulted in her delivering a premature baby within 5-10 minutes to reaching my dental clinic," said Dr Ramya, a dental surgeon.
Karnataka: A pregnant woman delivered a baby at a dentist's clinic in Bengaluru where she had reached, along with her husband, after walking for around 7 km in hopes of reaching a hospital. The mother & baby (in pic with the dentist) were later sent to hospital after the delivery pic.twitter.com/dO9edQ9EsU

— ANI (@ANI) April 19, 2020
"As I'm not a gynaecologist, I was unsure of what was to be done. I called my husband, who is a general physician, and he came immediately," said the doctor.
As the baby showed no sign of life it was worrisome at first. "But, after cleaning the baby and patting him, he cried. He was alive. We were very glad we could save both the mother and her baby boy," the doctor explained. Ramya had talked to the migrant workers and found out that the couple had gone without food for some time. The baby was born prematurely.
As per the reports, Ramya then called an ambulance and sent the woman with the newborn to a government hospital where they are being taken care of now.
Also Read: Baby Born On Jet Airways Flight Gets Free Tickets For Life
Feature Image Credit: TOI