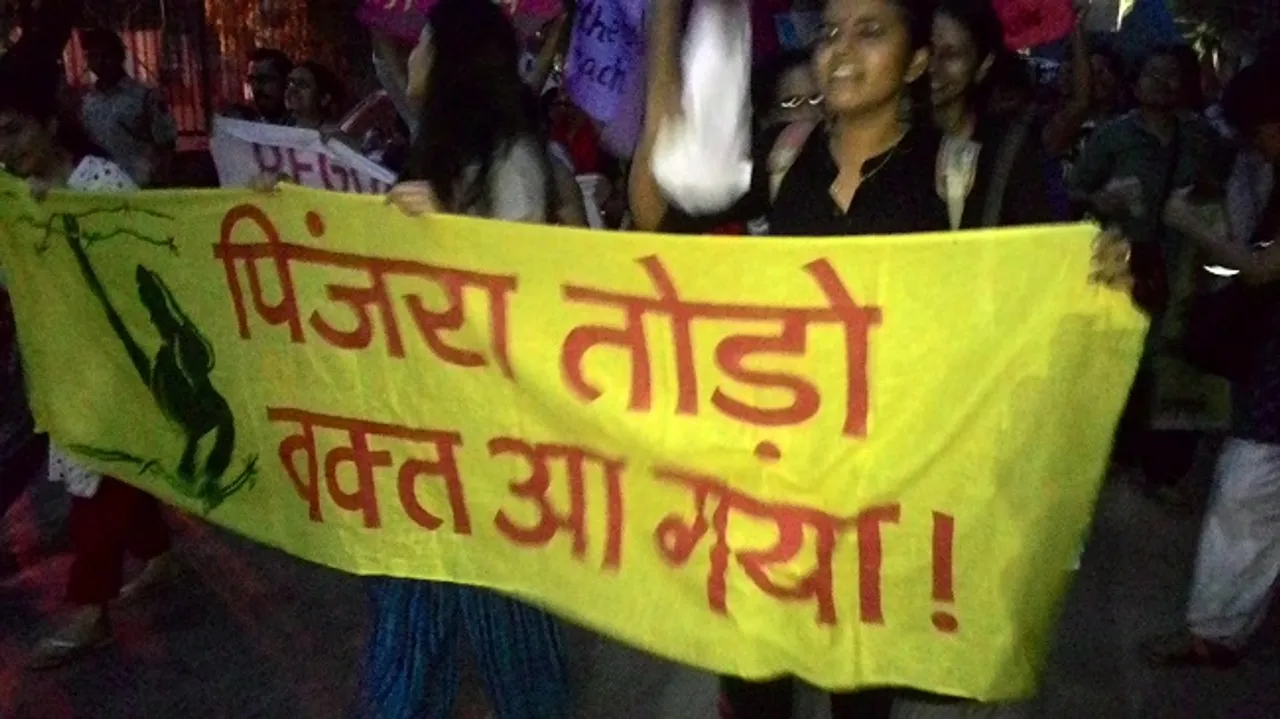 Delhi women marched to reclaim our streets last week, and it was a sight to behold. Amidst all the slogans against patriarchy, women's 'curfewed' safety, sexual harassment et al, there was a demand of azaadi...Freedom from sexual harassment. Pinjra Tod organised the march, this time outside Lady Shri Ram College in South Delhi, to reclaim the streets for women to walk without restriction at whatever time of the day or night.
What is the need for women to reclaim streets, you may ask? After all, the streets supposedly belong to everyone. But who would not want to reclaim a space where they are constantly harassed, eve-teased, masturbated in front of and what not. It is true, these incidents are a norm around the South Campus colleges of Delhi University.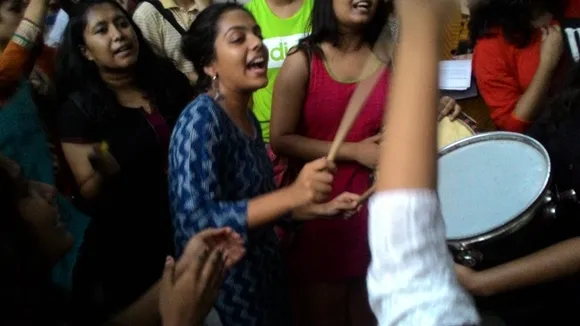 Girls protest against curfews, sexual harassment and hostile college rules
Recently, a 19-year-old boy entered the paying guest accommodation of Raina, a student of LSR, with his pants unbuttoned. Raina, whose lives in Amar Colony of South Delhi, was in her room and saw the guy entering the kitchen. She locked herself up and called the PG owner, who then took another 40 minutes to reach the apartment. He found the boy locked up in the kitchen by Raina, beat him up and let him go. He even went ahead and tried to pacify Raina by calling the boy a child and saying that he entered the house only because he was drunk and not to make an issue out of it.
The guy wanted to misbehave with the girls in Raina's PG in his state of intoxication.
"My PG owner said to me, 'ladki ho toh court kachehri kya jaogi? Kisi minister ki beti ho kya jo complaint file karogi? (What would you do going to the court being a girl? Are a minister's daughter that you want to file a complaint?)," Raina told SheThePeople.TV.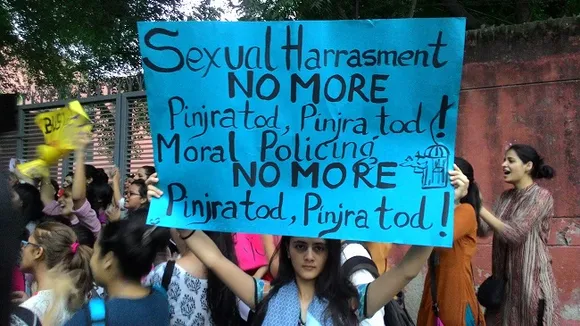 Girl protests outside LSR
She added, "Then I reported it to Pinjra Tod and they published it. After that everyone has been really supportive. The guy is now at Tihar Jail but the case is still going on."
Raina told us that after this incident, the police asked the PG owner to appoint a guard, so the landlord just asked the caretaker of the PG to guard the place. He further restricted the curfew timings to 9 pm for girls.
It is a little hard to understand how putting a time restriction on PG girls helps because the incident happened at 4 pm in broad daylight and the girls were inside their rooms. Such hypocrisy of PG owners and the college administration who do not let the students stay in college for longer hours to use the library and other facilities is what has led the girls to protest and carry out the march.
A Pinjra Tod activist, Shambhawi told us how they came up with the march, "We have been in talks with the students in LSR for quite some time and a lot of students of the college are a part of Pinjra Tod. And you know it has become a norm that men come in front of the girls' colleges, sit and masturbate and a lot of sexual harassment has been going on for years now. And the fact that Campus does not have many hostels to accommodate the amount of girls joining colleges every year. This ends up in women staying in PGs where the rent is so high and a lot of cases of sexual harassment cases have come up from the PGs as well."
"So with regard to the new UGC circular that has come up which promises affordable hostels and elected sexual harassment complaint committees set up in colleges, this seemed like the perfect moment for the march," said Shambhawi, a graduate from Hindu College.
She also claimed that even the students are very angry, so this protest is sort of trying to reclaim the streets.
A student of LSR, Gurpreet, who is studying in an undergraduate course and is in her third year, said, "We are marching against sexual harassment, moral policing, eve-teasing and against people who think that girls are their properties and that they can easily go out and touch themselves in public in front of the girls. And against the fact that we are conditioned to be inside to keep ourselves safe, it should not be the case. We are claiming the streets and letting everyone know that we have the full right to be outside. It does not matter whether it is 12am or 12pm."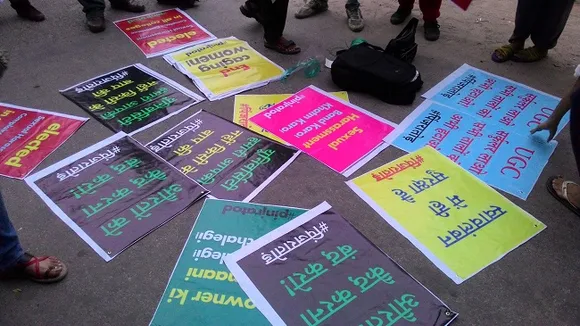 Pinjra Tod posters
There were also young girls and boys from Jamia Milia Islamia College who came out in support of the Pinjra Tod march. They stood in solidarity against the curfew rules of college hostels. "I support the movement because the girls' hostel timing is 7.45pm, which is very early. We want more time to stay out as it affects our studies. We want to access the library but we cannot because of the curfew and then if we think of taking tuitions, we cannot even do that," said a girl from Jamia who did not want to be named.
Through this march, the Pinjra Tod campaign is putting up certain demands too. "We want the colleges to set up the sexual harassment committees. Secondly, we want the UGC guidelines of eradicating any kinds of discriminatory rules against women by colleges to be implemented. The circular came out in May but it has not been acted upon as yet. And the major focus of these marches is to bring girls out on the streets and making the streets safe," said Natasha, a Pinjra Tod activist and an MPhil student from Ambedkar University.
The number of girls who came forward from various universities and colleges towards the cause just showed the unbound anger they collectively have for being restricted by the college administration and their PG owners. They showed through songs, slogans, dance, stories and drama that they don't want to be caged inside but come out on the streets and make it their home.