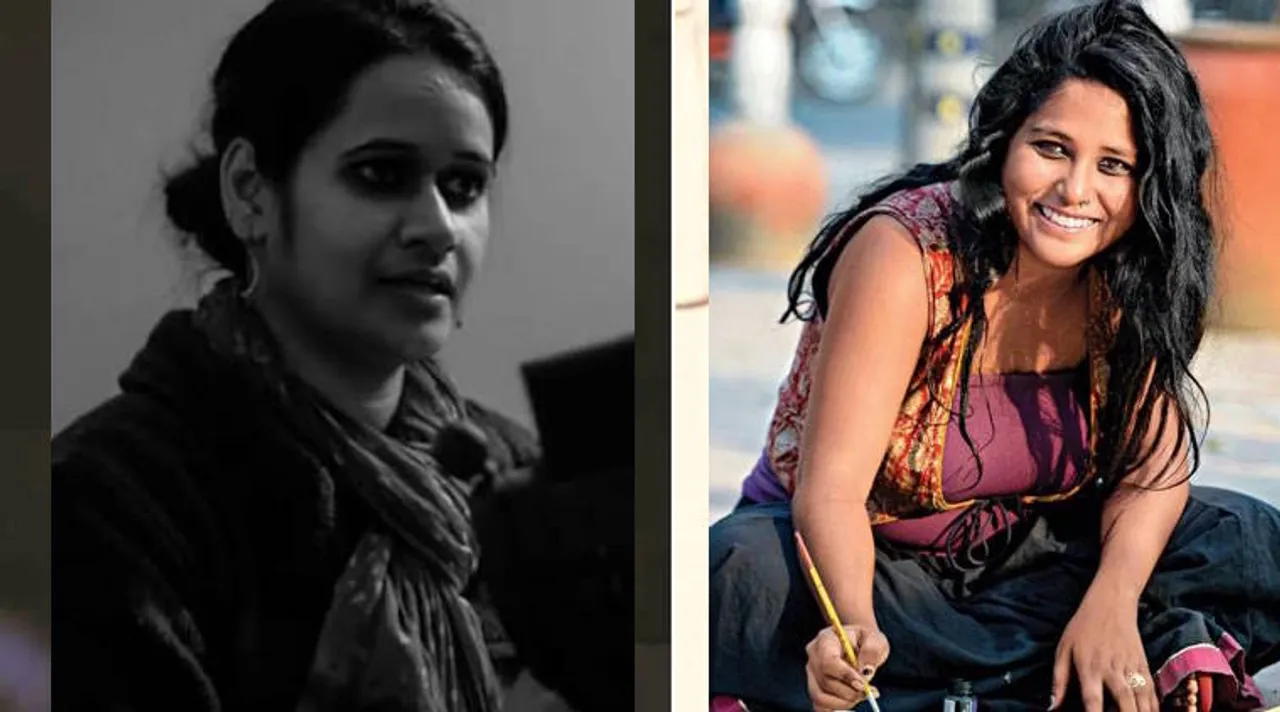 Delhi police has arrested two Jawaharlal Nehru University students Natasha Narwal and Devangana Kalita related to their role in allegedly organising an anti-Citizenship Amendment Act (CAA) protest in Jaffrabad in North East Delhi.
The arrested students are founding members of Pinjra Tod, a collective group of women activists in the Delhi. Natasha is a student at the Centre for Historical Studies while Devangana is studying at the Centre for Women Studies in JNU. Pinjra Tod was a collective formed in 2015, to oppose hostel curfews at Delhi's colleges. Kalita and Narwal have graduated from DU's Miranda House and Hindu College, respectively.
"They were arrested from their homes in an FIR registered by the Jafrabad police station, after an interrogation by the Special Cell shortly before officials from Jafrabad Police Station arrested them. They are currently at Jaffrabad Police Station. The police did not give reasons to their family members for their arrest," Pinjra Tod said in a statement which was also shared on Twitter and is below.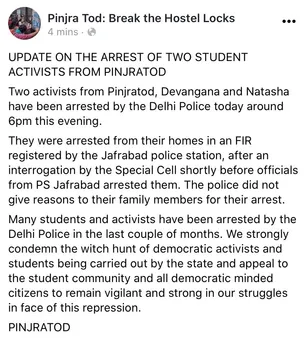 The Jafrabad sit down protest had triggered a pro-CAA rally by BJP's Kapil Mishra on February 23. A day later, riots broke out in Northeast Delhi.
A few months ago Safoora Zargar was arrested in connection with the protests in Jafrabad. She, even though pregnant, has been kept in jail.  Zargar, a 27-year-old Jamili Millia Islamia student has been in jail since April 1oth. She was charged with the Unlawful Activities Prevention Act, 2019 (UAPA) and since then her bail has been rejected. The MPhil student from the Delhi based university, has been put behind the bars for protesting the Citizenship Amendment Act (CAA) and is reportedly pregnant. She trended on social media recently thanks to trolls who questioned her pregnancy, her marital status, talked of the DNA of the unborn child and made other such personal attacks.
The Pinjra Tod activists were presented in front of the Duty Magistrate at Mandaoli Jail on May 24. The magistrate observed that "the accused were merely protesting against NRC and CAA and did not indulge in any violence," and thereby, bail was granted. However, the two activists were arrested immediately by the Crime Branch in connection with a separate FIR that is in connection with Delhi riots, and includes grave charges such as an attempt to murder, criminal conspiracy, rioting and obstruction and assault of public servant while discharging duty and sections under the Arms Act. The crime branch sought a 14-day remand, which was not granted. "Considering the facts and circumstances of the case, and the initial stage of the investigation, both the accused Natasha Narwal and Devangana Kalita are remanded to two days' police custody," the magistrate said, as per The Hindu.