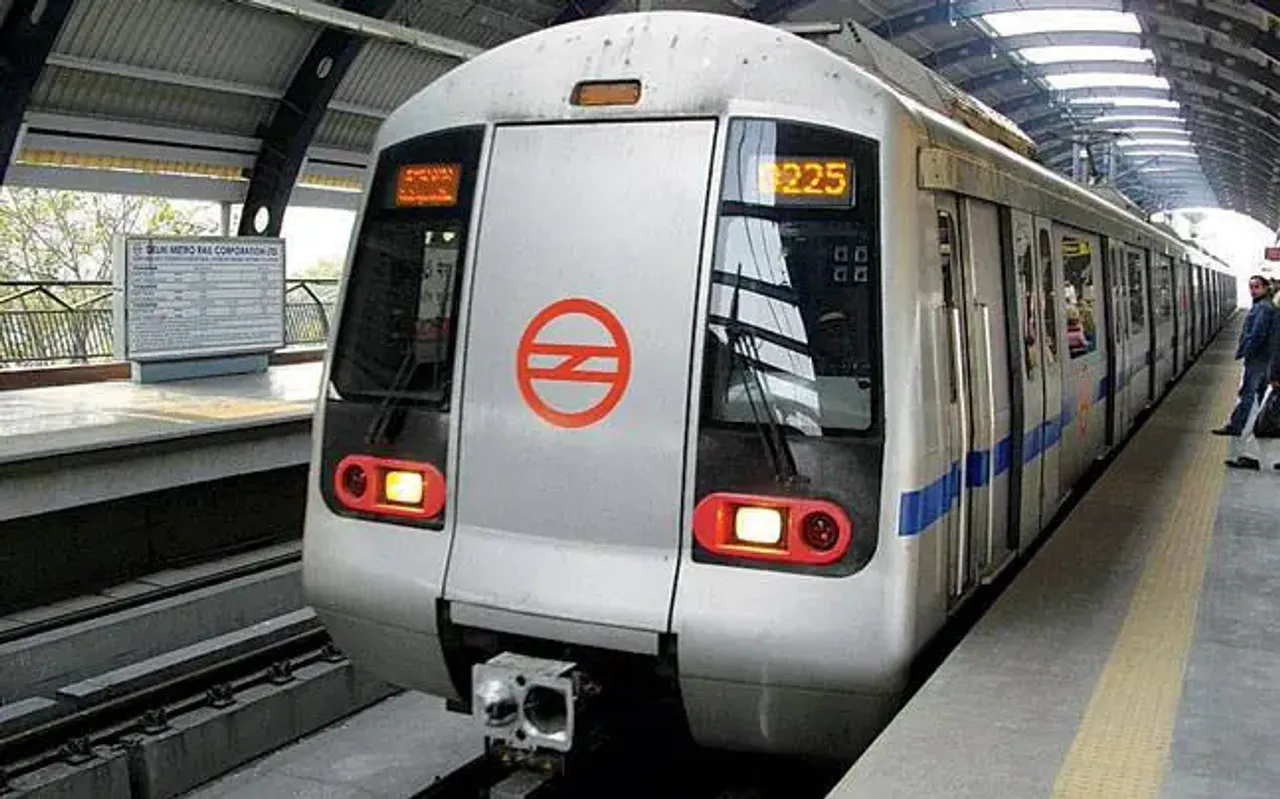 It is a disgrace that despite being the capital of the country, Delhi NCR fails to provide safety and security to its women. In fact, National Crime Report Bureau(NCRB) report says that it has the highest number of cases of crimes against women reported in a year. And this is no news, especially when every time a girl steps out in the city, she has to be doubly careful and refrain from activities, she would rather not be so considerate about. Taking in the similar lines, a twitter thread by a woman named Megha Dixit on Sunday created a stir on social media.
In the thread, Megha, a Master's in Electronics student, has described her disturbing instance of harassment on the famous Delhi Metro. She started with claiming, "Hey ladies, you're not safe at ALL in a metro or metro stations. I'll tell you how."
https://twitter.com/Omeghaa_/status/868842215816048641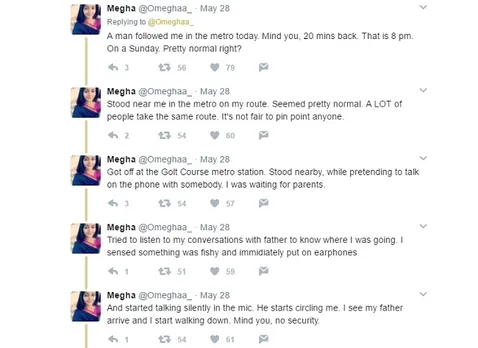 Megha Dixit's Twitter Thread
https://twitter.com/Omeghaa_/status/868844018238595073
https://twitter.com/Omeghaa_/status/868844280315379712
https://twitter.com/Omeghaa_/status/868844439115923456
She then goes on to state how only in 20 minutes at around 8pm, she was stalked, followed, groped and then finally fake-sympathised by the Golf Course Metro station guard and the nearby crowd in Noida. All she was doing was coming out of the metro station and waiting for a few minutes for her father to come pick her up.
Megha, being a sensible and an alert woman did realise that things are beyond normal with a man following her and acting all suspicious. So she tried to be careful and at the instance of the man coming closer to her and physically touching her, she shouted her "guts out". According to her thread, even the guards at the Metro station did not prove to be much of a help and others only joined in to show disbelief. In her words, "Everybody enjoys the show. Happily and acts surprised. Mind you: only act."
She notified in the thread that she no longer lives in the city and this was her first incident of taking a metro in the last six months.
Megha ends the thread with, "Endnote: I'm shaken. Not scared. Only and only angry. Women deserve better."
https://twitter.com/Omeghaa_/status/868851535005892608
The girl's account lays bare the horrid reality of how weak the authorities are in tackling with such cases. She also mentions how she slapped the man for pushing her into a secluded corner. And it only shows that she was empowered enough to do that, not many girls have that kind of courage to function like Megha, in a distressed situation.
"I realised that what happened today could have happened to anybody and could have been worse. I was angry at how inefficient the security arrangements are. How weak a woman can get in such situations and how easy it is for these creeps to take an upper hand. People who refused to nab the guy came to me and said 'Madam aap report kardo, Madam aap pakdo isse'. All this while my father was still trying to chase him! The helplessness that my family and I have gone through while being surrounded by a crowd is what prompted me to put up this Twitter post," she told The Quint.
SheThePeople.TV has approached Megha for a comment and it is awaited.
Picture credit:indiatoday.intoday.in
Join Us on https://www.facebook.com/SheThePeoplePage
Follow Us on https://twitter.com/SheThePeopleTV