Deepti Naval's most powerful performances of all times
A Writer, a director, a painter, a photographer but most significantly an actor, Deepti Naval is a bundle of skills packed in one. She entered the film industry in 1978 and in just two years, she earned her respect in parallel cinema. Or as we call it today, art cinema. She did some fantastic films in her time and also films which broke the ceilings for a typical Indian actress. In her closest co-star, friend and famous late actor, Farookh Sheikh's words, "she is the most underrated actress." On her birthday, let's recap the dusky actress' best performances on screen-
1. Chashme Badoor– One of the initial films of Naval, this had to be the first of her best performances. Co-starring Farookh Sheikh, this was a rom-com of the two. Even today this film can tickle you and make you laugh. It proved to be a huge hit in those times and David Dhawan recently made a remake of this movie. However, the remake did not work as well, but the original is gold!
2. Angoor– If one remember's Deepti's strongest performance then one is sure not to miss this gem of a movie. Released in 1982, this movie was an adaptation of a Shakespeare's play A Comedy of Errors. Though Deepti played a supporting character in this film, but her performance stood on its own. This movie began to be counted in one of Deepti's early successes.
3. Leela– A social drama film by Somnath Sen, Deepti acted in this movie with another strong actress Dimple Kapadia. This was released in 2002, a movie purely based on a woman trying to understand her own standing in the society.
Also Read: Uncovering the feminist stories hidden in the letters of Indian Actresses' Names!
4. Firaaq– A film made in 2008, Firaaq is based on the aftermath of the 2002 Gujarat massacre. Deepti plays a hindu woman in this film who does not helps a Muslim woman being chased down by a mob. She played her character on fleek in this film. The film won many awards both in many film festivals including two National Awards.
5. Memories of March– A more recent one that released in 2010, this film is pushing the edges of gender constraints in so many ways. Deepti's progressive mindset is evident in the kinds of films she chose to do in her career, including this one. Six years back when it released in the movie theatres, it started a dialogue around gay men. Deepti's power-packed performance in this film about coming to terms with her son's sexual inclination is something you don't wanna miss for anything.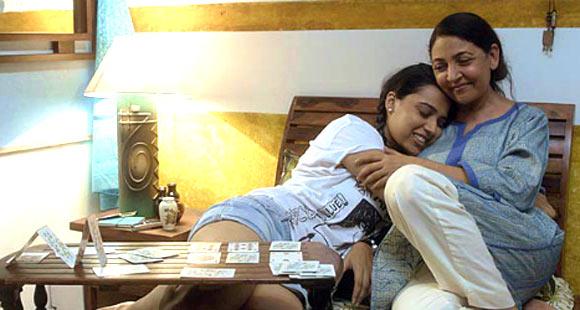 6. Listen… Amaya– Again a Deepti and Farookh starrer, this one released most recently in 2013. This was reunion movie of both the actor, but it won many hearts in both the Indian film circuit and outside. This movie also fetched Deepti awards for Best Actress.
Picture Credit- Youtube