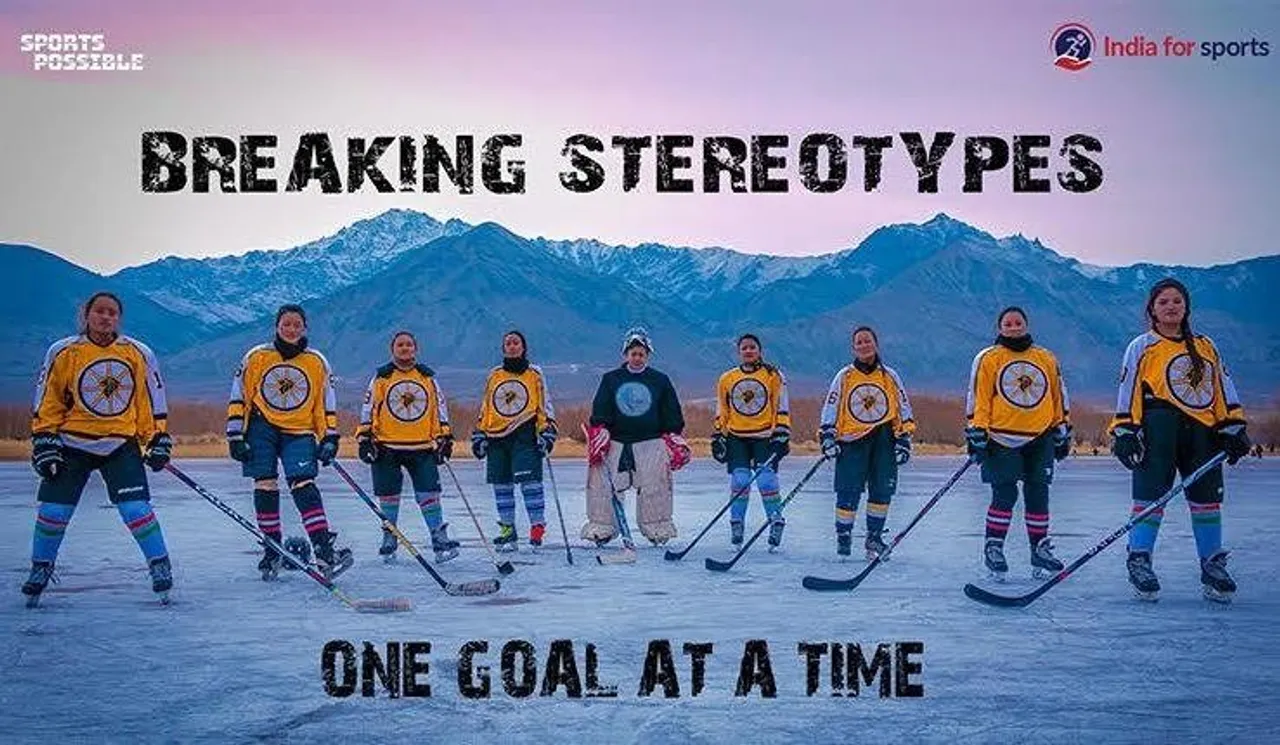 While most Indians melt at the different moves of male cricketers, young girls from Ladakh use frozen ponds to practice their passion, ice hockey. They may not have the kind of following enjoyed by cricket (and not even the other hockey), but their goals are fierce and now the people supporting them are contributing directly. Today they are international players have braved all, from the absent infrastructure for their sport to the freezing colds of the region. The women have built their own rink, bucket by bucket, as water froze in Leh's sub zero temperatures. What comes as a landmark in their journey is a successful

Team India Women - 1st day of training on ice in Bishkek #IceHockeyPossible Thx to @shuvro_addict @LogicalIndians @ketto @icehockeyindia pic.twitter.com/JMSV7Hgb6H

— Harjinder Jindi (@jindz) February 20, 2017 target="_blank" rel="noopener">crowdfunding campaign which has raised 32,41,650 Rupees. Hosted by Ketto, one of India's leading startups for crowdfunding, the campaign saw contributions from  3,021 people who made contributions, big and small but equally important.
The campaign
Baffling as it is, the campaign has been set up not by a few underfunded individuals, but by the Ice Hockey Association of India (IHAI) itself. As the government requires a sport to have 75% affiliate member states, IHAI doesn't receive state funding, leaving the body to raise funds on its own. Making the most of it's resources and the players themselves, the IHAI started a fierce campaign, partnering up with Sports Possible and India for sports. The campaign has focused on touching personal stories and asked questions which have some unjust answers:
@PUMA @Reebok @adidas @Nike can you please endorse them and make #icehockeypossible ? pic.twitter.com/Y0ma3DlqcD

— Ashutosh Shiwankar (@brakys) February 22, 2017
Using the hashtag #IceHockeyPossible, the campaign has shown it's optimist side. There has been a simple ">video about the fundraiser as well as an effort to reach out on leading social media platforms, with Twitter being of major help.
A rallied effort
The campaign has seen the coming together of online platforms like The Logical Indian and Bluehost India, public figures such as retired cricketer Virendra Sehwag, actor and Ketto co-founder Kunal Kapoor. Crucially, online word of mouth recommendations by the common folk have ensured the steadiness of the campaign. Out of the 3,021 contributors , many have donated sums between a hundred to five hundred rupees, but for the women's Ice Hockey Team, they are the builders of a dream, people who have acknowledged hard work.
These women from india's ice hockey team have sacrificed, struggld to break stereotypes and YOU can help thm compete https://t.co/LYrsJSiOBS

— Kunal Kapoor (@kapoorkkunal) February 21, 2017
Donate generously to the all women Indian icehockey team. They need all our support!! #icehockeypossible #hockey https://t.co/TL6TaBxlSz https://t.co/VUKysEpoo3

— Chirag Wakaskar (@chiragwakaskar) February 16, 2017
What the funds mean
These individual efforts are advancing the country's progress in the field of ice hockey; it gives chance to talented young girls who have made sacrifices to be where they are today. Perhaps it is the start of a public conscience which returns their efforts with sincerity. The money generated through this crowd funding will be used for providing the Indian National Ice Hockey team with training, accommodation, air fare, visa, insurance, team jerseys, and equipment. The team is on it's way to train in Kyrgyzstan, where the 22 players will train on standardized ice hockey rink and not the uneven surfaces of frozen Himalayan ponds. They will also be able to travel to the Challenge Cup of Asia 2017 where teams from across the continent will compete for Ice Hockey titles.
What's more? The results are starting to surface:
Team India Women - 1st day of training on ice in Bishkek #IceHockeyPossible Thx to @shuvro_addict @LogicalIndians @ketto @icehockeyindia pic.twitter.com/JMSV7Hgb6H

— Harjinder Jindi (@jindz) February 20, 2017