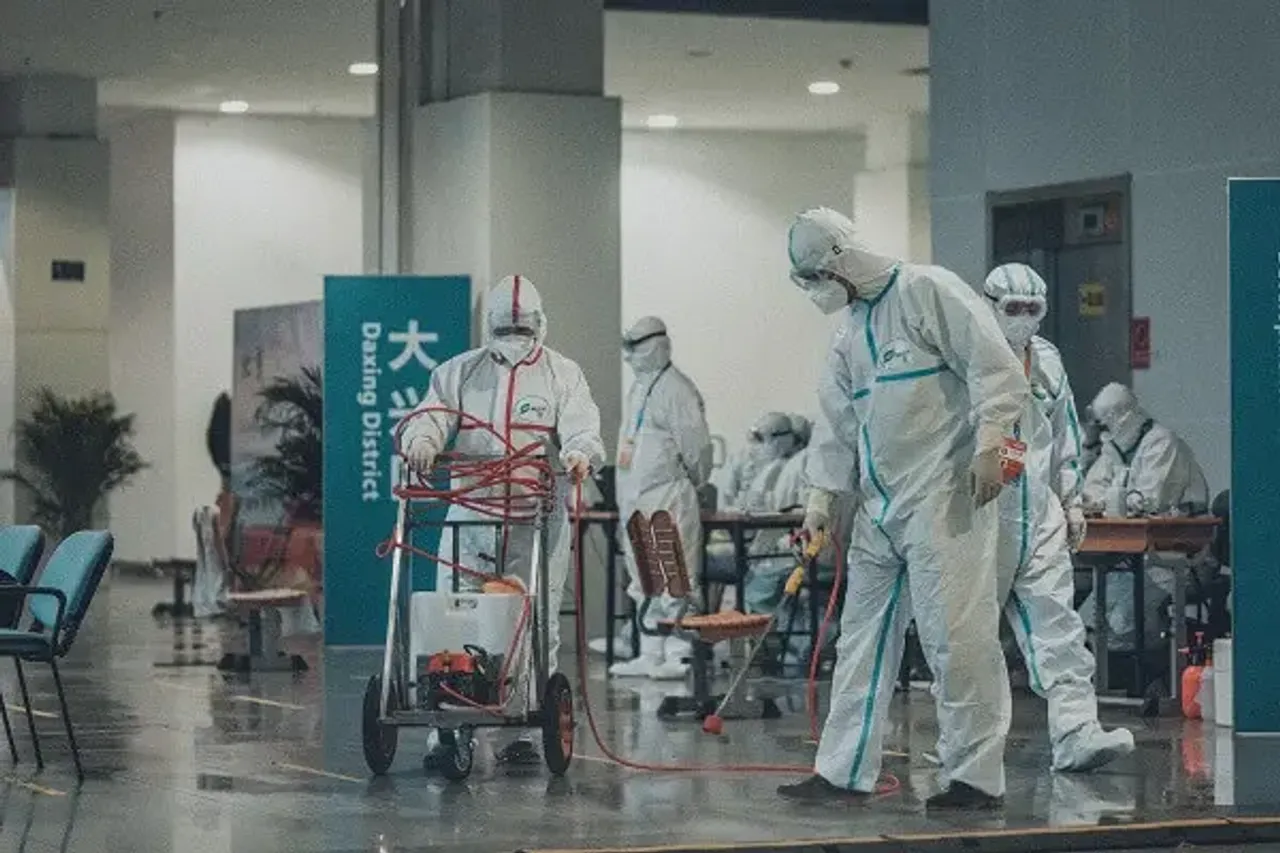 COVID-19 doctor viral Instagram post: As India grapples with a deadly national surge in COVID-19 cases, healthcare professionals on the frontline are doing everything they can to paint a vivid picture of the reality they see up close each day. One such social media post, that highlights the pandemic-induced emotional fatigue befalling our doctors and nurses, has gone viral.
Shared by a woman named Saandhra, an anesthesiology resident per her Instagram bio, the viral post gives a naked look at the on-ground reality that news headlines and official central updates don't reflect. "I've been telling people that their 22 year old son has died, lying to patients, telling them theek ho jaoge, when I know to my bones vo theek nhi honge..., hearing breathless women crying allah allah in anguish all night, watching people break down in front of me..." she writes.
See her post below: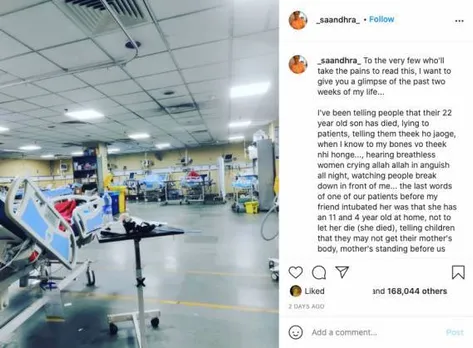 Source: Saandhra / Instagram
"the last words of one of our patients before my friend intubated her was that she has an 11 and 4 year old at home, not to let her die (she died), telling children that they may not get their mother's body, mother's standing before us with folded hands asking us to save their childrens' lives, looking at packed bodies and telling myself to stop thinking and go on with my work…"
India is currently the second-worst hit country in the world by COVID-19. As of April 16, 8:00 am, active cases stand at 15,69,743 and deaths recorded are 1,74,308. Maharashtra, Kerala and Karnataka are leading the tally, followed close by Tamil Nadu, Andhra Pradesh and Delhi.
Reports from Delhi and Maharashtra are reflecting a shortage of healthcare facilities, including single hospital beds and the Remdesivir injection. In many states, such as Uttar Pradesh, crematoriums and burial grounds are reportedly logging an overload of dead bodies with staff working overtime and families of the deceased having to wait a long time for their turn.
#WATCH | Earlier visuals from Baikunth Dham crematorium in Lucknow#COVID19 pic.twitter.com/uPMpRKHuzl

— ANI UP (@ANINewsUP) April 15, 2021
COVID-19 Doctor Viral Instagram Post Shows A Reality Not Many Can See Up Close
Earlier this week, another grim post on the burnout of medical professionals had gone viral, alongside a picture of a nurse in PPE resting between shifts. See it here. Netizens are talking about their social media timelines flooding with calls for help in accessing plasma donors and medical providers.
The state of affairs out of doors has prompted thousands of social media users to dwell on these viral posts about families and healthcare staff mourning the situation.
"Working as hard as I can... Coming back from my duty and crying about all of that I am forced to do/forced to watch… Crying about how I could have been a little more patient and a lot more loving to people who are suffocating to their deaths... To think that the pain I feel as a spectator is not even a quarter of the pain that our patients/their relatives feel," Saandhra writes.
"Trust me your lockdowns are not difficult…You haven't seen the horrors we see… I wish I could show you videos of the pain I see, just to scare everyone enough for you to stay inside…"
"Do us a favor, I am not asking you to stay home, I understand that not everyone has the luxury to do that... Just wear your masks when you are out…" she ends her post saying.