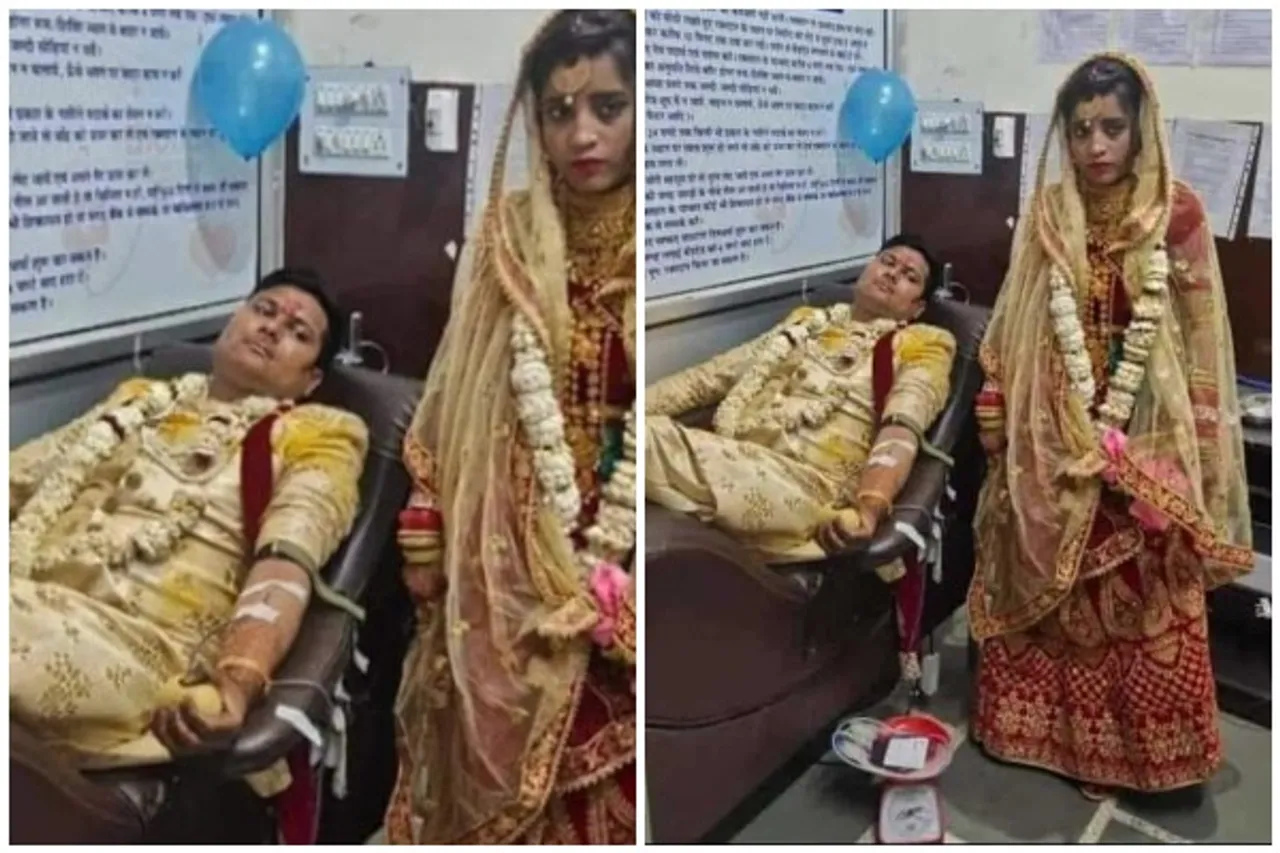 UP couple donates blood on wedding day: A couple in Uttar Pradesh spared time to take part in a blood donation camp on their wedding day. With their timely donation, the newlywed couple saved a young girl's life, Uttar Pradesh Police cop Ashish Mishra revealed in a tweet.
Mishra shared the post on Twitter and his caption (loosely translated from Hindi) said that a little girl was in need of blood, but no one came forward to donate, "because she was someone else's child." Meanwhile, the newlyweds, still in their wedding attire, stepped up to the task. "On their own wedding day, the couple donated blood to save the girl's life," Mishra wrote on Twitter about the unnamed couple.
Mishra has been encouraging youth to join the 'Police Mitra' initiative and help out those in need, by donating blood.
Check out his post here:
मेरा भारत महान |
एक बच्ची को ब्लड की जरूरत थी,कोई भी रक्तदान करने को सामने नही आ रहा था, क्योंकि वो किसी दूसरे की बच्ची थी,अपनी होती तो शायद कर भी देते,
खैर, शादी के दिन ही इस जोड़े ने रक्तदान कर बच्ची की जान बचायी |
Jai Hind,#PoliceMitra #UpPoliceMitra #BloodDonation pic.twitter.com/tXctaRe1nR

— Ashish Kr Mishra (@IndianCopAshish) February 22, 2021
"My India is great," the cop wrote in Hindi. Mishra took the time to laud the couple who can be seen dressed in their wedding attire while donating blood. The picture shows the man donating blood while his wife stands next to him, dressed in her wedding lehenga.
The photo has since gathered praise and heartwarming comments from netizens. "Great example. Wish the couple all the best for a very happy married life," shared a Twitter user. "Great work by them," expressed another. "Big salute to the newlyweds," wrote a user. "Great service to humanity," said another.
Feature Image Credit: Ashish Kr Mishra/Twitter