We have had our enough share of looking at pretty faces endorsing beauty creams. But have we ever thought how it would be if a plus-sized woman sold a fairness cream with the same gesture and body language. How would that go?
It has always been a norm in advertising to showcase a lissome beauty. But recently standup comedian Bharti Singh was spotted in a new television commercial as non-stereotypical brand ambassador. In the video, the comedian is seen addressing these insecurities in a commercial for the beauty brand, Joy, promoting a body positive campaign.
Also Read: Body shaming and popular media: the Selfie Cultures 
Watch the video here:
She is totally slaying it!
Instead of flaunting physical beauty, Joy brought in an overweight woman to endorse their body lotion, a hugely laudable initiative.
Finaly the wait comes to an end!My latest fun & realistic TVC for BrandJoy Honey & Almonds lotion is out nw!Thank u Joy for ths opportunity! pic.twitter.com/2PZLTcg9xV

— Bharti singh (@bharti_lalli) November 7, 2016
Bharti's commercial grabbed eyeballs, correctly identifying the norm so far. The ad begins with a pair of hands gently applying a moisturiser, and then the truth was open and naked. The curvy and absolutely fabulous Bharti represents her beautiful self.  She asks in the ad, "Would you still imagine a glamourous model with perfect curves as the face of the brand?" She also revealed how she had been earlier fat-shamed, but that it's all changing now. That she too, at her size, is as beautiful as any other pretentious overly polished actresses.
Also Read: Fat shaming: is a woman in-charge of her own body or society's concept of it?
This is the first beauty and personal care brand (Joy Honey and Almond Body Lotion's new TVC) that has done a great job, trying to break such stereotypes, because it's time the consumer woke up to such fake images.
Shamers exist, so do protesters. Lately, different Body Positive Campaigns are gaining popularity both online and offline. Trends like #Mermaid Thighs, #Fatkini, and #realwomenofinstagram are catering to celebrate women's bodies in all their forms.
Source: Tumblr
Also Read: Zarine Khan opens up about body-shaming
Instagram released body positive campaign #Perfectly Me, in collaboration with Seventeen magazine on  October 17, which is National Body Confidence Day, and has banned controversial and unhealthy tags like 'anorexia', 'thin' and 'bulimia'.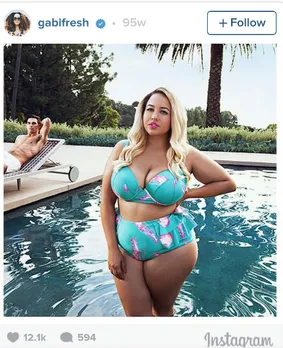 #Fatkini (against body shaming) and #JustaTampon (against stain shaming) are global revolutions through the internet.
A recent post on body-shaming by popular Bollywood actress, Sonam Kapoor gave a nudge to every one who faced a similar struggle. Following this, TV news reporter Kajal Iyer finally stepped up and talked about body-shaming and objectification in the broadcast newsroom that no one talks about.
Also Read: This Artist Tells Body-Shamers to Mind Their Own Business
The TVC ad has gone on air on November 6, and has been conceptualised and scripted in-house by Poulomi Roy, head of brand and communication, Joy Cosmetics.
Hats off to Bharti for nailing such bold initiative with your usual kickass attitude and thank you for shattering beauty stereotypes. For now, we hope there will be a day when all advertising companies would welcome similar campaigns.
Feature Image Credit: Afaqs
Join Us on https://www.facebook.com/SheThePeoplePage
Follow Us on https://twitter.com/SheThePeopleTV