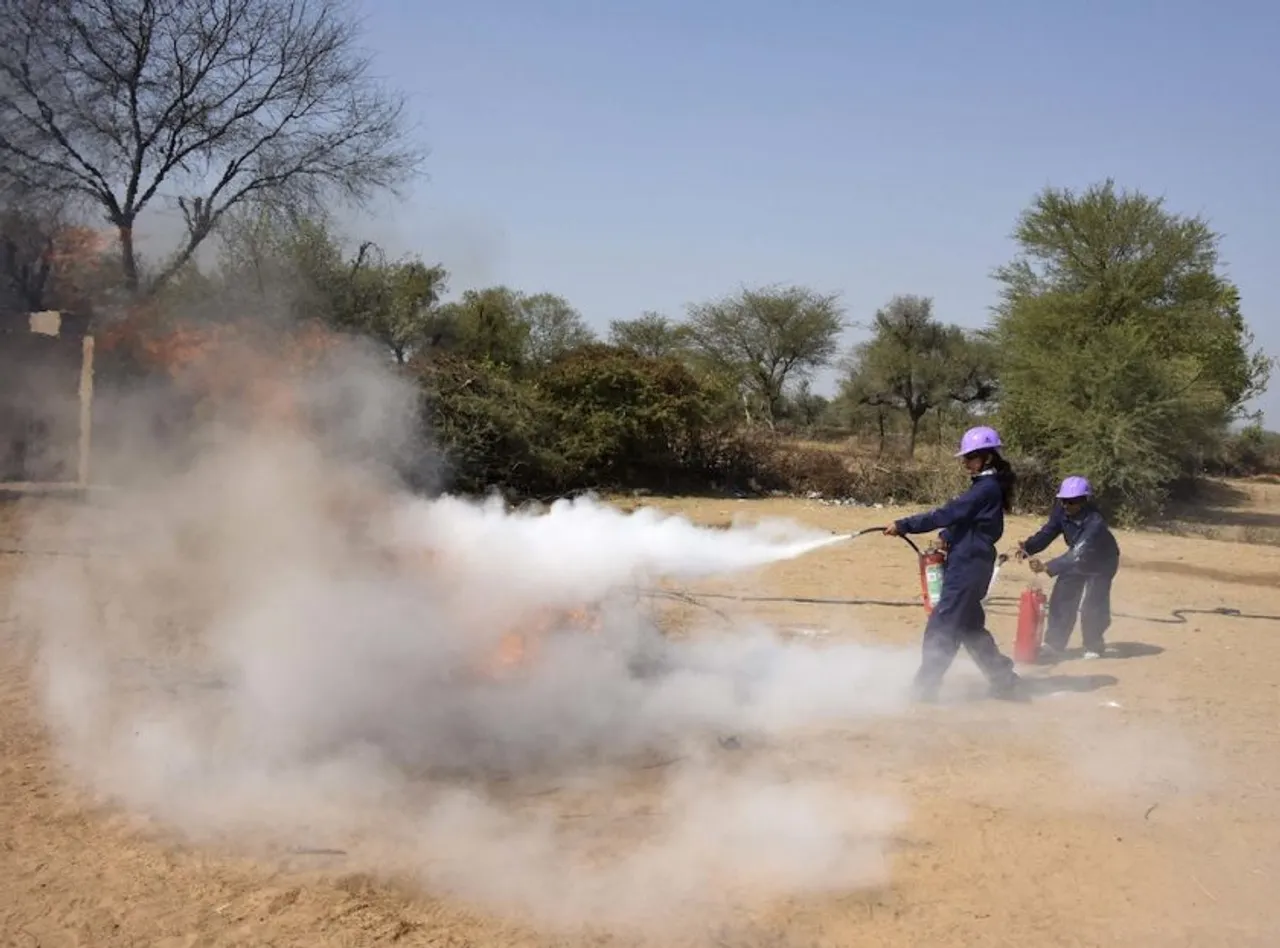 When the westerners are touring India, and they often come up with ridiculous doubts they have about our "exotic" land. "Do you own elephants and cows?" "Do you still marry off your little girls?" While the first one is just absurd, the sad part is, we still can't completely deny the rampancy of the latter. Yet, there's a potential revolution brewing amongst the oppressed child brides of Rajasthan. Some might even say they are playing with fire.
You heard us- many women like Nirma Chaudhary, who were married off even before their 18th birthday, have armed themselves with newfound conviction. And firefighting gear.
That's right- this breed of women is training themselves to become Rajasthan's first ever female firefighters.
When a juvenile bride is created, various changes occur in her life that could be the equivalent of cutting off a bird's wings. She is almost always forced to drop out of school, to handle the additional burden of household responsibilities. And the number of girls who meet this fate is alarming.
According to the latest National Family Health Survey, 47 percent of the girls, who were married between the ages of 20 and 24, said they have been married since before they turned 18, and in all, 65.2 percent of women being married off as child brides.
A child bride's life is also plagued with health impediments, as she bears a child sooner than her body is ready for all the hormonal changes- causing complications during pregnancy, and even conditions like malnutrition amongst the children, who will be lucky to survive beyond the age of five. This custom thus creates a vicious cycle of malnutrition, poor health and ignorance.
But Chaudhary, residing in Sikar, a village that is about 130 kms from Jaipur, says her in-laws were more supportive than her peers'. They not only urged her to complete her education, but also encouraged her to take up a profession, and chose firefighting for her on seeing an ad calling upon women to join the fire services
"I used to see firemen on television and in the newspapers. Everyone would say 'Girls can't do these jobs. So I thought I have to show that I can do this. If women are in the army and stationed at the border and are ready to fight our enemies, then they can surely be encouraged to fight fires," said Chaudhary to Channel News Asia, wearing a uniform of khaki shirt and trousers, as she sat on duty at Jaipur Nagar Nigam fire station.
In fact, the state had a 33 percent reservation mandate for women in police and administrative services. But according to Jaipur's Chief Fire Officer Dinesh Verma, they "hadn't started implementing it in the fire department until last year."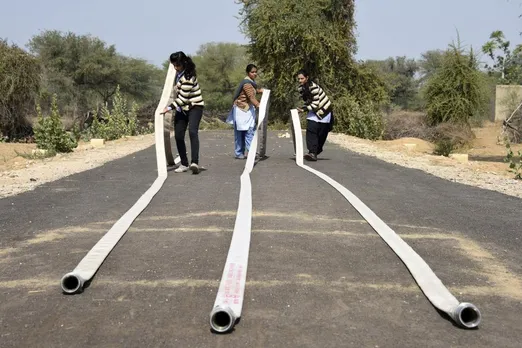 Students at a fire and safety college in Sikar, Rajasthan
Picture By: Reuters
Now, as a part of a program to encourage women to enter the field, 30 women are undergoing their training to become the land's very first.
Chaudhury, says she has dealt with many blazes in her six months as a professional, both literally and metaphorically. "At first, neighbours didn't like it and would talk badly about me doing men's work," she said. But Attitudes have changed in the village now.  "Now they see that girls can study and achieve the same as men... there are other girls that come to me to ask me about how they can also join the fire department."
She is now getting accustomed to living away from her family and 5 year old son, who she rides the bus for three hours once every week, to visit.  She spends 6 days a week in Jaipur, near her workstation, and rooms with another female firefighter.
In a state where patriarchy is still an official lifestyle, women taking up a job which was clearly portrayed as a man's terrain until now, is making a very bold statement- challenging smothering conventions even in the larger scheme of things.
Ravi Verma, Asia director for the International Center for Research on Women, said such policies are helping to improve the status of women in India. "Affirmative action is a solid step forward because those girls and women who move into the sphere of education and work and acquire additional skills challenge local patriarchy and can change attitudes," he said.
And as these 30 women strap their gears on, tackling gas cylinder explosions, electric short circuits, and inspect your houses to make sure you're playing safe,  one can't help but nurture the spark of hope ignited in their hearts, that the women have arrived and are here to stay.
Original: Channel News Asia
< Featured Picture Courtesy:   Malay Mail Online>