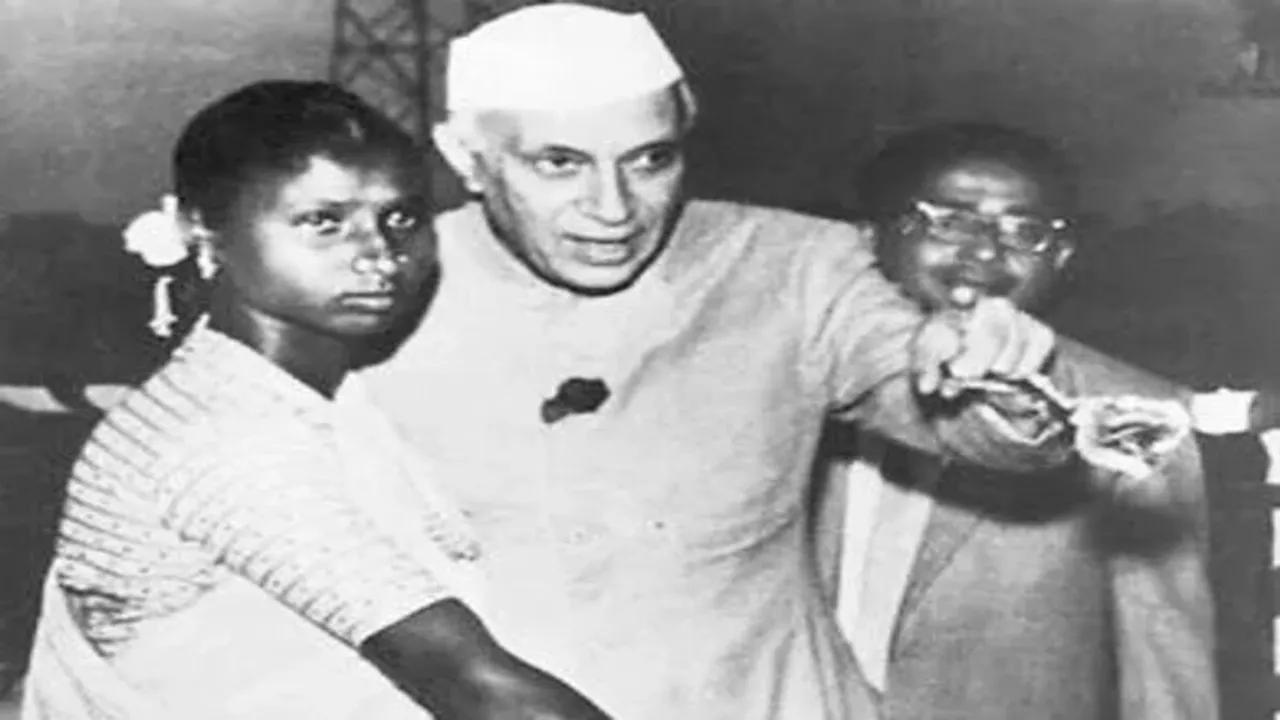 Budhni Mejhan, a woman from a tribal community in Jharkhand, passed away at 80, leaving behind a legacy intertwined with the intricacies of Indian political history. She breathed her last near Panchet in Jharkhand. Her journey, intertwined with the legacy of Jawaharlal Nehru, India's first Prime Minister, is a story of unexpected turns and societal challenges.
Final Farewell
As reports emerged, Budhni Mejhan suffered a heart attack and was cremated on Sunday, leaving behind her daughter Ratna (60) and grandson Bapi (35). Her passing marks the end of a life that bore witness to both tribulations and triumphs.
Local leaders and officials paid homage to Budhni Mejhan, acknowledging the unique role she played in the community. The head of Panchet Panchayat went further, urging the Damodar Valley Corporation to erect a memorial in her honour. Additionally, a plea for housing and a pension for her daughter awaits approval from higher authorities.
Early Life And Encounter With Nehru
Budhni's journey began in 1959, when, as a 15-year-old tribal girl, she found herself chosen to welcome Jawaharlal Nehru during the inauguration of a dam in a West Bengal village. This seemingly honourable occasion, however, took an unforeseen turn when Nehru, in tribal custom, presented her with a garland. In tribal traditions, this gesture equated to marriage, a fact that would alter the course of Budhni's life significantly.
As the news of Budhni's marriage to Nehru spread, her Santhali community, bound by tradition, rejected her. Despite Nehru's intentions to honour her contribution, the tribal community, disapproving of the intertribal union, chose to boycott her. This rejection triggered a series of challenges that would shape Budhni's life in the years to come.
The Unintended Marriage and Societal Rejection
As a non-tribal, Nehru's marital bond with Budhni prompted her exclusion from the Santhali community, a painful rejection that would cast a long shadow over her life. Undeterred, Budhni continued to work at the Damodar Valley Corporation, but her resilience faced its first severe test in 1962 when she was unceremoniously thrown out of her job. This marked the beginning of a seven-year struggle in Jharkhand, where making ends meet became a daily battle.
Despite the intervention, the promises made during the dam's inauguration, including free electricity and houses, remained unfulfilled. Ravod Manjhi, who inaugurated the dam alongside Budhni, candidly admitted to the BBC that Nehru's assurances had amounted to nothing. When probed about Budhni, he chose to sidestep the painful recollection of the ordeal.
Amidst the trials, Budhni found solace in the companionship of Sudhir Datta, a man with whom she shared a deep connection. Their desire to marry was eclipsed by the fear of societal repercussions, yet they chose to live together and welcomed three children into their lives.
In 1985, a glimmer of hope emerged when Rajiv Gandhi, learning of Budhni's plight, intervened. Budhni, once again, found herself employed at the Damodar Valley Corporation, marking a redemption of sorts.
In 2016, when asked about her desires, Budhni articulated a simple wish—a plea to Rahul Gandhi for a house and a job for her daughter—resonating with the persistent struggle for recognition and stability.
Budhni Mejhan's life, at different stages, became entwined with the most influential political family in Indian history—from Nehru to Rahul Gandhi.
---
Suggested reading: Birthday Special: Women Who Influenced Jawaharlal Nehru