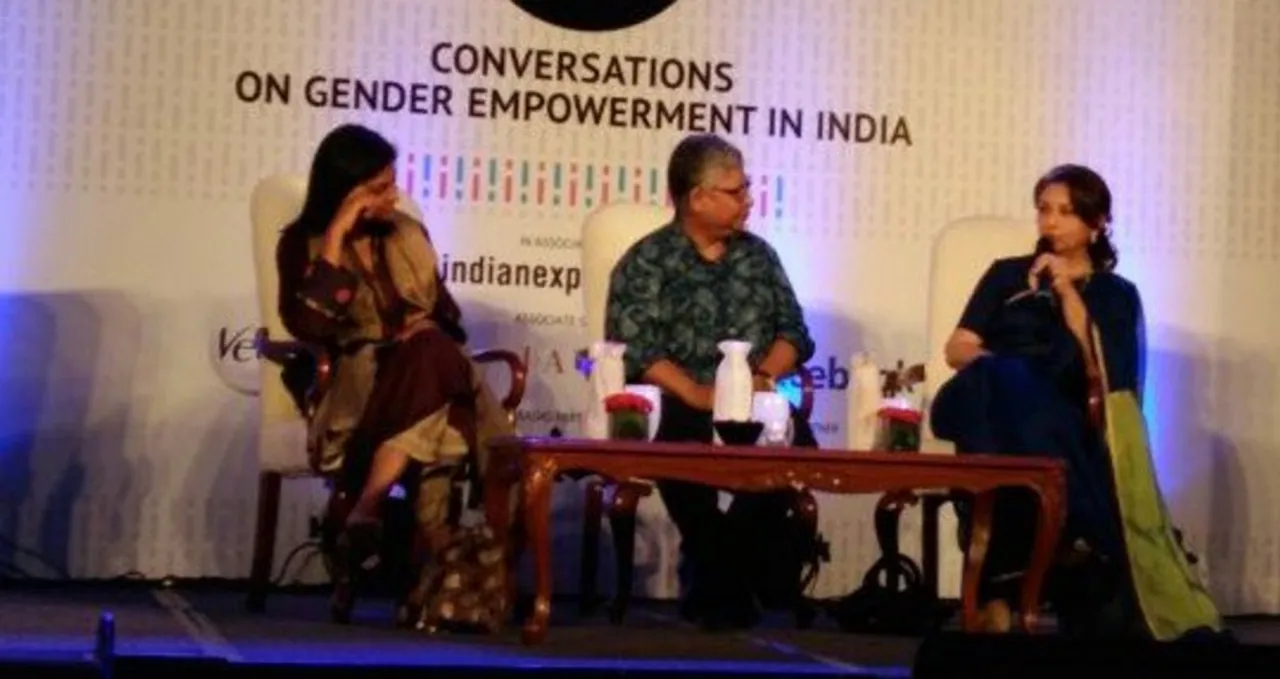 Sharmila Tagore and Nandita Das say it like it is at The Bridge Talks, talking about the issues that still remain when it comes to women's roles in cinema. No matter how successful the woman character, as Sharmila Tagore pointed out, she will still need the male character to tell her her own mind. Even when it comes to a movie like Pink, you need the star power of Amitabh Bachchan, she commented, saying he's brought the senior actors visibility (and even shown they can be "sexy"), but where are the roles for older women, she asked? To much applause.
Nandita Das also spoke about being slotted as a "woman director" — there is something you bring to the gaze, as a woman, she says, but resist the urge to slot women directors. Gender isn't on your mind, when you're directing, she explained, but went on to say, that she does get called to panels as a "woman director". She also noted that she thinks she's "been very much on the fringes of acting" and that she uses films as a "means to an end" — as a social activist she never got called in to discuss social issues she's passionate about, but post-Fire she started getting calls to talk about important issues she wants to raise awareness on.
An audience member demonstrated just why we need to continue having these conversations — "Don't you think that in our pursuit of strong roles, women are losing their femininity?" she asked. Sharmila Tagore and Nandita Das both pointed out that strength not being seen as feminine is an issue. "Saying being feminine is not strong is problematic," said Nandita Das.
#TheBridgeTalks with Sharmila Tagore https://t.co/oh9LTPRapv

— SheThePeople (@SheThePeople) October 8, 2016
"There has to be parity in payscale," says Sharmila Tagore. #TheBridgeTalks #bollywood #equalpay pic.twitter.com/VOEoIPYkkf

— SheThePeople (@SheThePeople) October 8, 2016
Earlier in the day, WCD Minister Maneka Gandhi opened The Bridge Talks with remarks on what she sees as the challenges that need to be overcome. "I dived the work that needs to be done into safety, defence of women and financial empowerment," she said. She spoke about the major issues India faces when it comes to the child sex ratio imbalance, female infanticide, which she finds happens more in the West of the country (even with the affluent, as we know) than in the East. Narrating some stories from what she has seen at the ministry, she also made a call for people to support the initiatives to benefit rural women — announcing a call by her ministry to support those NGOs and others looking to help up to 200 women at a time in rural India. But skilling isn't just about teaching women to sew, she said, adding that she's gotten bored with the number of applications she gets that see "skilling women" as teaching them to stitch and sew.
.@Manekagandhibjp at @TheBridgeTalks - We're building 175 centres rehab centres. It's the 1st time we've got centres dedicated to women. pic.twitter.com/UTfdep6GEo

— SheThePeople (@SheThePeople) October 8, 2016
There was some consternation in pockets of the audience when she talked about issues that may plague the proposed 6 month maternity leave policy — women  shouldn't misuse it, she said, the way the Dowry Act is misused (Sec 498a) by some women.
With reactions ranging from the exasperated to the more conciliatory, perhaps it's best to sum up as an audience member did, "All laws can be misused".
Fielding a question from an audience member on her earlier comments on paternity leave, the minister said she's not anti-paternity leave but had made a comment flippantly, which she shouldn't have done
There was a lively session with the Internet Saathis, introduced by Google's Sapna Chadha. You can read more on the initiative here and stay tuned for our interview with four of these amazing women.
Female Internet trainers (Internet Saathis) from rural India talk to @nehabarjatya about driving change through the Internet #TheBridgeTalks pic.twitter.com/R0DpYUSnuP

— The Bridge Talks (@TheBridgeTalks) October 8, 2016
The sessions continue through the day — join us on our FB Live as we partner with The Bridge — and stay tuned for more videos and interviews right here on SheThePeople.TV!