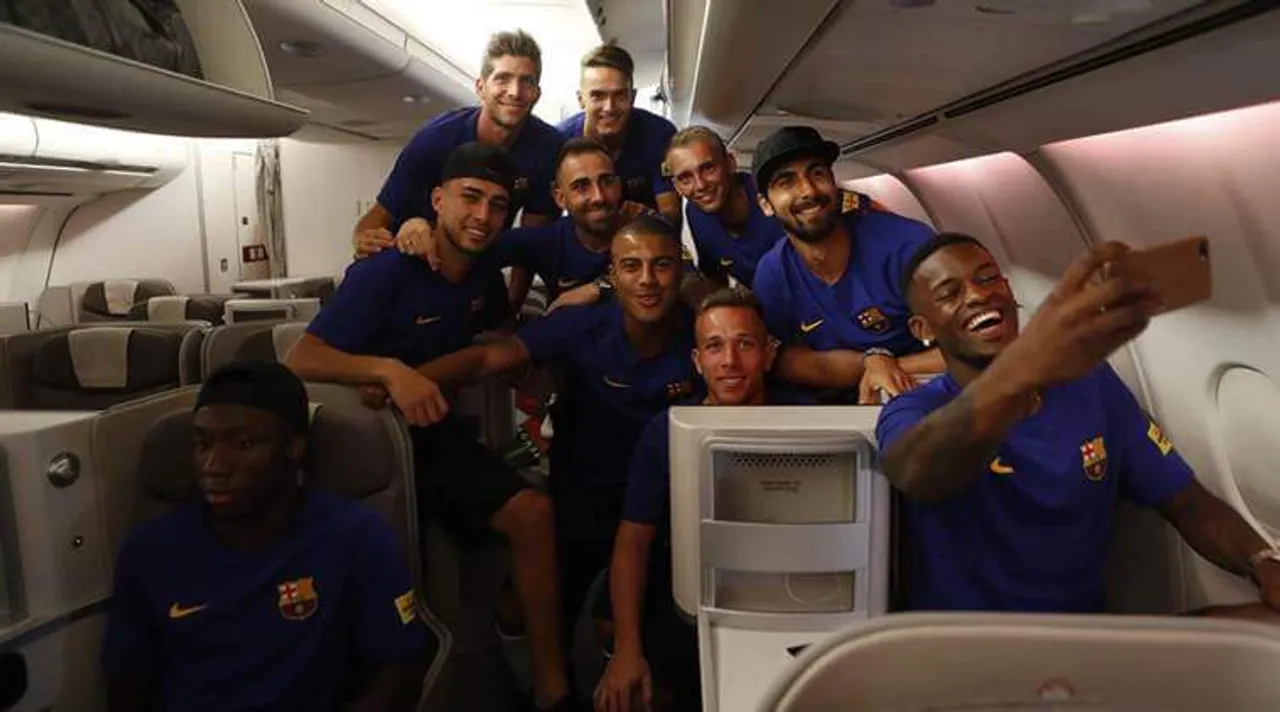 FC Barcelona faced criticism after they sent their women's team in economy class, while they had arranged business class seats for members of the men's team on the same flight.
What happened?
Barcelona is carrying out its first ever mixed-sex pre-season tour, with the female and male teams both training at Nike's headquarters in Beaverton, Oregon, this week, reported Indian Express.
However, they faced backlash on social media after they booked economy class seats for its female team members and business class seats for male team members.
There was a team captains' photo in Business Class, before the men assumed their Business Class seats & the women returned to their Economy Seats. pic.twitter.com/i96VtPIupD

— Michele Taylor (@BarcaWomen) July 24, 2018
Barca spokesman Josep Vives came forward and said the women's team flew in economy as they were a late addition to the tour and the club had already taken up the contract for a chartered flight.
Club's statement
In a news conference, Vives said, "They travelled comfortably, as they said, and from now they will all travel first class on the internal flights."
He also added that the club deserves recognition for taking steps to promote women in sports.
Read Also : Nine Odisha Players In India Team At Asia Rugby Women's Championships
"We should be valued for the steps we have taken in women's sport. We are working towards equality in many aspects, and we think that generating controversy over an issue like this is merely a way to attack us," he added.
Director of the women's team, Maria Teixidor, also wrote a letter on the official website, "To all of you who these days decided to criticise the conditions of the women's team's trip, I say that Barca asked its female team to travel with its male team so that in the future they can travel in business class on their own plane."
🇺🇸 Our Men's and Women's teams took center stage Wednesday at @Nike World Headquarters 🇺🇸 #TheMagiciansOfTheBall pic.twitter.com/XP2b6095Cd

— FC Barcelona (@FCBarcelona) July 26, 2018
She added, "That will be the day we can talk about equality because women's sport will have the same media coverage, sponsorship deals and fan interest as men's sport… Until that day arrives, it would be nice for those who criticise us today could recognise the effort that the club is making today to promote women's sport. Until then, we ask for less cynicism."
Picture Credit: India Today
Read Also: Women's Rugby Team Prepares To Go International; Player Talks of Training
Kriti Dwivedi is an intern with SheThePeople.Tv