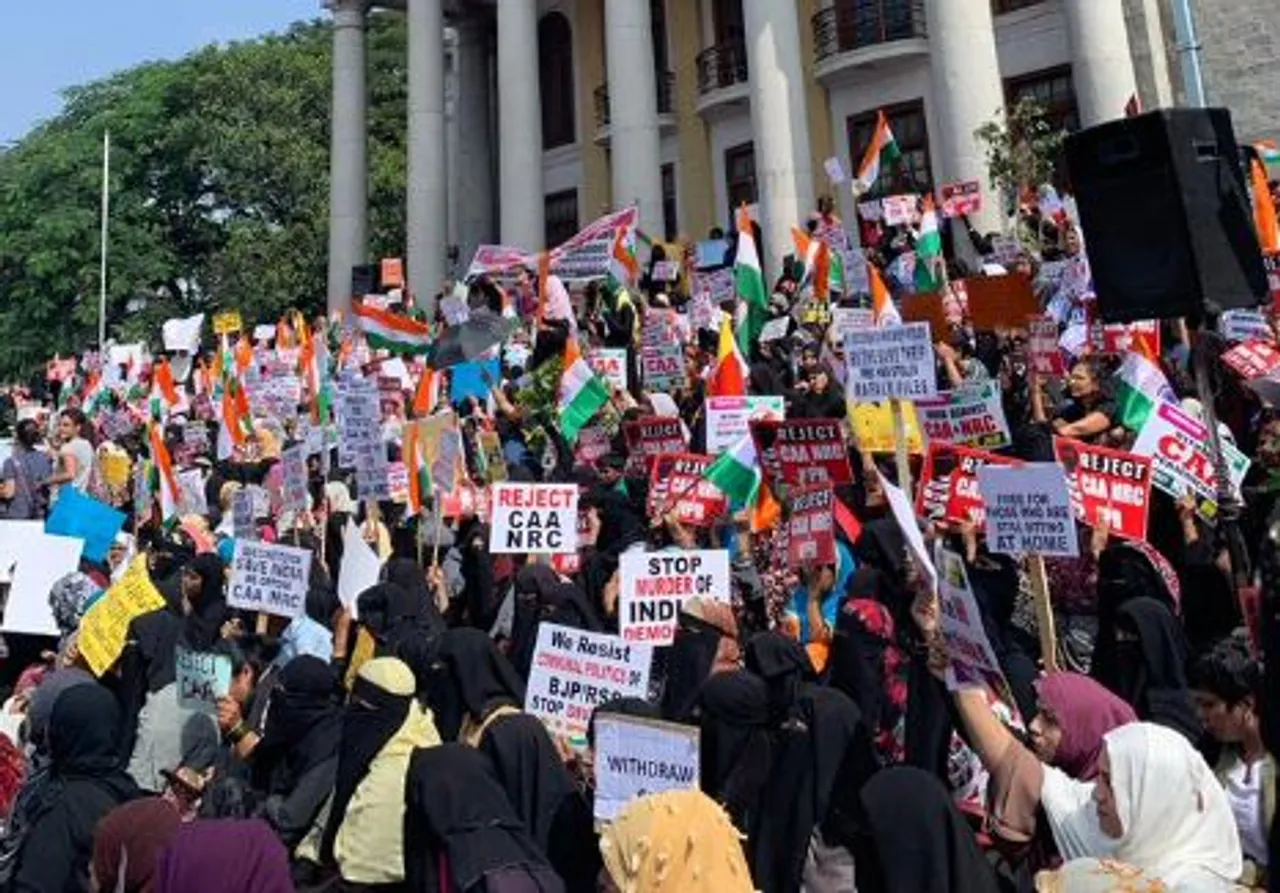 Hundreds of women attended a protest at Bengaluru's Town Hall ​on Thursday in the wake of protests against the amended citizenship act. The imposition of ​​National Register of Citizens (NRC) and Citizenship Amendment Act (CAA) has resulted in a nationwide protest, and recently women who don't support this act gathered to shout slogans which read "Withdraw CAA permanently," "No CAA, NRC, NPR," "NRC and CAA is demonetisation of Indian citizenship." It was organised by various women's groups,  TOI reported. ​Elderly women, women with their babies, students, volunteers, employees, women in burkas were all present, holding ​the tricolour and raising their voice for their rights in a peaceful protest.
​

"We were born here and want to die here," ​declared Faruk Kaiser, a 80-year-old Bengalurean, who shouted out her clear affection for the country. The protest was organised under the banner 'Women India Movement'
"The previous governments used Census data to determine who was allowed to be in this country. Why isn't this government using the Census? If you want to bring the (NRC) process, you will have to remove Article 14 in the Constitution (which guarantees equality before law). We won't let you do that," said Nasreen, who was detained by the police on December 19, The News Minute reported.
While ​policewomen were deployed to maintain peace during the gathering, many children accompanied their mothers in the protest, handing out roses to the police personnel. "We are all Indians. My grandfather was Indian and so was his. Nobody can tell us otherwise," said Ayman Roquia accompanied by her six-year-old son, Shaan.  Another protester N Saliya came with her one-year-old son. "This is not the ideal place for a young child, but I am here, in this heat, because this is the state of our country right now. We must resist," she said. "We have been residents of Bengaluru and citizens of India for many generations. I will attend every protest and raise my voice."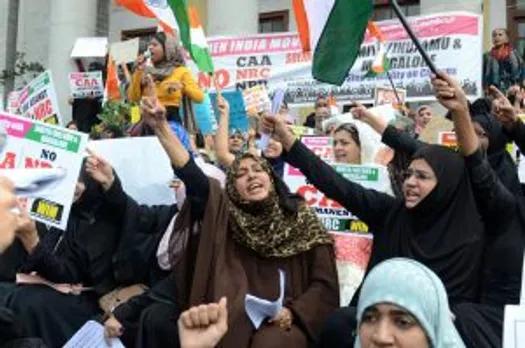 Image credit: Bangalore Mirror
Some of them banners read: "Our constitution took five years to complete and you change it in hours"
"Don't make us foreigners in our own land"
"I am a child of two religions"
"Hum kaffaan pehen lenge lekin watan nahi chodenge"
Wondering why

​

citizens were being asked to produce documents suddenly, ​Shabnaz Begum asked, "We are Indians like anyone else. Do the people who are implementing such laws have their papers in order?"
Earlier addressing a huge rally at the Ramlila Ground in Delhi, Prime Minister Narendra Modi urged for no violence and also assured the minorities that they will not be affected by the CAA and the NRC.
Zahra, a final-year student of pharmacy, said, "It seems we are being targeted because we don't fall in their voter base. Such policies could destroy the spirit of India," she said. Zaiba Banu, a teacher, said CAA and proposed NRC were discriminatory against one community. "If our Aadhaar and voter ID cards are not enough to show we are citizens, why were we allowed to vote?"
The protests garnered traction in Assam and slowly spread through different parts of the country. People are coming on to the roads and protesting against the amended citizenship law, the government has issued prohibitory orders since then.