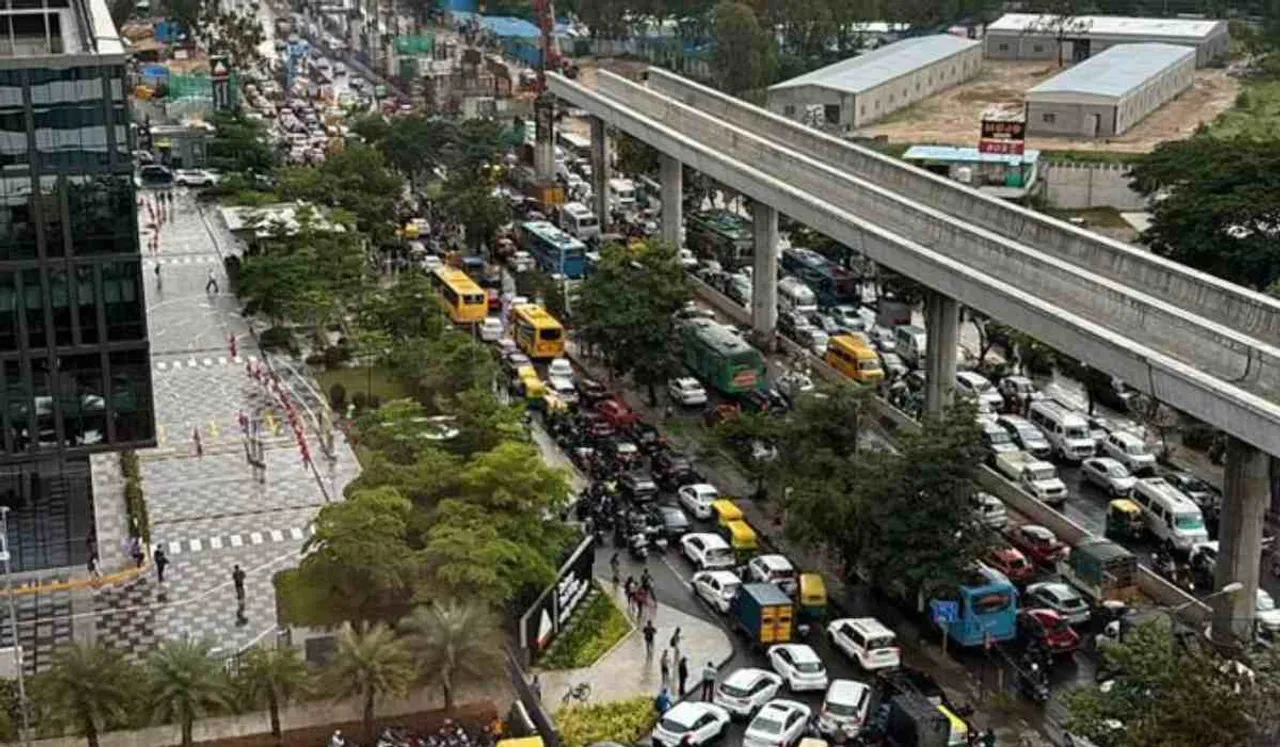 On September 27, the traffic in Bengaluru took a big toll on its citizens. The crisis escalated to such an extent that a large percentage of school kids returned home at night. 
The traffic jam was nothing less than a horror for people stuck for hours, netizens share their experiences. 
Bengaluru Traffic Crisis 
Bengaluru experienced an unusual traffic jam on its tech corridor, the Outer Ring Road (ORR) on Wednesday between Silk Road and Tin Factory as commuters reported being stuck for more than five hours in the slow-moving traffic claiming their vehicle did not move even an inch for several hours. 
The traffic alert on the route is usually 197 but, on September 27, the congestion was staggering at around 1609 and the traffic was twice the usual with the vehicle count exceeding the usual of 1.2 to 2 lakhs to 3.9 lakhs according to the statement by police authorities. 
The traffic police also said that some major reasons for the traffic jams include waterlogging, metro construction, people leaving the town due to the long weekend, and employees attending the office after the Bengaluru bandh. 
The severe traffic prompted traffic police to issue an advisory for IT companies to delay the logout timings as the traffic affected the tech employees the most, the joint commissioner of Police (Bengaluru Traffic) MN Anucheth and his team were on ORR clearing the traffic. However, netizens were disappointed by the response and felt like blaming the citizens. 
One netizen criticised the traffic police's statement highlighting the city's lack of public transport, terrible roads, and poor planning claiming that their children returned home at 9 pm. 
This is a disgraceful statement from the government. Instead of making excuses, maybe admit that Bangalore has no public transport, terrible drainage, badly maintained roads and poor city planning. My children returned from school at 9 pm, and these guys are blaming the citizens. pic.twitter.com/v9FvImQBHQ

— Ritesh Banglani (@banglani) September 27, 2023
Other parents also confirmed the claims by sharing screenshots on social media that school children returned home around 8-9 pm as parents worried about their kids. 
Not to forget kids. Some school buses dropped kids off at 8 pm!

Our kids definitely deserve better. 😢 pic.twitter.com/xIxRy1Kq0V

— Samit Singh (@kumarsamit) September 27, 2023
Trevor Noah's Show Cancelled
South African stand-up comedian and writer, Trevor Noah's show was cancelled due to some 'technical glitch' as the audience couldn't hear him during the performance. Noah expressed his disappointment on his X account apologising to fans, while fans criticised organisers for mismanagement. 
Dear Bengaluru India, I was so looking forward to performing in your amazing city but due to technical issues, we've been forced to cancel both shows.
We tried everything but because the audience can't hear the comedians on stage there's literally no way to do a show. We'll make…

— Trevor Noah (@Trevornoah) September 27, 2023
As some citizens were stuck in the ORR traffic jam, they sold their tickets on Instagram/X, while other fans claimed they reached 4-5 hours early at the venue. 
Really wanted to see you, came 4 hours in advance ;( pic.twitter.com/ZtXb84LI9N

— Nagpuranimeclub (@nagpuranimeclub) September 27, 2023
Several other netizens took a fun dig at the incident claiming Bengaluru gave the comedian a lifetime of jokes to use on stage. 
Hello @Trevornoah,

We Bengalureans apologise for the bad arrangements made by the show organisers. Also, whichever area your car was stuck in a Traffic Jam, we will rename it Trevore-Kere. ☺️#BengaluruTrafficJam #Bengaluru #BengaluruTraffic pic.twitter.com/9DBhaZsoS7

— Waseem ವಸೀಮ್ وسیم (@WazBLR) September 27, 2023
Bengaluru wanted to experience Trevor Noah, but Trevor Noah ended up experiencing Bengaluru. 😂#BangaloreTraffic pic.twitter.com/2IkFOcN8s6

— Shashank Mithur 🇮🇳 (@shashankmithur) September 27, 2023
Dominos Fullfiling 30-Minutes Promise As Bengaluru Choked
Stuck in traffic which was double the volume of the usual, Bengaluru citizens ordered Dominos pizza delivery at random nearby locations and appreciated their services as their delivery agents tracked live locations and delivered the order navigating through the heavy traffic jam. 
The user shared his experience on X, while another user joked, saying "Next time I am booking a massage for the Urban Company." 
When we decided to order from @dominos during the Bangalore choke. They were kind enough to track our live location (a few metres away from our random location added in the traffic) and deliver to us in the traffic jam. #Bengaluru #bengalurutraffic #bangaloretraffic pic.twitter.com/stnFDh2cHz

— Rishivaths (@rishivaths) September 27, 2023
Citizens Stuck In Traffic For 3-5 hours
The Bengaluru traffic horror struck citizens badly as people stuck in the traffic claimed that it took 1.5 hours for them to reach home which was visible to them from the distance they were stuck, while other user shared their experiences of how their spouses returned home 3-4 hours late that usually takes 15 minutes.
Me trying to get home in a traffic jam, where I could practically see my house from my car, but it still took me a whopping 51 minutes! 🐌🏡⏰ #bengalurutraffic #BengaluruTrafficJam pic.twitter.com/OkMI4O0DrW

— Ruthvik Ghagarwale (@rghagarwale) September 28, 2023
Today's Horrible traffic story at BLR ORR. #TrafficAlert #bengalurutraffic #Bengaluru #Traffic pic.twitter.com/StOr2V3VmO

— ANIL S M (@ianilsm) September 27, 2023
#bangaloretraffic #bengalurutraffic
Today's story 😂🤣😭 pic.twitter.com/ZlyM8maTIT

— Pragalbh Garg (@pragalbhgarg) September 27, 2023
Others took a comic turn lighting the situation as the users created memes on the Bengaluru traffic. 
Commuters on IT Hub ORR #bengalurutraffic be like! pic.twitter.com/doDOFDmF36

— ನಿಶಾ ಗೌರಿ 💛❤ (@Nisha_gowru) September 27, 2023
When Batmobile gets stuck in Bengaluru traffic pic.twitter.com/ilFVZlODav

— Sagar (@sagarcasm) September 27, 2023
---
Suggested Reading: Watch: Bengaluru Woman Seeks Unique Way To Take Pet To Work