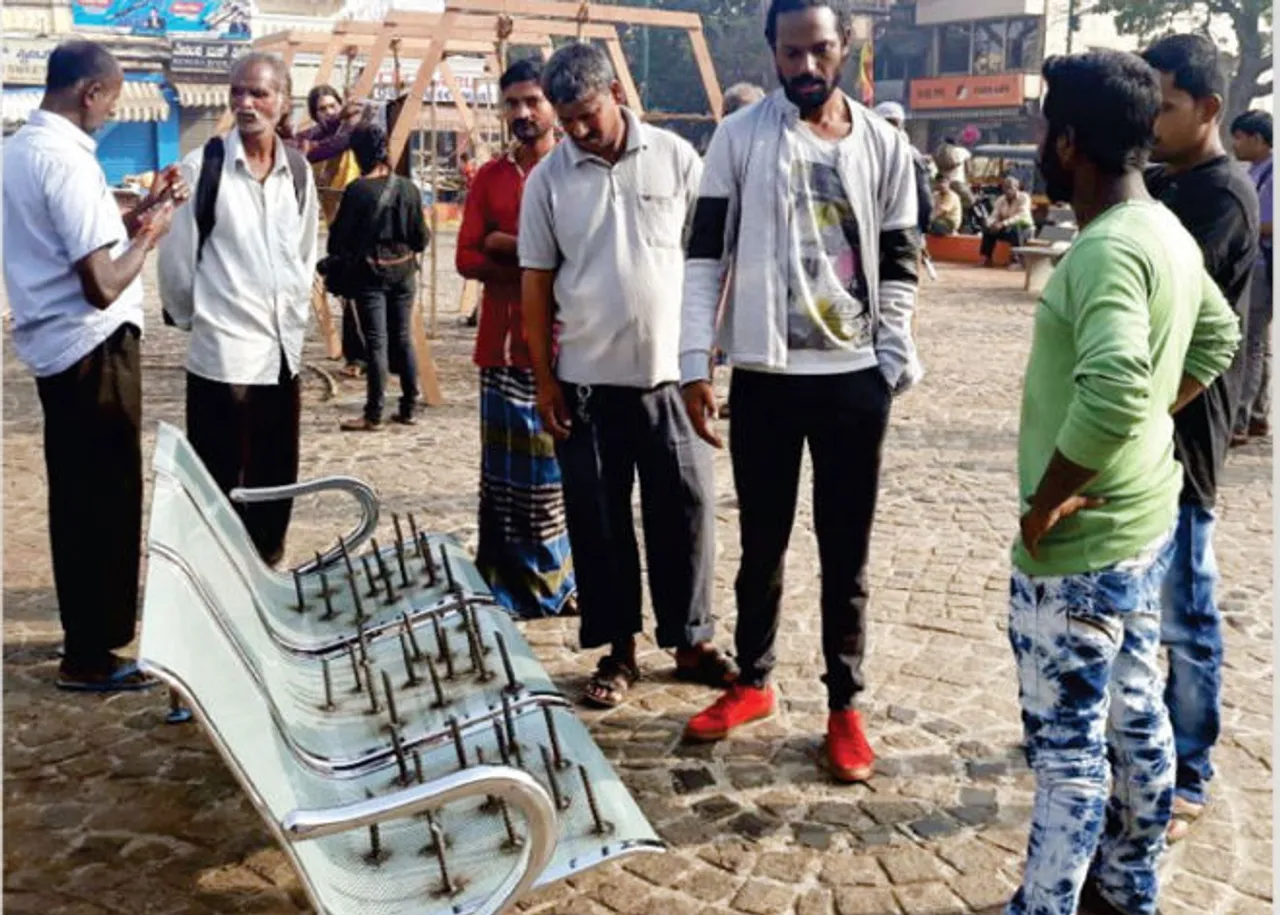 Remember the Bengaluru-based artist who grabbed eyeballs after his 'crocodile' artwork on a busy Bangalore road went viral in 2015? Well, he is back with another profound work. This time, he is making a bed of nails on benches to fight against harassment of women.
The idea was to feed the same thought to the people, showing how it feels when women face harassment and how to behave with them in public
https://www.facebook.com/royalbaadal/posts/2134408260120342
Baadal Nanjundaswamy, 36, a gold medallist in Bachelor of Fine Arts from Mysore University, has again created ripples by coming up with the idea as a part of International Women's Day.
Also Read: This Artist Tells Body-Shamers to Mind Their Own Business
https://www.facebook.com/royalbaadal/posts/2134436636784171
Things aren't normal when it comes to safety of women in the city these days. So Baadal decided to take things in his hand. Teaming up with friends, Baadal organized a two-day event titled "Discomfort – Sexual Harassment in public places" at the Chikka Gadiyara in the city last week.
https://www.facebook.com/royalbaadal/posts/2133430386884796
The benches had nails all over to symbolically depict how women are sexually exploited. He tried spreading the message of how women face harassment and how they could be emotionally devastated by the act of stalking.
"The idea was to show how women are sexually exploited and harassed in public places. How in buses men touch them inappropriately, tease and stalk them. Only when we highlight such issues which are becoming major problems in our cities, towns and villages, can we do something to fight such inhuman behaviour," Baadal told Star of Mysore.
READ: Be Positive: Artist Puts Body-Shamers' Comments On Dress
The artist added, "Next time when I see harassment of women in public, I will not remain a silent spectator. I will oppose the harassers of the women, I will not allow her to become a victim. I will standby her and try to be a part of the change and I will make a vow by taking a selfie."
Hope Baadal's art inspires citymates!
Feature Image Credit:  Baadal Nanjundaswamy/Facebook
Also Read: Simone Biles' Amazing Reply To Body-Shamers
Also read: How to handle cyber sexism? Stand up to it!