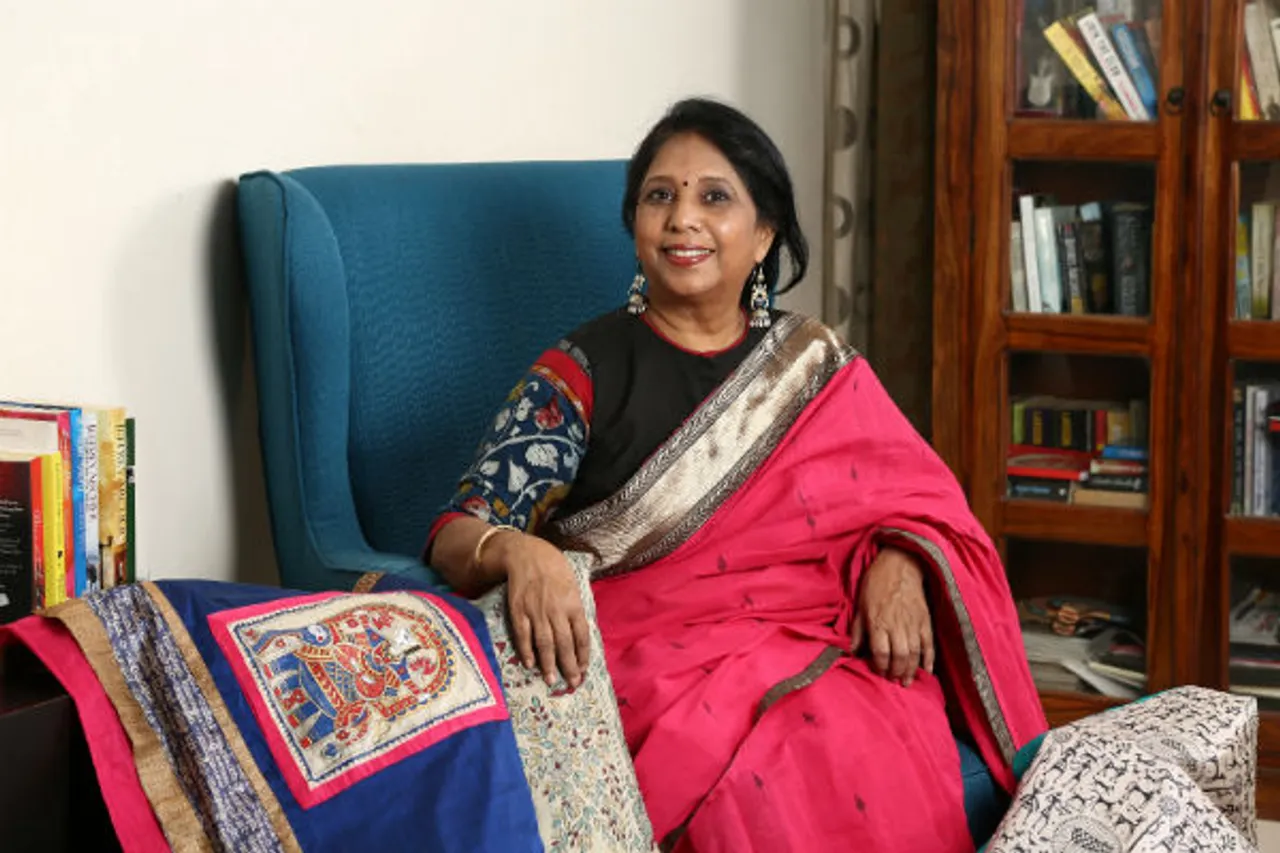 The name Sujatra is a combination of 3 names – Sushmita, Sujata and Chitralekha. Sushmita and Sujata are daughters-in-law of Chitralekha Das who's driven by two passions in life – Music and Designing. She gave herself wings to fly by designing sarees, at 60-she started-up Sujatra Sarees, just two years ago.
"Designing is not my profession, it has always come to me as a desire. For most my life, I have been involved in music as a teacher and singer, even my education was in music. I made the transition to be in a field of imagination, inspirations and creativity," says 62-year old Chitralekha Das to SheThePeople.TV.  Chitralekha hails from Agartala (Tripura).
This born artist has dedicated her self in building a brand that could change the meaning of elegant ethnic wear. She credits her parents for the encouragement to take on the right path for new adventures. A Masters in Music from Rabindra Bharati University, Kolkata, she was fortunate to learn Rabindra Sangeet from eminent Gurus like Suchitra Mitra, Maya Sen and Subinaya Ray, to name a few.
This is a story of a designer-turned-entrepreneur who brought her love for music to weaving as she experimented with colours all the time.
From being a designer to entrepreneurship -- What inspired you to take up the plunge?
Throughout my life, I pursued music. Performed at various levels, ranging from local Durga Pujas, events held in Habitat Center in Delhi and even Doordarshan. I was associated with many schools such as Army Public school, Kendriya Vidyalaya, Delhi Children's Theatre as a music teacher for the most part of my career.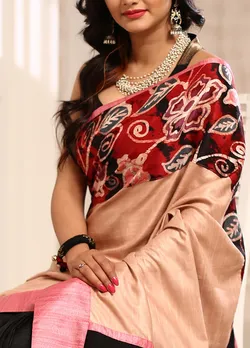 Chitralekha Designs
There was always an aspiration, always a zeal to create something and be known for it. While designing came quite late, the passion for standing out was always there. Gradually working my way up from designing for friends and families to taking orders from clients, I gained in confidence. Finally, one day with some cajoling from my daughter-in-law and support of my family I started the label Sujatra. Once into it, never thought of looking back since.
Also Read: Weaving magic for transgender women: A unique initiative by a Kerala designer
What was the idea behind 'Sujatra', what future plans do you have to take it to the next level?
The Idea was very simple. Create something that generates a "wow". Throughout my life, I extensively browsed through works from across the country and there is absolutely no limit to creativity. With my experience, I was sure I could do it. There was no template, no pattern or benchmark.
My objective was to create something that simply stands out and that's what I am trying to do even now. Plans are aplenty.
The first priority is getting the fundamentals of the business right. While my son is now taking care of the business, I am focusing on making our line of sarees even more exclusive.
Creativity and managing a business are two completely different things.
How would you differentiate Sujatra from other competitions?
Eclectic and Exclusive is what we present. We work with many art forms found across the country. Ranging from Ikats and Kalamkari in the south to Batiks and Kantha in the east. From Gond Tribal art from Central India to Ajrakhs and Mirror Works from the west. From Kashmiri embroideries to Phulkari works and Zardozi work in North. Working with such variety to create an exclusive design is how we differentiate ourselves. We have also experimented with mixing multiple works together, for example, in one saree we fused Kalamkari with Ajrakh together and it was loved by our clients.
READ:Filmmaker Lipika Singh Darai On Winning The National Award
Tell us a little bit about your newly launched collection?
We just launched our summer collection a few days ago, in this collection we have played around with Gamcha (cotton) sarees for the first time, there are a few very unique Zardozi works in the form of bird motifs. Batiks also find a space this time. We have used Mirror work too, for which we received a lot of appreciation. Generally, the colour story is of pastel and light shades. We have also presented a few special occasion Banarasi sarees this time, keeping in mind the wedding season.
What is your speciality? Which fabric you like the most and think are apt for Indian women?
I don't think there is any one fabric that can be said to be apt for all Indian women and that's the whole fun. I like to work with a variety of fabrics, in fact, sometimes one single saree has a play of multiple fabrics. Having said that, I usually work with Chanderi because it is lightweight and easy to maintain. I work a lot with silks because I feel they are gorgeous and lends an elegance. I also include a lot of handloom materials like Ajrakh, Ikat, Batik, etc.
READ: Women Entrepreneurs: Meet Nina Lekhi, founder of Baggit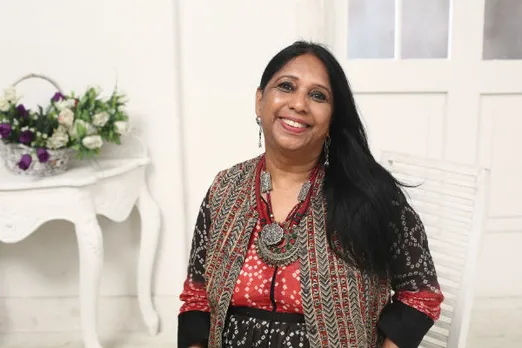 Chitralekha Das, Sujatra Sarees
What is Chitralekha Das's fashion statement?
I believe in wearing comfortable, but exclusive clothes. My fashion statement is about combining traditional materials in a modern way. I also like to accessorise with bold pieces, because I believe they are as important as clothes and can make you stand out.
In the past few years, we've seen an enormous launch of new trends in India. What trends do you think are here to stay? And, why?
Yes, recently we have seen a lot of new trends emerge, for example, Ajrakh prints, hand-painted sarees, digital prints, etc. But I feel handloom designs is definitely something that is here to stay. Every state has a speciality handloom and this gives us an enormous opportunity to explore and experiment with.
Also Read: Meet five women carving a niche in the fashion business
As summer is killing us with one after each year, do you have any future plans that include your collection to reduce that burn?
Summer burns, but it also give us the wonderful opportunity to dress brightly. Colours come alive under the bright sun. While I don't have any cutting edge material to beat the heat, I will do my best to make summers bright, beautiful and vibrant.
How did you manage the funding for the base operations initially?
I was supported by my husband, who funded us initially, then my son also joined the business so he put in his savings.
Also Read: From 'Pan' To 'Beauty And The Beast', Shailini Sheth Amin is Promoting Sustainable Fabrics
What are the biggest challenges you've faced throughout the journey?
Challenges are innumerable, and without them, there is no fun. In the beginning, we worked out of our home, which essentially converted a 2 BHK into a 1 BHK. There was not enough money to invest in buying different types of fabric which would prove to be a hindrance in designing. There was no way to take our products and reach out to the world which would limit our chances to sell and show the world what we do.
5 style tips for any season: Accessorise generously, wear a bindi, use the smallest touch of makeup – the correct tone of lipstick is very important, clothes should be as per your skin tone – darker shades look great on women with a darker skin tone and pastels look good on fair people
Also Read: Funds That Are Changing the Game for Women
Which personalities do you desire to see in your design?
For me, my clients are the most important personalities who wear my designs. It gives me immense satisfaction when my clients send their pictures in my creations – that is why I have entered this business.
However, I would love to see Vidya Balan and Sonam Kapoor wear my creations.
What skills do you think are required to become successful as a designer?
I believe that the most important skills needed to become a successful designer are the desire to explore, an eye for combinations and the willingness to experiment.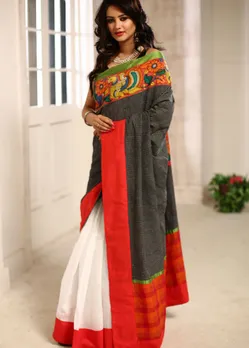 Sujatra Sarees
Also read: Why India's fashion industry scores over others: Ritu Kumar
What do you consider to be your greatest achievement so far?
Over the last couple of years, I have been able to help transform the lives of a few individuals who work with me – Sunita, Tara and Aftab. Sunita and Tara used to work in my house as domestic help, but I have now involved them in my business – one of them helps in designing and the other manages my inventories and order processing. Aftab takes care of the entire manufacturing – while earlier he used to look for tailoring opportunities on a daily basis, now he has set up his own unit and employs a couple of more karigars.
Also read: Creating 'inclusive' fitness fashion: Arshiya Kherani of Sukoon
What advice would you give to young people who aspire to live your career?
Just keep a balanced mind and a focused vision. Keep doing what you love and there is no reason why you should not see success. There is no shortcut.
Also Read: Challenges Women Entrepreneurs Face
Join Us on https://www.facebook.com/SheThePeoplePage
Follow Us on https://twitter.com/SheThePeopleTV