"The slogan Beti Bachao Beti Padao is very common. We all have heard of it but it is time to take a step forward and propagate 'Beto Ko Samjhao' (counsel your boys). If boys are raised right, we would no longer have to save our girls. Instead, we should make it a habit of interrogating our sons when they return late at night," says Shashank Verma of Asmita Theatre Group talking about how boys also own responsibility to make the world a better place for women.
The popular Hindi theatre group was performing their stage play "Mard" directed by Arvind Gaur at a Naari Shakti event organised by the Pinkishe Foundation at Galleria Mall Noida last week. SheThePeople.TV spoke to some of the group's members to understand more about the theme of the play and the need for us to redefine masculinity.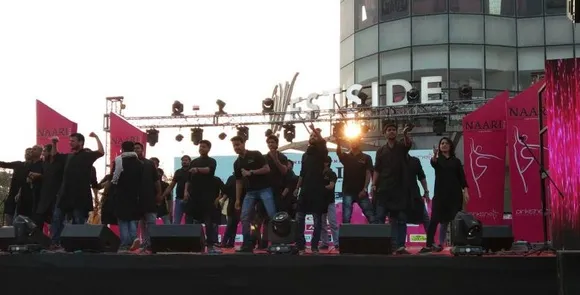 Asmita Theatre Group's New Play "Mard"
Seeds of toxic masculinity sown in childhood
"Since childhood, we ask our boys not to cry, not to be afraid in a bid to make them stronger. This leads to them controlling their emotions all the time. However, if we give them the liberty to cry and express themselves, they will grow up to be well-balanced individuals who will respect other people's emotions," team member Gurjeet Pathak explains.
He says that asking boys to loathe pink, staying from dolls and kitchen are all stereotypes we confine boys to. The society forces a boy to behave or not behave in a certain way and the society's expectations take a toll on them and turn them into aggressive men in adulthood.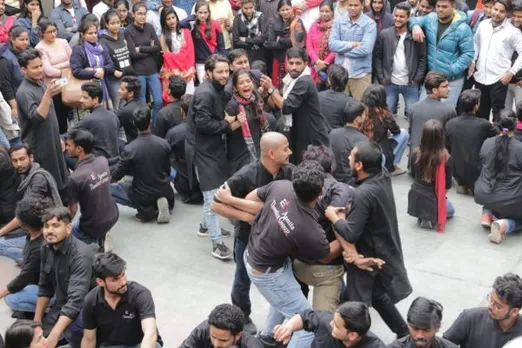 Asmita Theatre Group's New Play "Mard"
Theatre Artist Shashank Verma says, "One thing I have noticed in schools as a theatre teacher is that our books also contribute to the gender conditioning. For instance, students study that Radha sweeps the floor and Ram goes to the office."
Theatre as a medium of change
Talking about the sea change theatre brings in one's personality, Ujjawal Chaurasiya says," Theatre is an excellent medium to express yourself. It has transformed me. Also, this is a medium where you are directly in touch with the public. Post play, you also get a chance to discuss the theme with people, which is usually not the case with other mediums."
Theatre encourages us to transform ourselves and then bring about a change in society. Every change starts with yourself. - Nipun
On Who is a Mard?
On who he thinks is a real man, Shashank Verma says that many men believe that they have the power to give freedom to women. "Men and women are born equal and it is time men acknowledge this."
Nipun, a fellow member of the team reiterated that there are a lot of men around you who fake their masculinity. A real man, however, is someone who doesn't discriminate among people, talks about their individuality and encourages people to enjoy their freedom.
Aarti Rai from the theatre team urges men to support them in women's endeavours, cooperate with them, understand them and help them achieve their dreams.
Picture Credit: Asmita Theatre Group