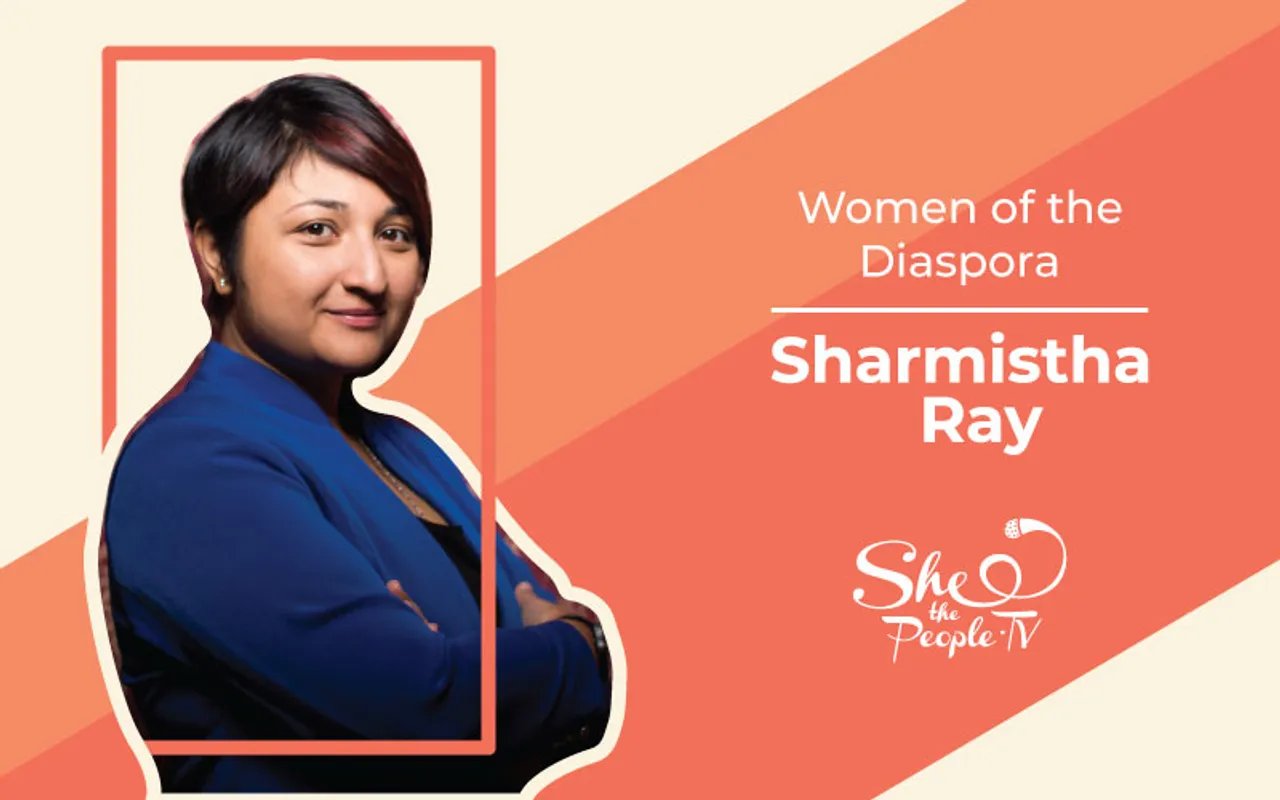 She is an award-winning, critically-acclaimed artist who was born in Kolkata, and grew up in Kuwait before her family immigrated to the United States, where she studied art and art history at Williams College and Pratt Institute. After finishing her education, she reverse-migrated to India, landing first in her native city, Kolkata, where she spent a few months in her paternal grandmother's home, painting, reading and writing. A chance opportunity took her to Mumbai, where she helmed the largest gallery for Indian art at the time, the now erstwhile Bodhi Art. The role would take her all over the world, to the heart of global contemporary art, from Shanghai and Beijing to Berlin, London and Paris, and beyond. Even after the gallery shut its doors in 2010, her love for Mumbai and its spirit encouraged her to stay on for a few years while she returned to her artistic practice. She had a sold-out show of her large-scale, multi-hued abstract paintings at Galerie Mirchandani + Steinruecke, in Mumbai, and exhibitions and projects in New York and Singapore, before returning to New York in 2017.
Sharmistha Ray continues to straddle different worlds as an artist, writer and educator back in New York, where she will be teaching critical theory to graduate students at Parsons School of Design starting this year. She commits part of her time to gender and sexuality advocacy and activism through writing and public speaking, and has spoken at TED and SXSW. She writes regularly for Hyperallergic, a leading New York-based art and culture blog. She spoke with SheThePeople.TV about her art, the creative process, influences and how her sexuality impacts her work.
Also Read: Powerlifting Gives Me A High And I Feel Good: Bhavna Tokekar
How did you find art? What are your earliest memories, influences, and incidents that set you off on the path to becoming an artist?
I think I was quite an average kid until the invasion of Kuwait in 1990. I was 11 years old at the time. It's the place I had spent my whole life up until that point, with the exception of summers spent in Kolkata or London (where we also had family). I liked to draw and was good at it, winning school and community competitions, and the like. But there's something about disruption of normalcy that can take you and set you on a different path. That was the first rupture of my childhood: the loss of home albeit temporarily, as we returned to Kuwait two years later. After I returned to Kuwait, something happened. A second loss: I had fallen in love with the chaos of India where my mother, my three siblings and I had waited out the war (my father spent that interim working in Switzerland). I missed my friends terribly. I grew inward. Art became my place of salvation and solace. Somehow when I drew or painted, I would lose track of time. I now understand that to be the 'flow' state. The future would bring further migrations, more loss. My family moved to America, where I attended college and graduate school. My relationship to art grew stronger, through it all.
I told myself and my family that it would only be a year-long sabbatical, at most. I couldn't have conceived that I would continue to live in India for more than a decade.
You were born in Kolkata, lived in Kuwait and the US, and then chose to move to India for a while, before moving back to the US. While the earlier moves might have been dictated by family, what drove you to come to Kolkata and then stay in Mumbai for a few years?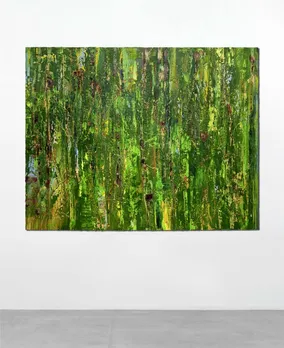 SHARMISTHA RAY. "Forbidden Pleasures," Oil on linen, 72 x 96 inches, 2011. Exhibited at
Galerie Mirchandani + Steinruecke, Mumbai, 2012. Private Collection, Vienna.
You know the line from the John Lennon song Beautiful Boy (Darling Boy): "Life is what happens to you while you're busy making other plans." India had plans for me. I had finished graduate school in America and it seemed to be the perfect moment to spend some time in India. I received a prestigious art students' grant from the Joan Mitchell Foundation, which was given to 10 painters and 10 sculptors from graduate programs across the United States every year. It was only $10,000 (a hefty sum for a student), but I saved it and planned a trip to India, where I hoped I could set up a studio and paint for a while, while I decided what I was going to do with my life. It was a calling, I don't know how else to put it. An incredibly strong pull towards coming back. I told myself and my family that it would only be a year-long sabbatical, at most. I couldn't have conceived that I would continue to live in India for more than a decade.
Also Read: Nothing We Write Exists By Itself, Says Author Krishna Udayasankar
I arrived in Kolkata in early 2006 and set up a studio in my paternal grandmother's house where I painted daily. I didn't really know what I was going to do, and the money from my grant was starting to run out. But, one thing led to another and I got an opportunity to helm the largest gallery in India at the time, the now erstwhile Bodhi Art, in Mumbai. By the end of my tenure at the gallery, I was in charge of all its international branches, in Singapore, New Delhi, Mumbai, Berlin and New York, and had traveled the world and worked with some of the top artists, curators, and collectors in India and abroad. It's strange to think of it now. I hadn't even turned 30. The gallery shut down during the recession, but I decided to stay on in Mumbai for a few years, while I returned to my artistic practice. I just adored Mumbai. I loved its energy, its history, its spirit, and still do.
While it's been an epic journey to the present moment, I don't want to over-glamorize it. Parts of it feel destined, but I personally believe that the path to becoming an artist is also the path to becoming yourself. It's as full of pitfalls and challenges, as it is peaks and hurrahs. No one hands you a road map and says "this is what you have to do." You have to stay open, willing and ready. Those internal assets are greater than any advice anyone can give you when you embark on the road less traveled.
Your formative years, the phase during which you came to understand your sexual orientation, were spent in the Middle East. Growing up in an Indian family, in an Islamic country, what were the conflicts and the issues you had to confront, and how did you manage to emerge from and resolve them? 
I don't know if 'being different' was ever resolved, or if I just grew to embrace who I am and surround myself with nourishing relationships. I had early inklings that I was not like the other kids. It happened in my early teens. It was terrifying, and I tried my best to quell it and make it go away. It seemed like it was going to be a long, lonely battle with myself, my family, community, society and the world, and it was. Kuwait is an Islamic society, so there was never a question of uttering a word about my sexuality to anyone outside of my family, especially not at school. The consequences were too dire. I continued to struggle well into my thirties while I lived in India. Being a woman in India is tough enough, let alone, a gay woman. I attempted a few romantic relationships, but it's nearly impossible to have a wholesome relationship in a place that's not conducive, socially and culturally, to sexual difference. The support structures just don't exist.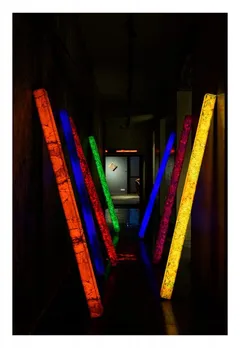 SHARMISTHA RAY. "In Search of Rainbows," Site-specific Light Installation, 2016. Exhibited at Nine Fish, Mumbai, 2016.
Also Read: Women Always Find A Way Of Telling Their Stories: Author Annie Zaidi
Coming out is just one part of the complex system of integrating with society in productive ways as a queer individual. IPC 377 may have been struck down by the Indian Supreme Court last year, which was a massive victory for the LGBTQ movement, but society-at-large must also engender authenticity and freedom as a way of life. A person's primary identity in India is tethered to their family and community at present. That's not a bad thing per se: we need other people to thrive. But there's got to be a balance. It's one of the reasons I chose to return to New York. It's probably the most accepting place in the world to be gay.
Kuwait is an Islamic society, so there was never a question of uttering a word about my sexuality to anyone outside of my family, especially not at school. The consequences were too dire. I continued to struggle well into my thirties while I lived in India.
As someone who has been very vocal and passionate about gender, inclusivity, and sexuality, have you seen a discernable shift in attitudes in India post the decriminalization of homosexuality? How much further do we need to go to build an equitable base for all sexualities and genders in this country? And how can art fuel this shift? When were you comfortable enough to begin exploring gender and sexuality in your work, and what was the response to it?
I consider myself a conceptual artist: critical thinking and contextual shifts determine the form my art takes. I have explored gender and sexuality in my work from my late teens. In school, I expressed it through figuration and narrative; and later, I took a more abstract approach. That said, I publicly owned gender and sexuality in my work when I gave a TED Talk in Vancouver in 2013. I remember stepping off that stage and feeling like I didn't have to carry society's burden anymore; that I could just be myself and not worry about what people were going to think. It was a huge relief. In India, I worried about the impact coming out would have on my career; but I have always believed in social justice more and I knew that my visibility strengthened others, especially other women who may be struggling in the closet. That became more important to me than anything else, and it still is.
Queer content in Indian art is limited. There are a few contemporary artists doing interesting work, but most of it is overtly political with very little room for the nuances of queer identity and abstraction, for instance. On the other hand, there's so much going on in the New York art world vis-à-vis gender and sexuality that is complex, varied and interesting. I'm building a new milieu and audience here, and it feels good.
Also Read: Being Behind The Camera Is Addictive: Cinematographer Modhura Palit
What is your hope for the future of India in the worlds that you were connected to, in contemporary art?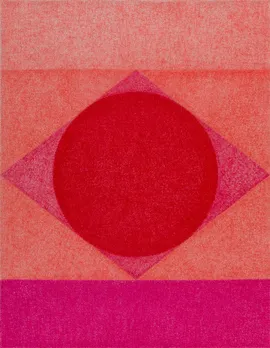 SHARMISTHA RAY. "Cosmic Earth No. 1/7 (Chapters of the Day/The Original S.F. Pride Flag by G.B. '78/Kundalini-Tantra): Raag Bhairav (Daybreak), Blood-red, let go of my arms and kiss my cheek/Muladhara/Red. ek taal: 4'17," 50 hours of automatic writing with colored pens on vellum, 19 x 25 inches, 2018. Exhibited at Elizabeth Foundation Open Studios, New York, 2018.
In the Indian art world, we need many more public institutions to build a more democratic system for contemporary art to grow. Unfortunately, the government at present doesn't seem terribly interested in the future growth of the arts sector. There is so much raw potential and talent, but it's just not possible for a handful of private galleries and museums to respond to the needs of an entire country. Galleries and auction houses have been unfair punching bags for market irregularities; but they're just businesses, at the end of the day. As long as art is tied to a few dealers and commerce through the galleries and auction houses, the market and pricing will continue to trump long-term value through institutional collecting, curating and scholarship. It will circulate in the princely realms of the super-rich and out of reach of the public. It's really the government's responsibility to create the future custodians of culture. Given the bleakness of that happening, my advice to Indian artists is to use social media and the internet much more to disseminate their work. There's still a pervasive Bohemian notion in India about artists being only artists, and nothing else. The time for that idea has come and gone; it just empowers everyone else in the system over the makers of art.
Queer content in Indian art is limited. There are a few contemporary artists doing interesting work, but most of it is overtly political with very little room for the nuances of queer identity and abstraction, for instance.
Most artists in New York wear many hats and live a hyphenated existence. They act as small-business owners/entrepreneurs. It's a far more dynamic approach that aligns with the world we live in: it also puts agency back in the hands of artists. I hope Indian artists really start to explore the potential of the online space to find new audiences and earn a livelihood, through their art.
…and the queer community? 
Queer India is incredibly lucky to have some of the finest activists and lawyers on the front lines of the movement, so I am not overly concerned about the future of the queer community in our country. It will take time, but we will get there. When I arrived in India in 2006, I had one male gay friend who was out of the closet, but that was it. There was hardly any visibility, especially for queer women. Homosexuality felt majorly taboo. I followed the entire arc of the court wars while living in India: from the 2009 decision by the Delhi High Court which marked IPC 377 as unconstitutional, to the subsequent overturning of that decision by the Supreme Court in 2013. I recall reading the papers that morning in my Mumbai apartment in 2013 that declared homosexuality was illegal. I remember how devastated I was, how devastated my friends in the queer community were. But we all fought back, whether it was on the streets, through journalism or art, or by living our lives in the most normal way possible. I was back in America already when I heard the news break that the Supreme Court had struck down IPC 377 last year, in 2018. It was such an emotional victory. While there has been substantial progress, my message to society, to parents, siblings, co-workers, bosses, and friends, is to actively create safe spaces, at work, in public, at home, where queer people can feel safe and honored. It has to both trickle-down, and be ground-up. This is everyone's charge now.
Also Read: Writing Snuck Up On Me: Author Manreet Sodhi Someshwar