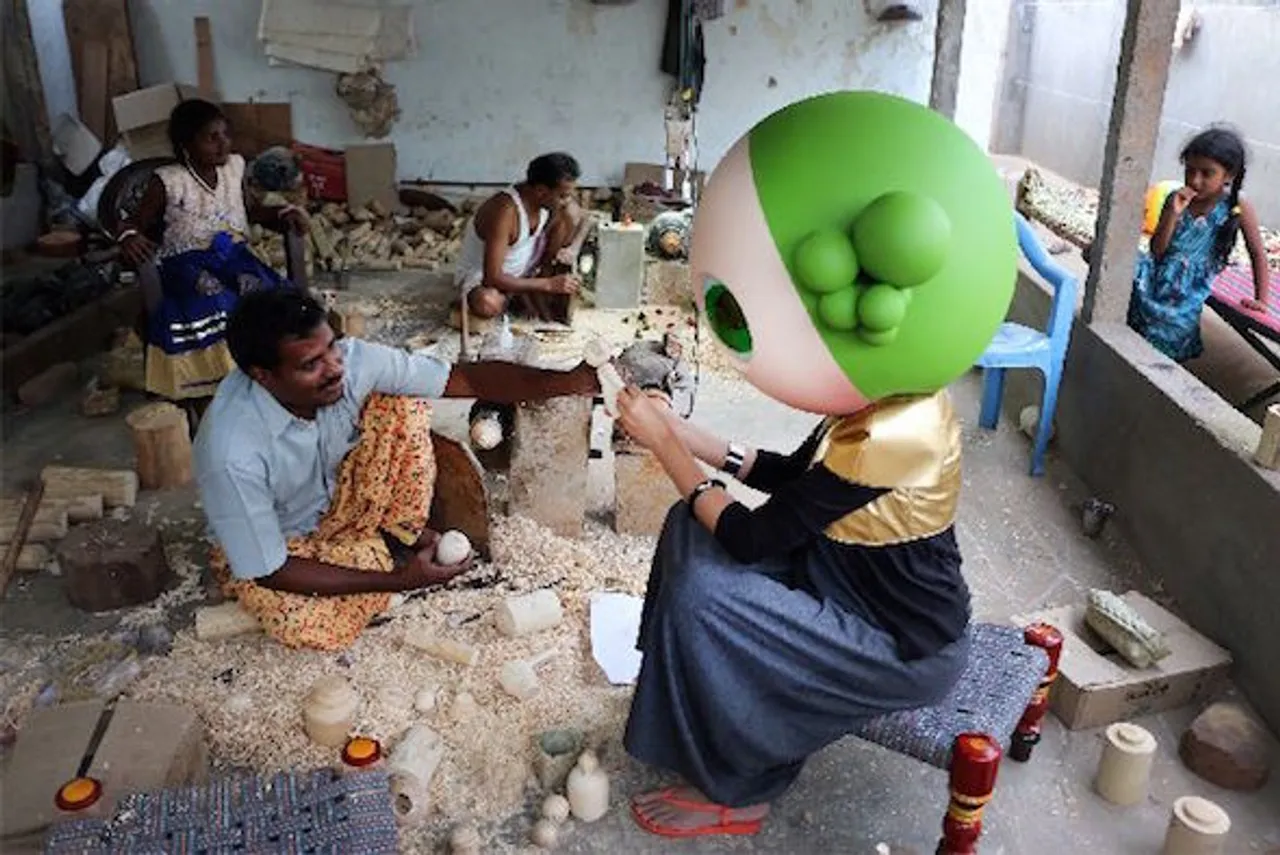 Princess Pea is famous, but nobody knows who she really is. The petite performance artist burst into the art scene in 2009, at the India Art Fair, wearing a huge animated pea shaped mask, and walking nonchalantly around the fair's premises.
The Gurgaon-based artist's adamance on staying anonymous, even as her quirky alter ego gains more and more fame, sparks much curiosity from those who have seen and interacted with the character. We catch up with the artist to find out more:
Her inspiration
"As an artist, I always wanted to question the vocabulary, mediums of art and have been interested in the performance aspect of it. The name of the character basically comes from my sister and me. Being physically opposite, we were always poked and questioned!"
While they were growing up, there was a lot of emphasis on the way her sister and she looked, the artist says. Her sister was called pumpkin for being overweight, and she was called tiny pea for being too thin.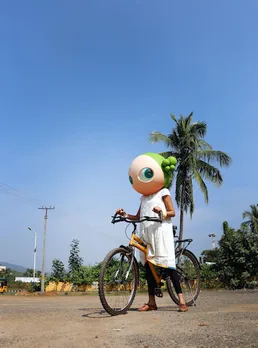 Source: Princess Pea
"The angst from my childhood has always stayed with me," she says. "I was persistently told that I was too thin and my arms too skinny and my head is too big.
The artist says that she is interested in exploring the notions of beauty and perfection.
"My performance revolves around the ideas of identity, notions of perfection, self-worth, and the conflict between traditional and contemporary roles of women in Indian society" 
While searching for the correct name, she wanted the character's name to to start from her surname, which also starts from 'P'.
On why she chooses to remain incognito
"As an artist, I always wanted to question vocabulary and mediums. I want to experiment, while being reserved at the same time. Being anonymous gives me immense space and pleasure."
She says that she does not have any particular strategy when it comes to knitting Princess Pea's character.
"The idea of anonymity is work in itself.  It's a bubble of belief I try to pursue. To keep the spirit going, I seek for believers, not just viewers."
And when we asked her if it is hard to remain incognito, even as Princess Pea becomes more famous, her answer was a simple:  It is not hard at all!
Next Projects
The artist has created many projects in which her alter ego has been the protagonist. These include a series of miniature paintings, and small hand-made "Princess Pea" toys.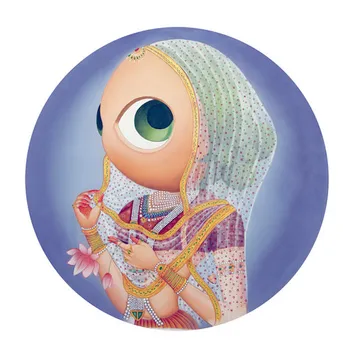 Source: Artslant
Her next project is equally exciting
She is presenting a  solo show at the Sakshi Gallery in Mumbai on January 20, 2017.
"My project 'Sunrise Ceremonies' is a document, which serves both as ritual and instructional manual. It's a culmination of countless days and happenings of performance as a day-to-day endeavour. The project acts a visual diary, an insight into the artistic process," she says.
A book of all images with text will be released by the artist on the occasion.
She says that there will also be a performance piece in which she will feature a new Princes Pea head. The new head represents "the metamorphosis of the character".
Princess Pea and feminism
I constantly work on gender issues and continue to work on issues related to the girl child. Every girl today has gone through some sort of harassment, and my experience has been no different!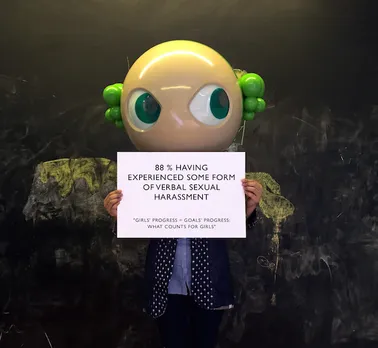 Source: Princess Pea
As an artist, I felt suffocated and wanted to inquire into set conditions of rituals and social practices.
Being silent is the best sometimes. I felt that with this face, I can say more and make people think a lot more
"Everything is possible in the imaginary world, so I turned the world on its head (literally) and made head enlargements the most desired of cosmetic surgeries! Silly I know but a wish fulfilment of sorts, and equally at an artistic level, it offered me a new tool to explore my environment in a way that worked for me."
 Also Read: 6 Edgy Young Female Artists To Watch Out For In India