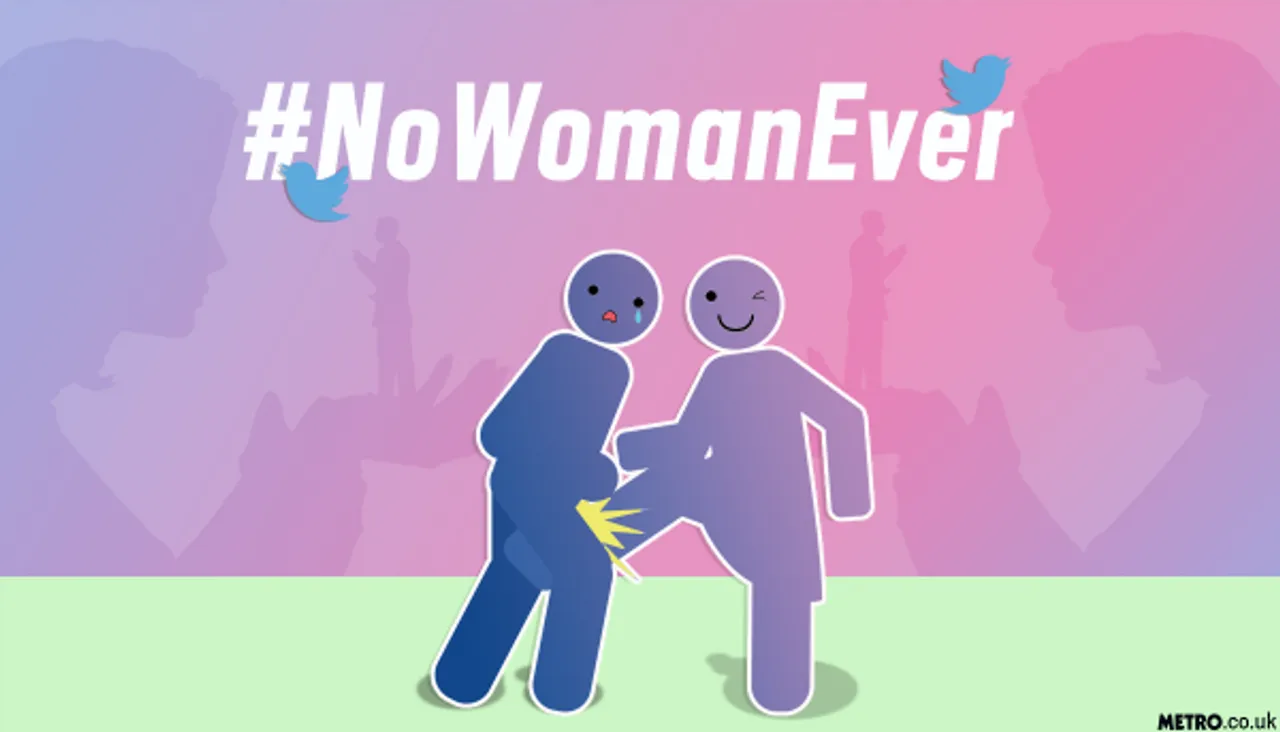 Slutty comments, lusty whistles, unwarranted attention from men, we have all been subjected to this, and still are in fact. Harassment isn't new for women. And it's made us all wonder. Do men honestly think that such behaviour impresses women? To quell any doubts about how offensive such advances are, several women took to Twitter over the weekend to share their experiences, using sarcasm to get the message across. The campaign #NoWomanEver began trending as women from all over the world flooded twitter with tweets about clearly having misunderstood the intentions of their harassers.
An irked activist named CJ from Atlanta tweeted this Saturday morning:
The 37-year-old told BuzzFeed News that  "these men would tweet her things like - If we don't approach you guys on the street, how are we supposed to meet?" and that women were misreading their intentions as disrespectful.
Catcalling – surely that's impressive?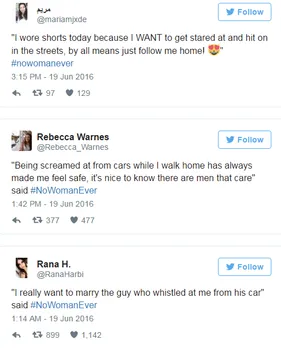 Yes! Follow us on the road – because that's what we like!

Yes! Not offensive at aaaalllllllll.........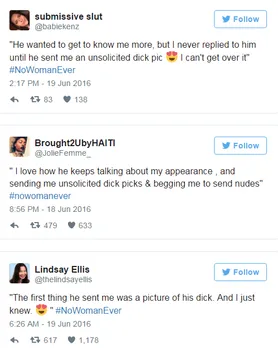 Even as scores of women put up tweets, the fact that came across was how angry and frustrated women are with such incidents. Also, the campaign actually microscoped and differentiated between compliments, good-natured gestures and catcalling.
"The sad thing is that my mentions are still filled with men who don't understand that women have a right and reason to be afraid of the way that they're approached in public, and it might not be a good idea" - This is what CJ had to say.
"#NoWomanEver is fantastic because it is challenging denial of what sexual violence feels like everywhere, everyday and how dismissive attitudes around it, infact inform it . It is taking on denial and turning it around. Subversive hashtag." -  said Jasmeen Patheja, Founder of Blank Noise - a voice focussed on sexual violence.
And, sure enough, the campaign had the desired effect as some sensible men responded: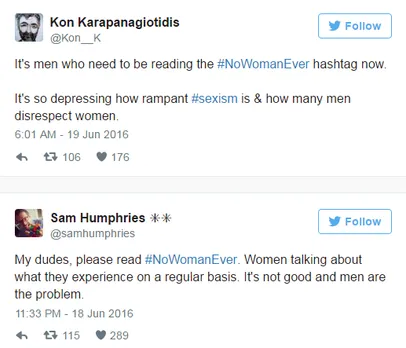 We admit as far as ingenuity goes, this was the best example ever of drawing attention to sexual harassment.
On that note, let's take a look at some other social media campaigns that focussed on women and their safety:
Recently, a nationwide online campaign was started against redBus by booking a petition on Change.org, highlighting women safety issues on board private buses. With a tremendous response to the petition, RedBus was forced to acknowledge the plea. Then they disclosed some solutions associated with the safety of women travellers.
Similarly, Board The Bus campaign was launched to create conversations with respect to women safety in public spaces, aimed at Delhi Youth.  Later to engage the audience and get the desired action, Sparklin introduced #boardthebus game, an interactive and informative method to engage the youth and disseminate the message.
Also read:Panic buttons in handsets: Govt sets Jan 2017 deadline
A mass petition from employees of various firms in Technopark in 2014, voicing their concerns over the safety of women employees there, got the police to bring Technopark and surrounding areas under the jurisdiction of the City Police, Kerala. The petition, initiated through an online campaign calling for steps to ensure safety of women techies and signed by over 2,000 employees, was submitted to Home Minister Ramesh Chennithala.
A Facebook post by a 22-year-old human rights activist that stated she was allegedly assaulted by an auto driver in Shantinagar, Bangalore went viral in early 2014. Following which 700 undercover cops, including 100 women, embarked on a 15-hour sting operation on autos. Posing as Kannada, English and Hindi speaking 'commuters', they tested the response of drivers. 3,350 autos were fined; 450 were seized.
It's fortunate that there are now groups and organizations specifically dedicated to raising awareness and combating against street harassment–like Hollaback, which now has sites in 79 cities around the world. ActionAid is an international organization which does work in 45 countries and their "safe city" efforts fall under their women's right work in many of those countries.
Also read: Four out of five Indian women in cities have faced Public harassment: Survey
In 2015, Twitter joined hands with Safecity, a Mumbai-based non-profit, to provide a live platform where personal stories can be shared about public harassment, anonymously. Women can name @SafecityIndia or use the #SafecityIndia hashtag, which with 316 million monthly active users is an apt platform for real-time public conversations to raise awareness. The site also recently launched the #Positionofstrength campaign to empower women to raise voices against any form of discrimination.
Likewise, Chime for Change is a campaign focused on education, health, and justice for girls and women.
There are several others, and with social media being the quickest way to get the message across today, there will no doubt be many more. Of course, we hope that the men get the message soon!
Feature Image Credit: uk.hir-portal.hu