Anushka Sharma called out society's outlook towards having a male child, as compared to having a girl child on social media. She wrote that while having a male child is seen as a privilege, it is infact an opportunity to raise a boy who respects the opposite gender.
Sharm wrote on Instagram, " In our society having a male child is seen as a 'privilege'. Of course, it's no more privilege than having a girl child but the fact is that this so-called privilege has been viewed incorrectly and with an extremely myopic vision. The only 'privilege' is that one has the opportunity to raise a boy in a way that he respects a girl. That's your DUTY as a parent to society. So, don't think of it as a PRIVILEGE."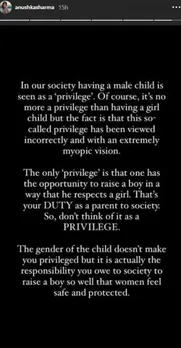 Picture Credit: Anushka Sharma Instagram
The Jab Tak Hai Jaan actress further wrote that the gender of a child doesn't make people privileged but it is actually the "responsibility you owe to society to raise a boy so well that women feel safe and protected."
Also Read: How Anushka Sharma Morphed From A Popular Actress Into A Feminist Producer
Earlier, Anushka Sharma had also shared her views on the Hathras gangrape on Instagram. She wrote, "Barely any time has passed and we are hearing of another brutal rape!?
The actress is expecting her first child with husband Virat Kohli. She announced the news with a social media post in August and wrote "And then, we were three! Arriving Jan 2021." 
Anushka Sharma slams Sunil Gavaskar
The actress also recently reacted after her name was dragged into a discussion about her husband, cricketer Virat Kohli's performance during Indian Premier League. She slammed veteran cricketer and commentator Sunil Gavaskar on social media for dragging her into his commentary without any reason.
Also Read: Women do not exist to distract men. Stop blaming Anushka Sharma for Virat Kohli's performance
She said,  "I would love for you to explain why you thought of making such a sweeping statement on a wife accusing her of her husband's game? I'm sure over the years you have respected the private lives of every cricketer while commenting on the game. Don't you think you should have an equal amount of respect for me and us?" You can read more from here.
Image Credit: Sakal Times
Sagrika Giri is an intern with SheThePeople.TV.