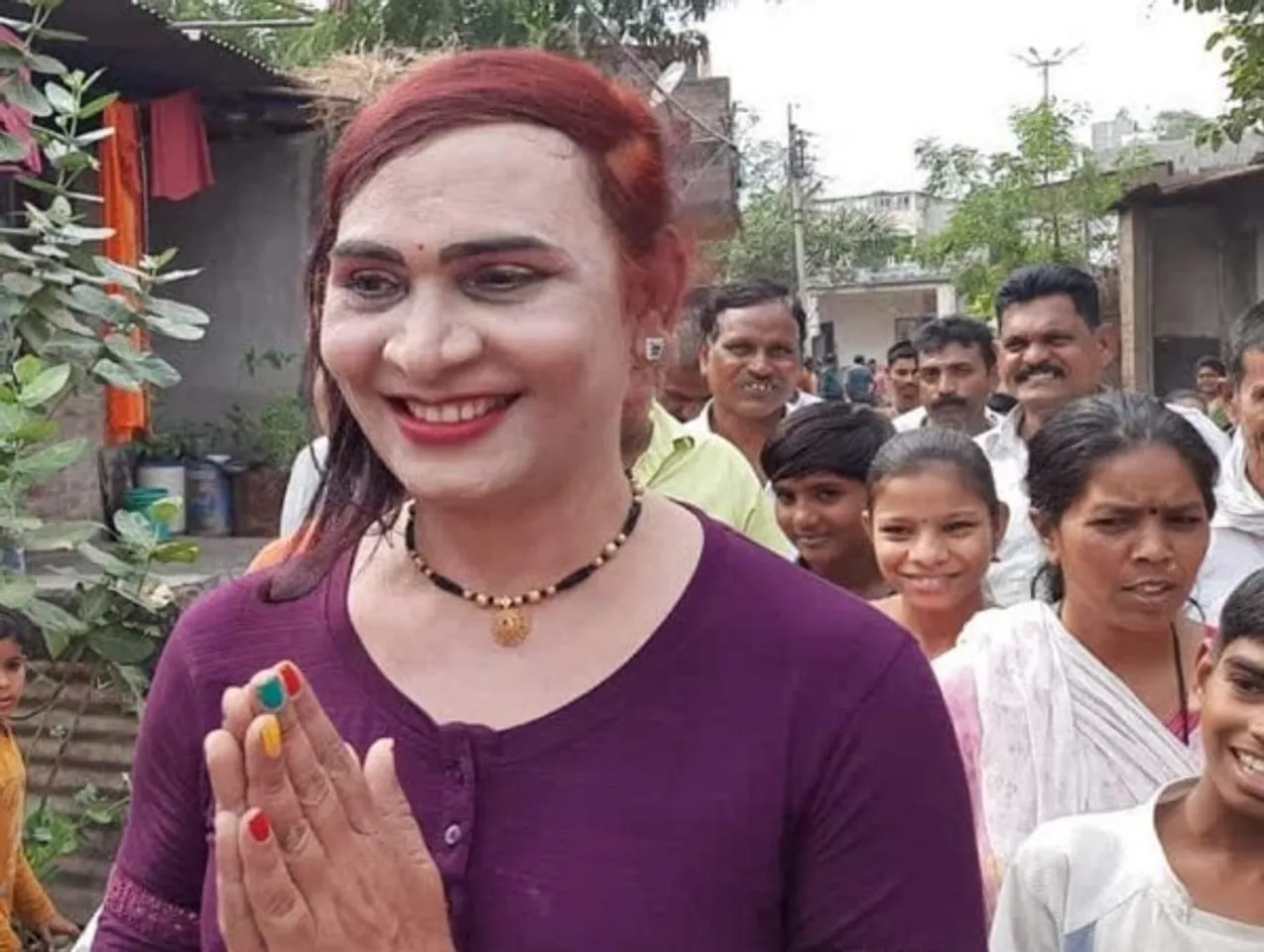 Anjali Patil who belongs to the Vanchit Bahujan Aghadi Party (VBA) has become the first transgender person to win the gram panchayat election in the Jalgaon district of Maharastra. The results of the election were declared on Monday and the 40-year-old Patil will be representing the Bhadli Budruk village in Jalgaon.
Also Read: Transgender To Contest In Gram Panchayat Elections From Women's Category: Bombay HC
"I was dejected after my nomination was rejected by authorities as I had filed it from a seat reserved for women after other contestants objected to it. I had selected the other option in my nomination form to describe my gender. However, we moved Aurangabad bench of Bombay High Court that allowed my candidature as women and now I have won the elections by a margin of 560 votes,"  quoted  TOI. 
Prakash Ambedkar, the president of VBA took to his Twitter account to congratulate Patil on her victory, he wrote, "Special appreciation and congratulations to Anjali Patil who was elected from Bhadali Gram Panchayat, Jalgaon. Inspired by Anjali, many transgenders will definitely join politics in the future." He also appreciated Shameebha Patil for helping Anjali in her court battle.
वंचिततर्फे भादली ग्रा.पं.जळगावमधून निवडून आलेल्या अंजली पाटीलचं विशेष कौतुक व अभिनंदन.संपूर्ण राज्यात एकमेव तृतीयपंथी उमेदवार असलेल्या अंजलीने उमेदवारी अर्ज भरण्यापासून संघर्ष केला तो थेट विजयापर्यंत. अंजलीकडून प्रेरणा घेत भविष्यात अनेक तृतीयपंथी नक्कीच सत्तेत वाटा मिळवतील. pic.twitter.com/l85peR8aiz

— Prakash Ambedkar (@Prksh_Ambedkar) January 18, 2021
Patil's victory went viral on social media on Monday itself with the VBA party workers celebrating the win of their only transgender candidate, as reported by Free Press Journal. 
Also Read: Tulsi Gabbard Introduces Bill That Could Bar Transgender Women And Girls From Competing In Women's Sports
ज्यांच्या संदर्भात कुटुंबापासून सुरू होणारी हेटाळणी समाजाच्या स्तरावर रौद्र रूप धारण करते.त्यांना समाजाने फक्त स्विकारलेच नाही तर खांद्यावर उचलून घेतले आहे.
राज्यातील एकमेव तृतीयपंथी उमेदवार असलेल्या अंजली पाटील यांचा हा विजयी दिलासादायक &अभिमानास्पद आहे👇🏾 pic.twitter.com/mUE9vBzZbv

— ज्ञानेश्वर - Dnyaneshwar (@mauliwrites) January 19, 2021
The elections were held on January 15 and the results were announced on Monday.  The Ruling party, Maha Vikas Party claimed to have  secured a huge win and BJP also said that it came out stronger than before.  Though these elections are not fought on party symbols, panels are fielded by political parties or local leaders.
Image Credit: Free Press Journal