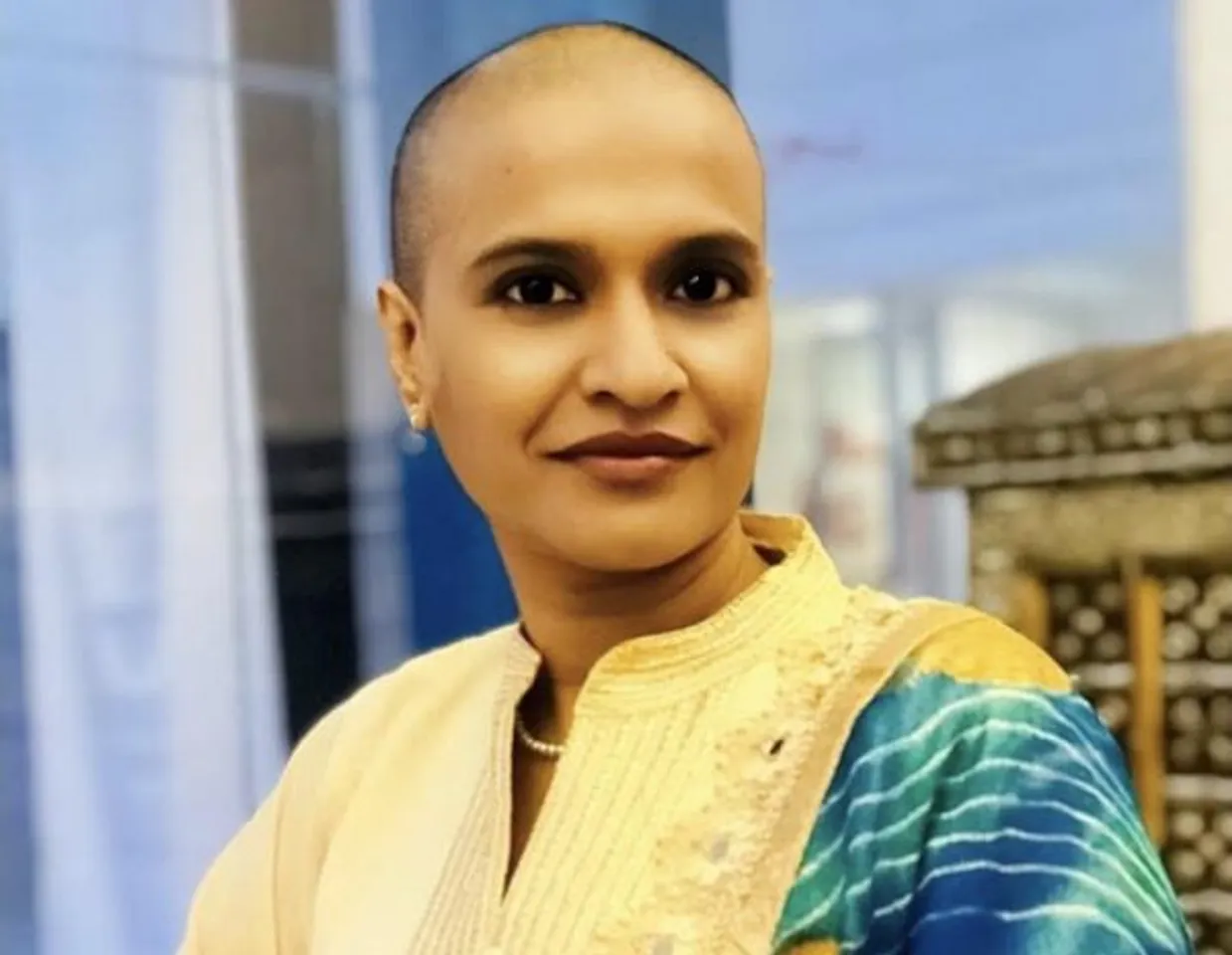 The pursuit to change the narrative surrounding cancer has been at the forefront for quite some time now. People from all walks of life are coming together in the fight against cancer and focusing on strength and positivity. Bengaluru-based Meghna Apparao not only shaved her head to donate her hair in order to make wigs for underprivileged cancer patients but also challenged several stereotypes along the process.
Meghna, who is a director at Amazon, holds over 17 years of consumer goods industry experience and is also passionately working towards building a fairer working space in and outside of work.
In a conversation with SheThePeople, Meghna talks about the #baldforacause initiative, the importance of gender balance and how she finds inspiration in people's life stories.
There's a quote which says "If you really enjoy what you do, you don't have to spend a day working." I find pioneering and innovation exceptionally exciting, and this keeps me going even today
How did #baldforacause come into being?
The thought was generated towards the end of 2018. One day I was reflecting on the year going by - had some great growth opportunities professionally and a difficult time personally as I had lost my grandfather who was my role model. I thought about what should I look forward to that would give me and the people around me a lot of joy, but something that would be hard to do. Around the same time, I saw someone's social media post about how she cut her hair and donated it for the cause of cancer patients - for wigs and fund collection. I went and found out about the foundation and realised that with my hair length, I would have had to shave my head completely.
A lot of well meaning friends around suggested that I rethink the idea of going bald and instead plan a fund where everyone can monetarily contribute and gather help, but I personally wanted to do something beyond the power of money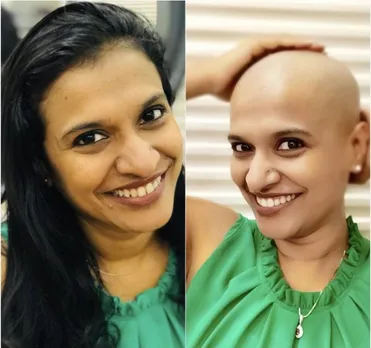 Meghna Apparao
I decided to not only shave my head but also figure out a way to support underprivileged cancer patients. So I connected with the Chennai-based Cancare Foundation, which is associated with underprivileged cancer patients. I started #cashnothair and used Ketto India's social funding platform for crowdfunding. When I was putting all of that and had to put up a number, I did not know how much and just filled in Rs 5 lakh. And I was able to raise it in less than two weeks! I was completely overwhelmed. When I decided to shave my head, my daughters were a little sceptical. Closer to time, I had butterflies in my stomach. And that's when my proud mom moment happened.
My elder daughter, who is 12, said, "Mom, go big or go home. Why go half way? Go ahead and do it if you really feel for the cause". I knew in that moment that whatever comes out of it, the very fact that I was able to make an impact on my daughter was reason enough even though it's hard, difficult or even socially embarrassing. I'm not saying that all of us have to go, shave our heads, but we can do something in our own way. We can show solidarity in our own way. Creating a crowdfunding campaign and sharing it was my way
You went bald to raise awareness surrounding cancer and you said it challenges stereotypes as well. How are you managing to do so?
#baldforacause to #baldisbeautiful challenges several stigmas around us in more ways than one. When women go through chemotherapy, they not only lose their hair, they use all their mental, physical and emotional energy in the healing process. Many times, the negative emotion about the way they look hampers their healing process as well. I, in my own personal way, tried something which should start being acceptable and it was my way of showing solidarity for all those people going through something like this.
Coming to stereotypes, this is an initiative to un-stereotype notions as a woman, the social stigma associated with a shaved head or bald head is huge, and we're terrified about it. People telling me "oh, you like nice, your inner confidence is radiating, etc.," has changed an impact on people who don't like unconventional paths. It's to challenge the stereotypes in our heads. This is what #baldforacause means - me power.
Tell us about your experience as a CRISP fellow at Oxford.
I came across the CRISP program, which is super selective as only ten people get selected at Oxford University, exposing you to innovation, science, leadership and live learning. It was a way to see what more you can do. It helped me become a better leader at work and a better mother at home. One of the things which also impacted me here was the statistics surrounding gender diversity. I came across research about the pay gap and the results were shocking.
I am lucky as I've always had a positive force around me and haven't been held back from any opportunity. However, I know that the world around me is not so similar. The corporate world is an even bigger struggle for women. Sometimes you walk into a room and find you're the only woman there. That is something which unsettled me, and exactly what I aim to change. As a mother of two girls, I want to do it even more. Over the past year or so, I took it upon myself to share my stories, be vocal at forums so I can be a better manager and leader
How important do you think it is for young girls to see women like yourself in leadership positions in a field like this?
I believe it's really really important. For that matter, I believe any woman, at any stage or phase in her life, can be a role model to someone. So if you're a leader at the workplace, the women working at senior levels will look up to you, if you're a trainee and have just joined work, the college undergrads will look up to you, and it goes on. What's important is what kind of a role model you want to be and in what ways will you lift other women up.
I found through conversations that the barriers are often within ourselves, we base our right and wrong on basis of someone else' outlook, so to all women I would say - identify your passion, earn your space, be your best, believe you can make a difference, and if you're authentic and honest, go for it because nine times out ten, you are likely to succeed. If you fail, take a learning from there and go do things differently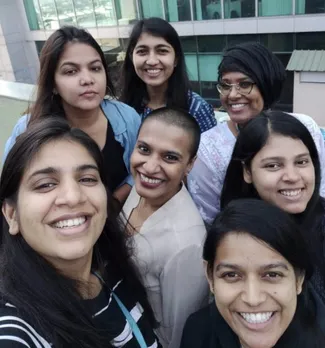 Meghna Apparao with the girls in her team at Amazon.
You volunteered as a mentor with the Cherie Blair Foundation for Women and support various initiatives to improve gender balance. How did your experience in the corporate world shape your ideology surrounding gender equality and participation?
This was an international mentorship programme for women where we sign up to become mentors or mentee of women across the world. It's an empowering way of sharing stories virtually and guiding women in their respective endeavours.
Coming to gender participation, an extensively researched article said that when there is a job or an opportunity that presents itself and if there was a man in front, even if he feels 60 per cent qualified, or is a 6 on 10, he will ask for that opportunity upfront. Whereas, a woman will only ask for the opportunity until she is hundred per cent sure.
This is not lack of humility or arrogance -- it is knowing the fact that that at 60 per cent, men are taking chances whereas at hundred, too, women are uncertain. These facts triggered me to an extent that now I tell men at senior levels that "if the girls aren't putting their hand up for an opportunity, keep the statistic at the back of your mind," and see that you give chances to the girls, because they sure do have the skill set, just not the confidence yet
It's also important to share stories with the men in the room too, as we are talking to them as peers of women in and outside of work.
There are a lot more spouses working now, and if the man goes back home and shares the same statistic with his wife, telling her that if she feels confident about an opportunity and believes she is 60 per cent up for it, she may very well ask for it. This will make a lot more difference
In what ways do you think women can be empowered to combat patriarchy in the corporate sector?
In 2014, I was selected for a two-week program on sustainability by the Swedish government. One of the factors of sustainability is also driving a gender balanced world. I learnt how Sweden has a policy offering 480 days of parental leave which has to be split between the mother and the father. The best part is that they call it "parental leave".
The mother cannot choose to take all months as there's a ratio it has to be divided in. It, in fact, is a great leveller for the family as it has multiple effects.  In India, there's a constant worry among working women when they're planning a family. Factors like losing out on best opportunities, social stigmas in the workplace, prejudices etc. Also, we need to burst the myth surrounding "maternal instinct". It's supposed to be called a "parental instinct" when there's a couple involved in planning a family.
Offering parental leave serves as a leveller and drives equal opportunities, too. It's an enabler for equality at work and outside of work
Another ideology I want to share is that mothers believe they can do things better than their husbands when it comes to parenting. As a result, mums keep jumping in, trying to fix something. The fathers, on the other hand, are bound to feel that, if this is the case, the mums can as well take up all responsibilities. This is something I realised very early on and gave my husband the space to how he wanted to take care of the kids in my absence.
Who are the women that have inspired you?
I look for stories other people have lived. For instance, growing up with two doting grandmothers and witnessing the way they navigated their lives was a great learning. Now, I go back to my daughters and their views on life amaze me.

---
Suggested reading: NGO Initiative #baldishappy Celebrates The Big C With Hair Donation Drive