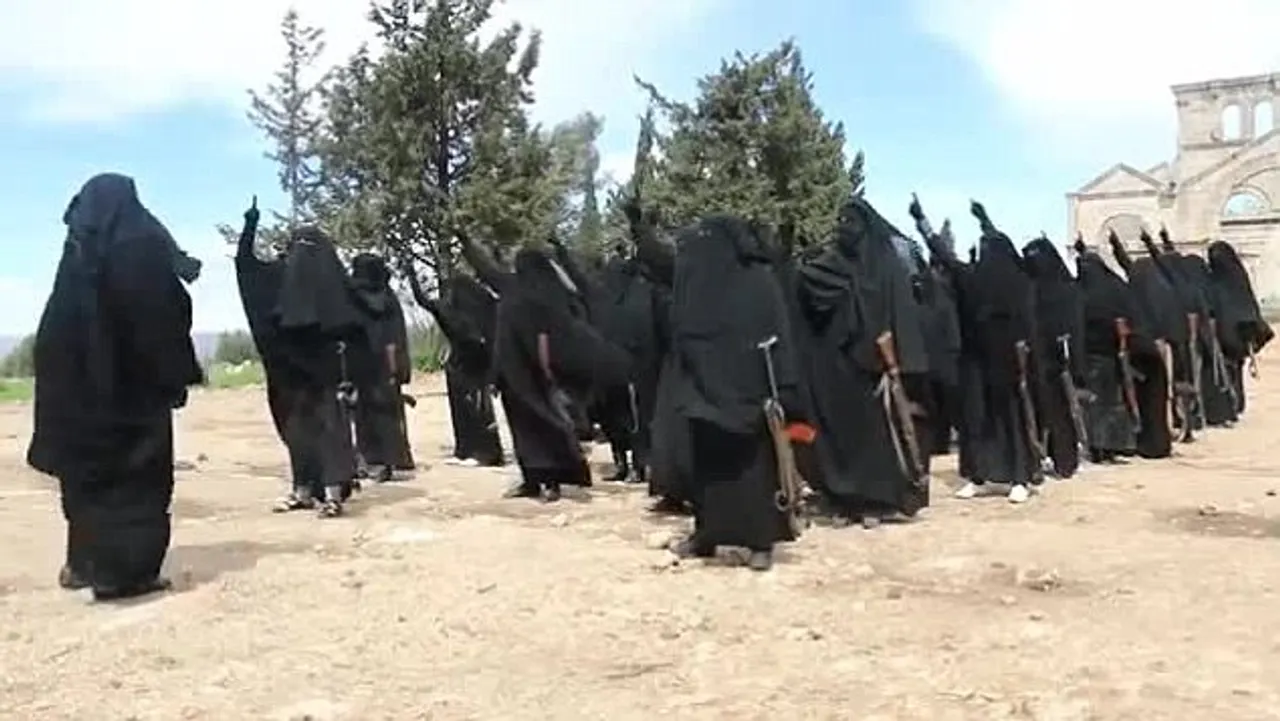 Women in many modern societies today are engaging in all the activities and jobs that were reserved for men for a long time. Even in regions where the concept of women's emancipation is looked down upon, women have found a way to break the shackles and make a difference. A recent video emerging on social media shows a group of female jihadis firing machine guns and practicing drills in Syria.
The women in the video are all fully veiled and chanting Jihadi slogans, while practicing their gun-firing skills. According to a report by Daily Mail, the women seem to be inexperienced as they seem to be struggling with the weight of the gun and make small mistakes while practicing. The same report states that the location of the video is the St Simeon's Church, around 60 km from the Syrian city of Aleppo, according to a researcher at counter-terrorism think-tank the Quilliam Foundation, named Charlie Winter.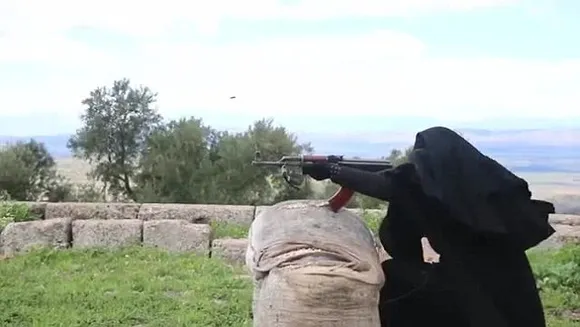 A snapshot from the video
Picture By: Daily Mail
"The role of a woman is no less important than that of a man," one of the female jihadis says in the video, according to NewsWeek. Another woman mentions that the group consists of 45 women from al-Sham, adding "We have gone out to defend our land. We are trained in the art of shooting and preparations of weapon, as well as Sharia and theological studies."
Max Abrahms, professor of political science at Northeastern University and member at Council on Foreign Relations, told NewsWeek that the video shows women in the region are keen to contribute to their societies, adding, "… this is an effort for women to assert themselves and to see there's a role for them beyond staying at home, caring for children, praying, that they are physically fit and active and make an important contribution to the cause… A lot of the women in conservative Muslim societies feel like there is no realization of their goals and aspirations and talents and terrorism can unlock that, in a way."
Daily Mail>