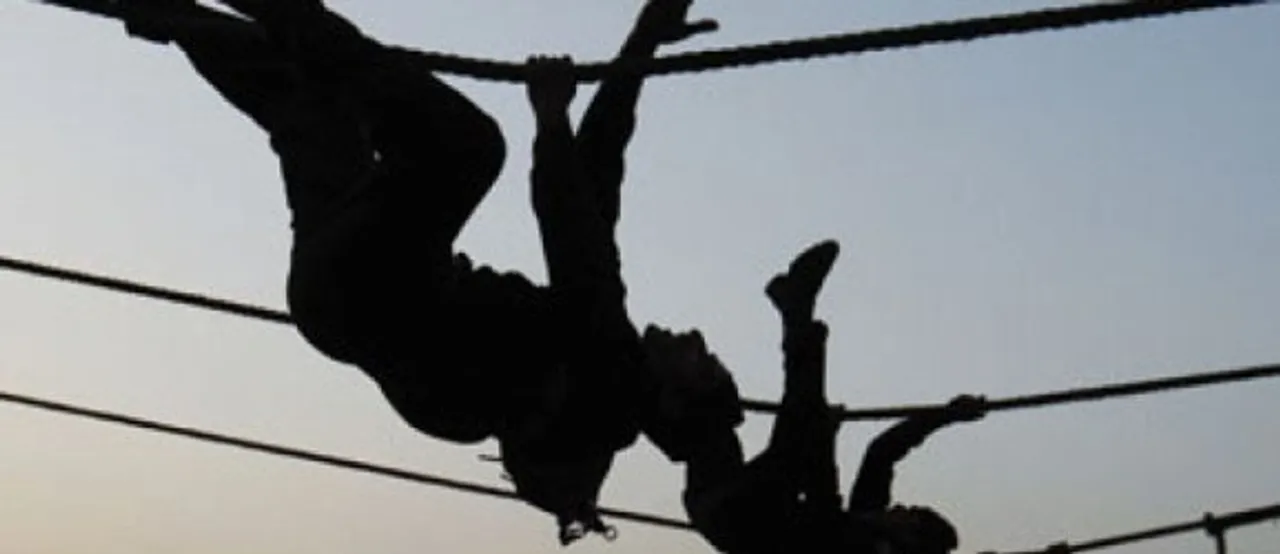 They are fighters. Safe keepers. They build our strength and they have been around not too long ago. It has been four years since the Veeranganas were born but the motive is alive and kicking, in fact increasingly gathering momentum with each passing day.
Meet 26-year-old Bobby Baishya and her friends who started off India's only all-women crack commando unit called the 'Veeranganas' inside the Assam police base, which comprises with 100 members. They get up every morning, gather at a ground and train in martial art sessions. This hectic activity is intended to provide safety to women in crowded urban areas. That's right, they are watch-out for anyone who bothers women. And it seems to be working.
The #Veerangana unit of the #Assam #police carrying on a checking drive pic.twitter.com/NpVtSKsRkA

— Rondeep (@TheGhyGuy) August 5, 2015
"When a girl is facing problems, she can open up better to a girl. We are severe on crimes against women. We catch the culprit. There is now a feeling that if Veeranganas are around, women are safe," Bobby told NDTV.
Also Read: All-Women Navy Sailors Eyeing Rio Race Reach Cape Town
Recently, the Veeranganas came as an aid to a woman who had become a victim of molestation. She shared her experience, saying "To my surprise, they reached within five minutes. They chased the miscreants, and pulled them out of a bar. This was the fastest action by Assam police I ever saw".
Project #Veerangana works on training women with self defense techniques and enhancing their soft skills to enable them to become trainers.

— Enactus Hindu (@enactushindu) November 25, 2016
If you doubt the Veeranganas' ability to control the crime, you should check out the latest statistics. Well, the woman is not alone. The data is not lying too. According to the top police officers, since 2012 the number of crime against women in Guwahati has seen a drastic drop of 40 per cent. In 2014, 97 rape cases were registered. In contrast to that the figure has come down to 65 in 2016.
Also Read: Meet The Man Behind An All-Women Workforce
"The Veeranganas have played a major role in bringing down the number of crimes against women on the streets," says Anand Prakash Tiwari, senior superintendent of police, Guwahati, Tehelka.com reported. "Many women have come forward to say that they feel secure when the commandos are around."
A cropped image from my selfie with sisters of #Assam #police's #Veerangana unit. #Proud of #brave #women like them pic.twitter.com/AUsNcGgagV

— Rondeep (@TheGhyGuy) February 24, 2016
According to data released by the National Crime Records Bureau, Assam earned a bad name of being the state that recorded the highest number of cases of crime against women in 2012.
"We have decided that in Assam Police will recruit at least 30 percent women... they would be used in different roles... from investigations, to crack commando duties," said Mukesh Sahay, DGP, Assam.
While their main focus is now to recruit more women commandos, the Veeranganas team is gearing up since its inclusion in 2012. After a 21-year-old girl was molested outside a pub on Guwahati's busy GS Road on July 9 that year, which created a nationwide outrage that time, provoked the Assam Police to create a group with the best women constables from all combat units. They had gone under months of commando training and learnt the form of martial arts.
READ: 6 Sexual Harassment Laws Every Woman Should Know
Currently, the team watches the Guwahati cities. They have sworn to protect women across the state and sometimes they do safeguard VIPs too including the state's brand ambassador Priyanka Chopra when she visits Assam. Every night the Veeranganas stay highly alert, super active and always on check of women's safety and security in Guwahati.
ALSO READ: Sisters are doin' it for themselves: Meet India's all-woman crews
WATCH the Veeranaganas moves here:
Way to go Veeranganas!
Feature Image Credit: Thekararnivang.com
Join Us on https://www.facebook.com/SheThePeoplePage
Follow Us on https://twitter.com/SheThePeopleTV