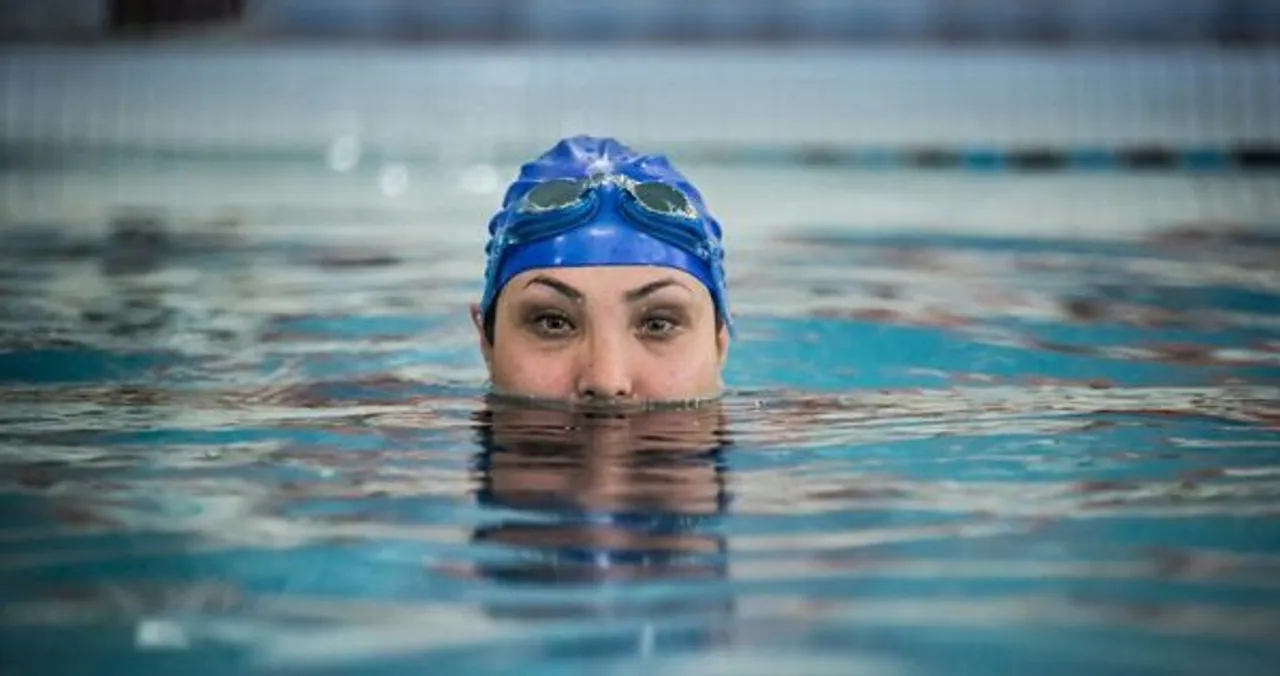 Just like sportswomen in other parts of the world, Afghan sportswomen too dream of participating in Olympics one day. Female swimmers from Afghanistan are going to swim in the only pool in the country -- one in Kabul -- that allows women entry. There are in total 30 pools in Afghanistan and yet only one allows women. But owners of that pool are facing threats from the militant regime for allowing women.
And the women who are swimming against all odds are eyeing the next Olympics to be held in Tokyo in 2020.
There are only a handful women in Afghanistan who know how to swim and have access to a swimming pool. And the struggles of these women, who are smashing patriarchy by doing what they love and not succumbing to the misogynistic society that continues to restrict those of their ilk, should not remain a secret and must be celebrated widely.
The 25-year-old coach and head of the Women's Swimming Committee Elena Saboori's efforts in helping women who swim needs to be given special attention. A female friend of Elena took her for a swim and she really enjoyed playing in the water. She taught herself swimming through videos on the internet and practised the moves in a pool in Kabul.
ALSO READ: Safia Ferozi Becomes Afghanistan's Second Woman Military Pilot
"I was afraid of drowning, but that's when I thought I'd become a coach, because girls do not know how to swim here," said Saboori, an economics student, reported TOI.
But the news of a woman swimming spread among the militants and Elena received violent threats to stop her and her team from swimming. "I know that I have broken a taboo. I took a big risk by launching this team."
There are many challenges that the team of female swimmers, founded by Elena, faces from the conservative mindset of the people -- especially the violent Taliban insurgency. For long, people of Afghanistan have adjusted themselves into believing that women are not allowed to do an array of things and, for them, to adapt to the idea of women swimming is a lot to take in.
Women are not allowed to swim with their backs, arms or thighs exposed, so the team has decided to connect with a Brazilian firm which will design specific swimsuits for them. Until then, the team is making do with tights and black lycra, long-sleeved tops under one-piece swimsuits, with their hair covered in a swimmer's cap.
"The main obstacle for our swimmers is safety, of course," said the president of the Afghan Federation of Swimming, Sayed Ihsan Taheri.
"We aim to be at the 2020 Olympic Games in Tokyo, with a team of at least two men and one woman," says Taheri
Since Afghan women have never participated in swimming in the Olympics ever before, the woman who gets selected will be the first one ever from the country.
The difficulties of these women don't just end at the general mindset of the Afghanis, but extend to not having proper facilities and gears to train well. And all the blame for not providing basic amenities is reportedly going to the ruling government. It is being so stingy that it is not even providing a small amount of 500 Afghanis (Rs 490) to members of national sports teams. "All Muslim countries, except Afghanistan, have a women's team, even the strictest," said Taheri, citing Qatar, Iran and Saudi Arabia. Taheri has initiated fundraisers to help out with the team and claims to have raised $900 so far.
Picture credit- Excelle Sport