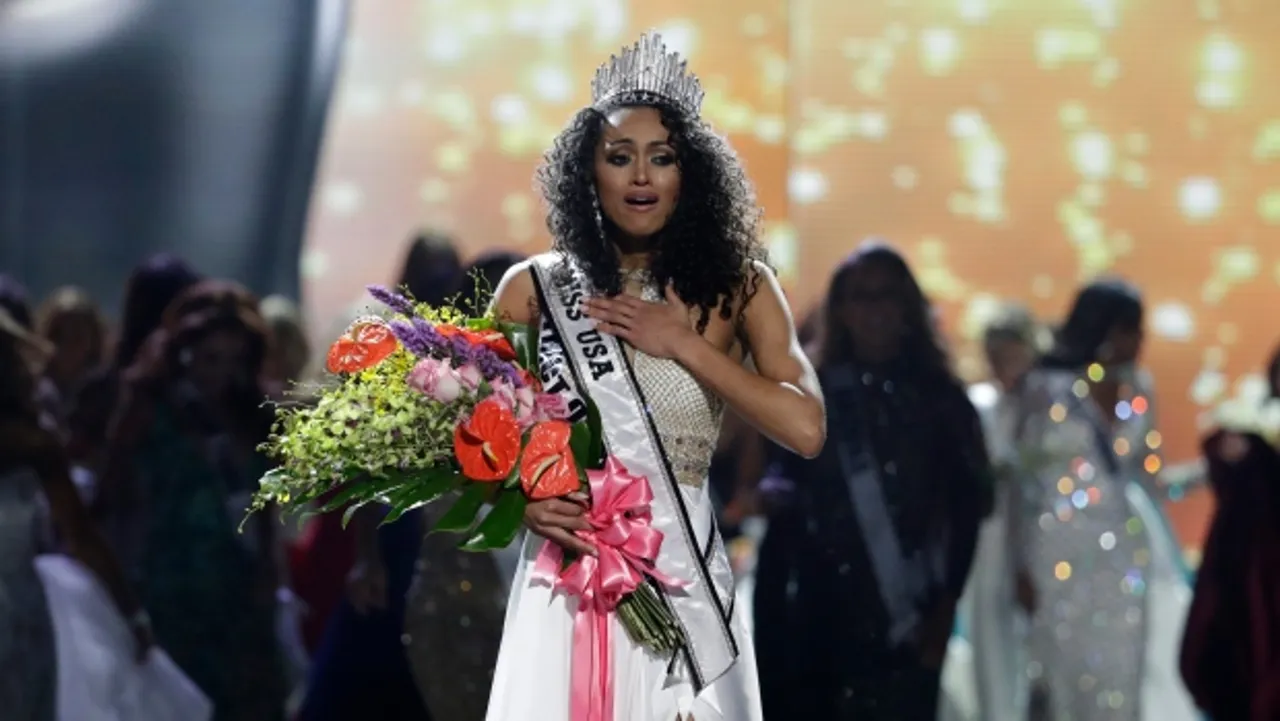 "I don't want to call myself a feminist," McCullough echoed in a room full of a crowd who were looking right at her before she was crowned Miss USA 2017 on Sunday.
And your 2017 #MissUSA is…

Miss District of Columbia, Kara McCullough! pic.twitter.com/7LxXPBPfeu

— Miss USA (@MissUSA) May 15, 2017
Goodnight 💤 💙#MissUSA pic.twitter.com/kp1y1XVkcS

— Miss USA (@MissUSA) May 16, 2017
Very few people knew that Kára McCullough, a 25-year-old model is a scientist who works at the US Nuclear Regulatory Commission. McCullough proved the new saying true – 'Brainy is the New Sexy'.
https://twitter.com/iloveluluhair/status/864345320242663425
McCullough -- Miss D C -- overpowered the other beauties and won the top prize on Sunday night with Miss New Jersey Chhavi Verg taking up the runner-up's spot while at the third-place was Miss Minnesota, Meridith Gould.
The current Miss USA is a 25-year-old scientist — born in Italy and raised in Virginia Beach — who represented the District of Columbia in this decades-old pageant. However, the feat to earn the top prize did not come without controversies. The fashionista, in fact, made some controversial comments about political issues during the competition.
"Everything has just been so surreal." We're backstage with your new #MissUSA. pic.twitter.com/eXq0jT1sfX

— Miss USA (@MissUSA) May 15, 2017
She was all over social media with her answers to some of the questions. On being asked if she considers herself as a feminist, McCullough said, "Women, we are just as equal as men, especially in the workplace, I don't want to call myself a feminist."
DC just disqualified herself with that answer #MissUSA

— Karla 👅💦 (@Yashia__) May 15, 2017
https://twitter.com/cross_bearer89/status/863966350942797825
Twitterati's reaction remained same to her response to another question: "What do you consider feminism to be, and do you consider yourself a feminist?"
"So as a woman scientist in the government, I'd like to lately transpose the word feminism to equalism," McCullough said as members of the audience cheered. "I don't really want to consider myself — try not to consider myself like this die-hard, you know, like, 'Oh, I don't really care about men.' But one thing I'm gonna say, though, is women, we are just as equal as men when it comes to opportunity in the workplace."
Stepping into a new chapter as #MissUSA departs to New York! pic.twitter.com/6lNZNZH8VB

— Miss USA (@MissUSA) May 16, 2017
When asked if healthcare is  a privilege she responded, "I'm definitely going to say it's a privilege. As a government employee, I'm granted health care and I see firsthand that for one to have health care, you need to have jobs."
"I'm definitely going to say it's a privilege." Listen to your new #MissUSA talk about healthcare in the USA. pic.twitter.com/CzPBeaTYHO

— Miss USA (@MissUSA) May 15, 2017
A graduate in chemistry from South Carolina State University, McCullough said after the contest: "I believe we've come a long way and there is more work to be done. I think domestically we are making progress and I do believe that we will become equal one day."
#MissUSA Miss DC just lost me with that answer....Affordable healthcare is a privilege? Girl bye. pic.twitter.com/Q5mU7PIlx1

— kat 🔪 (@KittyyyKatJ) May 15, 2017
From our nation's capitol to the big stage, it's Miss DC USA– a scientist & the newest member of the Top 10. #MissUSA | @SherriHill pic.twitter.com/GfbQNHUzNs

— Miss USA (@MissUSA) May 15, 2017
She wants to inspire children to pursue careers in the fields of science, technology, engineering and mathematics.
"I love science," McCullough said post the event. "I look at this as a great opportunity to ... get to experience the worldwide culture, as well as just having the opportunity to so many children, hopefully in the math and sciences."
Newly crowned Miss USA Kara McCullough is being criticized for saying health care is a "privilege." https://t.co/p99kWhOoS2 pic.twitter.com/okTBxhifvc

— Fox News (@FoxNews) May 16, 2017
We wish McCullough good luck in all her future endeavours!
READ: Teen Wins Miss Minnesota Pageant In Hijab, Burkini
Also Read: Pak Gangrape Survivor Walks The Ramp
Feature Image Credit: New York Post
Join Us on https://www.facebook.com/SheThePeoplePage
Follow Us on https://twitter.com/SheThePeopleTV