Women founders are still staggeringly few compared to their male counterparts. However, we spoke to a few who do feel the funding environment is changing. So to find out more, we asked Shanti Mohan, founder of LetsVenture to tell us more about what the reality of funding trends were for 2016.
LetsVenture is a portal whose mission is to make funding easy for entrepreneurs and angel investors. The company which started in 2013, has helped 100+ startups get funded, having raised around $ 37 million from investors.
15% of the startups funded on LetsVenture had at least one woman cofounder. LetsVenture says that this is a healthy number that will only continue to grow.
Here are some highlights from our conversation with them.
What were the sectors that were key in getting funded - especially for the women businesses?
Overall, we saw startups across B2B/B2C SaaS, Enterprise, Consumer Internet, FinTech, Food, E-commerce, Healthcare, Education, Fitness/ Wellness get funded on LetsVenture.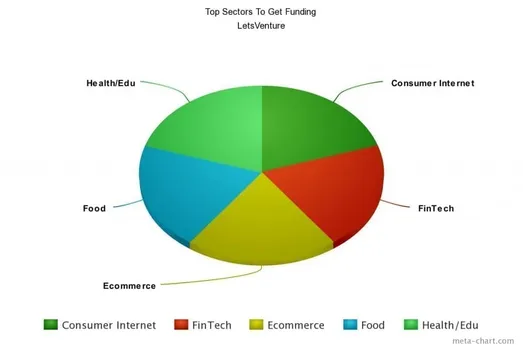 Overall what's the average ticket size of funding you have observed?
LetsVenture helps companies raise anywhere between INR 50L - 6 Crore on the platform. 40% of the deals on LetsVenture happen in stealth mode. Given that we are India's biggest startup funding platform, and have the most number of experienced, marquee and Lead investors onboard, a large percentage of our deals are referred to us.
What kind of sectors are big for funding you think for 2017?
Any companies that are solving core user problems will see investor interest.
In terms of sectors, SaaS, Healthcare and FinTech will continue to see activity. We will also see startups in Artificial Intelligence, Machine Learning and anything in Deep tech see investor interest.
What would you say was Lets Venture's growth rate for the past year and your expectations ahead?
We see 25+ startups register with us daily. We have 2000 + angel and institutional investors on the platform.
We continue to see tremendous interest from new and experienced global investors - we accept only 25% of the investor requests after our curation process.
Our vision is to make startup funding easy, intelligent and transparent for entrepreneurs and investors. Being a tech platform helps us eliminate geographical barriers, bring scale and ease for investors and startups across the globe.
How have startup owners matured over the last three years?
The founders have become more aware of investor expectations. Unlike a couple of years ago, the founders today have started focussing on unit economics and profitability while arriving at rational valuations. They are now focussing on building scalable businesses. Founders with prior experience are starting up, which helps them bring relevant expertise, experience and maturity to the table.
Do you see funding taking a hit in the startup world?
Early stage investing will continue to see activity however, angel investors from tier-2 cities may remain cautious in the wake of economic policy changes. We will see investor interest in startups that have good traction, building scalable products and are solving real business/consumer problems.
Also Read: #StartUpIndia: Shanti Mohan helps fund startups with Lets Venture